Something of a late bloomer, Candice Goldstein only decided to pursue a career in food after turning 40. It led her down an interesting but rewarding path.
FRESH
and raw
Food in its raw state can be challenging but extremely satisfying – as Candice Goldstein found out when she embarked on her food journey late in life.
The voyage began when Goldstein was introduced to raw cuisine while helping out in the kitchen at Leafy Greens Café. "It was hugely inspiring," she said. "And I knew it was what I wanted to study and be involved with."
Already in her 40s, Goldstein signed up with Capsicum Culinary Studio to learn more about food preparation, the science behind why things work and the practicalities of being a chef. At the same time, she took on the challenge of working in a restaurant.
"It was very stressful," Goldstein admitted, since she'd never set foot in a professional kitchen before. "I worked every area of the kitchen: from preparing salads to cooking at the grill and helping out with the pastry. My head chef was extremely tough! It was one of the hardest times in my life."
The Johannesburg resident graduated from Capsicum with a two-year culinary arts diploma in 2015 and then headed to the United States to study Raw Cuisine with one of the gurus of the genre, Matthew Kenney. Based in Los Angeles, Kenney has authored 12 books and founded dozens of restaurants. He's a bona fide celebrity chef and educator specialising in plant-based cuisine.
"I realised I didn't need animal products to live a healthy life – and the food we were making was earthy, chic, healthy, upbeat plant-based artistry on a plate." She said over the course of three months students at Kenney's prepared virtually every classical cuisine dish, each with an ingenious plant-based equivalent – all using the principles of raw cuisine. "The course was a complete mind shift in consciousness, lifestyle and food prep for me."
Goldstein committed to living her principles and in the finest tradition of South African entrepreneurship began her own business – Raw Wizard – on her return to Johannesburg late in 2015.
It was obvious that there was an expanding market and both a desire and a need for specialist raw food products. Goldstein designed the range around products she'd want to eat: natural, plant-based everyday products delicious enough to appeal to all palates.
So what does the Raw Wizard range include? "There's vegan nut cream cheese made from cashew-macadamias – in three flavours: chives, spicy peppers and thyme and Herbes de Provence with lavender, and which is delicious on crackers, spooned into sauces or added to salads; vegan cultured plain cashew yoghurts, plain or chia flavoured, which can be used as a sour cream base or sweetened with fruits and honey and added to muesli; eight different flavoured fermented krauts – from beetroot, cabbage, fennel and ginger to carrots, onion, garlic, chilli and oregano – excellent as a topping, filling or side vegetable; two different flavours of sprouted burger patties and finally, a seasonal kimchi with miso, either mild or super hot."
If she was forced to choose her last meal on earth, Goldstein didn't hesitate: "My Black Bean Nachos Shared Plate – a delicious creamy protein-rich dish, full of flavour and satisfaction. The sour cream black bean base is made with the Raw Wizard cashew yoghurt and pairs exquisitely with the fresh greens and tomatoes, the genuine Mexican guacamole (which is soured with lime, not lemon) and a round of corn nachos."
Goldstein recently launched a plant-based recipe channel on YouTube - Plant-Based Wizard - where she presents recipes for everyone!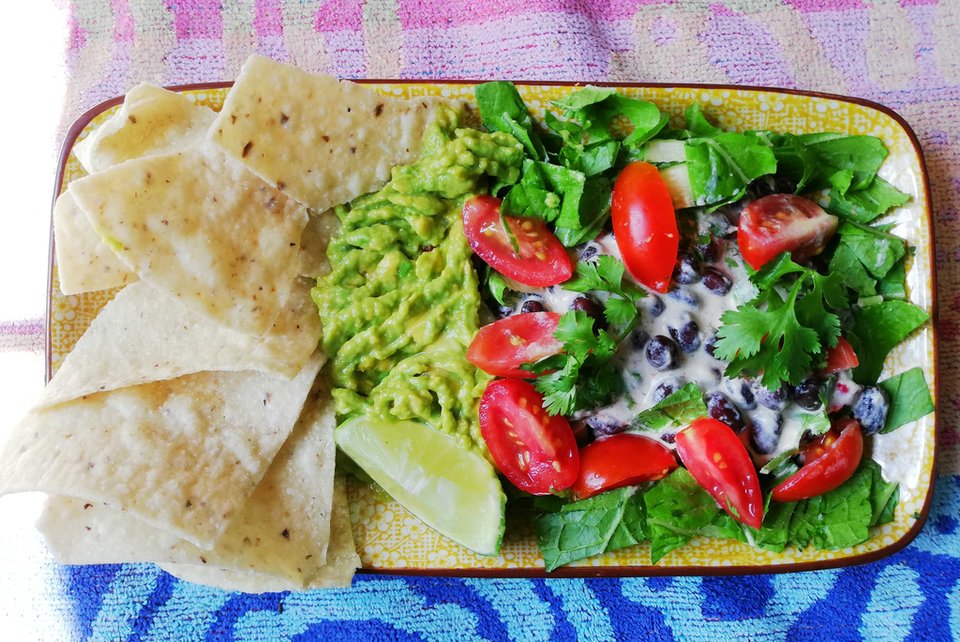 Black Bean Nachos Shared Plate (serves 2)

Ingredients
¼ cup coriander leaves, roughly chopped
4 cherry tomatoes, quartered
3 medium lettuce leaves, shredded
½ cup (85g) cooked or canned and drained black beans or aduki beans
¼ cup (60g) plain or chia cashew cultured yoghurt (vegan)
1-3 chillies, de-seeded (depending if you like it mild, medium or hot) and finely chopped (or ¼ tsp chilli powder)
¾ tsp cumin powder
1 tsp coriander powder
Pinch of Himalayan salt
½ ripe avocado plus another pinch of Himalayan salt
1 Tbsp lime juice
1½ Tbsp water
About 10 non-GMO plain nachos chips
26 x 15 cm flat rectangular plate
Method
Freshly cooked beans are preferable to canned. They're loaded with fresh nutrition. Making your own is also sodium and sugar free, and don't contain preservatives, additives or heavy metals.
Soaking them first is crucial. It makes the beans very digestible after cooking and secondly, more nutrient available. The beans begin to break down whilst soaking and this reduces cooking time. Once cooked, drained and frozen, they are as convenient as canned beans, but so much nicer and healthier.
To cook your beans, place 1 cup (200g) in a bowl and cover them well with at least 7cm of water. Cover the bowl with a plate. Leave it like this in the fridge for 48 hours. Do not leave the beans at room temperature as they could begin to ferment.
Drain and rinse the beans well. Place in a pot covering with water double their volume. (So if the soaked drained beans make up 3 cups, put 6 cups water into the pot.) With the lid off, bring to the boil, then simmer on a medium heat for 1 hour and 15 minutes or until the water has just about boiled away and the beans are tender. Do not boil the water away completely as the beans will dry out and will burn at the bottom.
Once the beans have cooled, take ½ cup for this recipe. Freeze the rest of the beans in ½ cup or 1 cup portions in lidded glass jars for use in other bean recipes when needed.
Prepare the coriander first. Remove the leaves from the stems as the stems have a bitter taste. Then wash, dry and chop roughly and set aside. Keep a sprig of coriander for garnish.
Prepare your cherry tomatoes and set aside.
De-seed your chillies, chop finely and set aside.
Wash and dry your lettuce and shred. Set aside.
Prepare your guacamole. Remove the avocado from the skin and mash with a fork. Add the salt and lime juice to taste. It should be quite tart. Lime has a higher sugar content, making it the preferred choice over lemon in traditional Mexican guacamole.
In a medium bowl, place the yoghurt, spices, salt and chillies and mix gently. Now mix in the beans and coriander. Natural yoghurt is the perfect sour creamy addition that is quintessential to Mexican cuisine.
To assemble
Place your bean mixture on the 26 x15 cm square plate, taking up a third of the plate from one end. Top the beans with the lettuce. Dot with the tomato wedges and garnish with the coriander sprig.
Place the guacamole in the second third of the plate next to the beans. In the last third of the plate place the nachos.
Buen provecho!