Fiery
food
A braai addict who is not too precious to admit that battle lines don't need to be drawn over whether you cook on wood coals, briquettes or charcoal, Mynie Steffens has a host of tips, tricks and recipes to share in her new book, Mynie Plays With Fire.

Fans of #SpeelMetVuur, a programme hosted on Afrikaans channel Via, will know Mynie Steffens. For years she and co-host Adi van der Walt travelled to small dorpies and places off the beaten track, meeting interesting people and braaiing equally unusual foods – like porcupine and even dassies.
"Everything tastes so much better when it's cooked over a fire," Steffens maintains, and it's something she's been doing since the age of 10. But don't make the mistake of thinking this is "just" another braai book. It's not. Pilates instructor Steffens believes in over-delivering – so there are attention-grabbing little "Did you know?" facts as well as suggested music playlists!
The whole point of this book with its 70 really tasty recipes and inventive menus is that readers have fun expanding their repertoire beyond the simple wors, steak and chops routine. Play around with the next braai!
Fire, of course, is important so there is advice on how to build one as well as the respective merits of wood and convenient commercial alternatives.
"I love pushing the boundaries of traditional braai food and always try to come up with new and inventive ways to braai," she stated on her AirBnB host profile in which she promised guests an experience they wouldn't forget. Judging by some of the feedback and comments she received, guests certainly didn't. In June 2018 Zinhle wrote: "OMG! Where do I start? What a great evening we had, for a Monday nogal; from the 'cover charge' to the starter, and all the other meals that were served; I am literally stuffed to the brim. The company of other patrons, including the passion of the host Mynie made the evening a truly, truly magnificent experience. You just have to experience it for yourself, and I promise you, you will not regret it." (The "cover charge" was a sneaky little melktertjie shooter consumed before even a braaibroodjie was put on the grill.)
The idea for the braai-focussed programme and book took root in her time in England. "For the first time I had a braai that was prepared in a non-traditional way – and it made me realise that people need to move beyond their comfort zones."
While Steffens admits to never running out of garlic, brown onion soup and Worcester sauce, she says the best braai is one which starts at 11am and meanders along at its own pace until midnight. "To spend the whole day braaing is my best!"
Her advice regarding marinades? "If it's steak being braaied, you should make use of Worcester sauce and olive oil. If it's pork or chicken on the braai grid, I'd say you can't go wrong with lemon juice, fresh rosemary and pepper."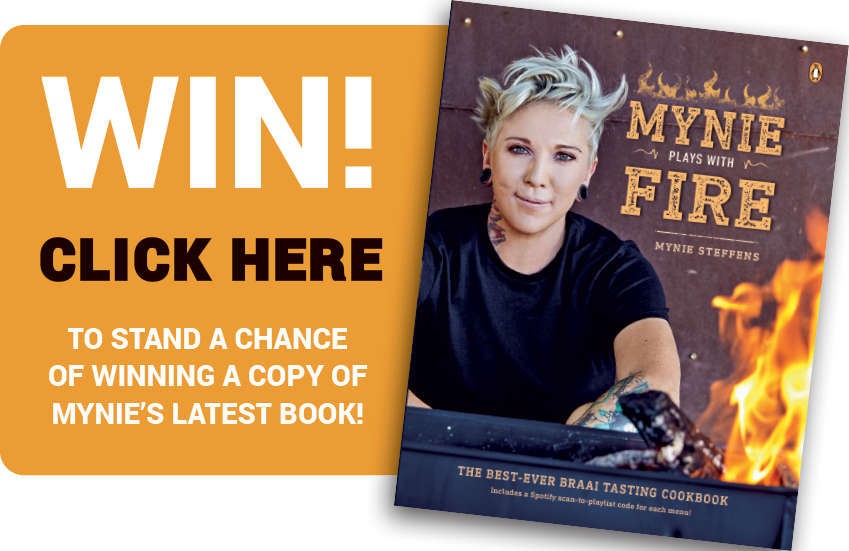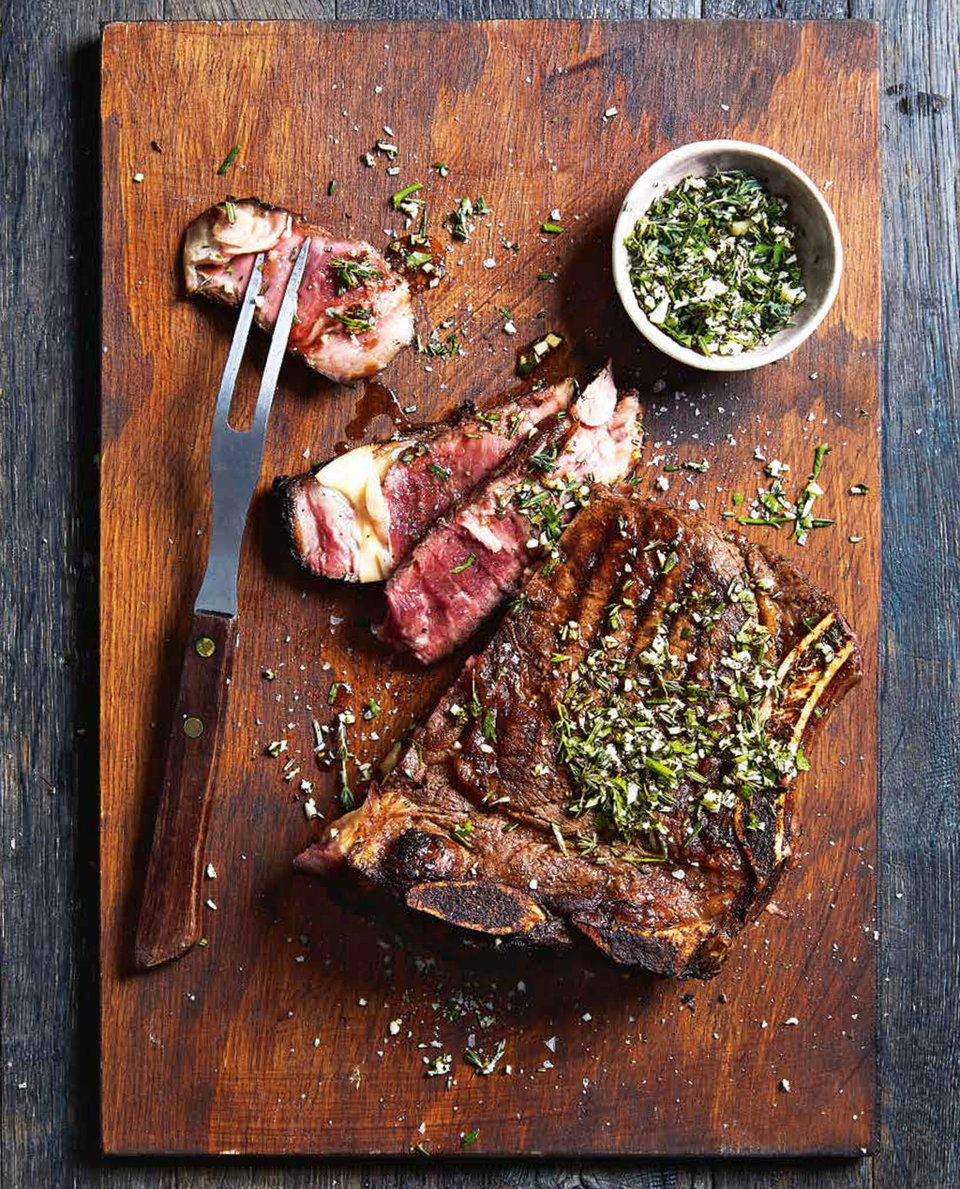 Ribeye with herb drizzle
750g ribeye steak
Salt
MARINADE
4 Tbsp Worcestershire sauce
4 Tbsp olive oil
1 Tbsp salt
1 tsp freshly ground black pepper
HERB DRIZZLE
2 cloves garlic, chopped
4 Tbsp chopped fresh flat-leaf parsley
1 Tbsp chopped fresh thyme
1 Tbsp chopped fresh rosemary
1 tsp salt
1 tsp freshly ground black pepper
1. Combine the ingredients for the marinade and marinate the ribeye for approximately 1 hour.
2. Prepare the drizzle by mixing all the ingredients together.
3. Braai the steak over hot coals – at least 5 minutes on the first side before turning over, and braaiing for another 5 minutes, for medium-rare. If you prefer a medium steak, braai for 13 minutes in total. Salt the steak while braaiing. When the steak is done, leave it to rest on a wooden board for 7 minutes, then cut into 2cm strips.
4. Arrange the steak strips on a serving platter, dressed with herb drizzle.
DID YOU KNOW?
Jean-Yves Renard (France) and a group of butchers produced a steak measuring 27.68m long at Evron, France, on 14 May 2002. It still holds the Guinness World Record for the longest steak.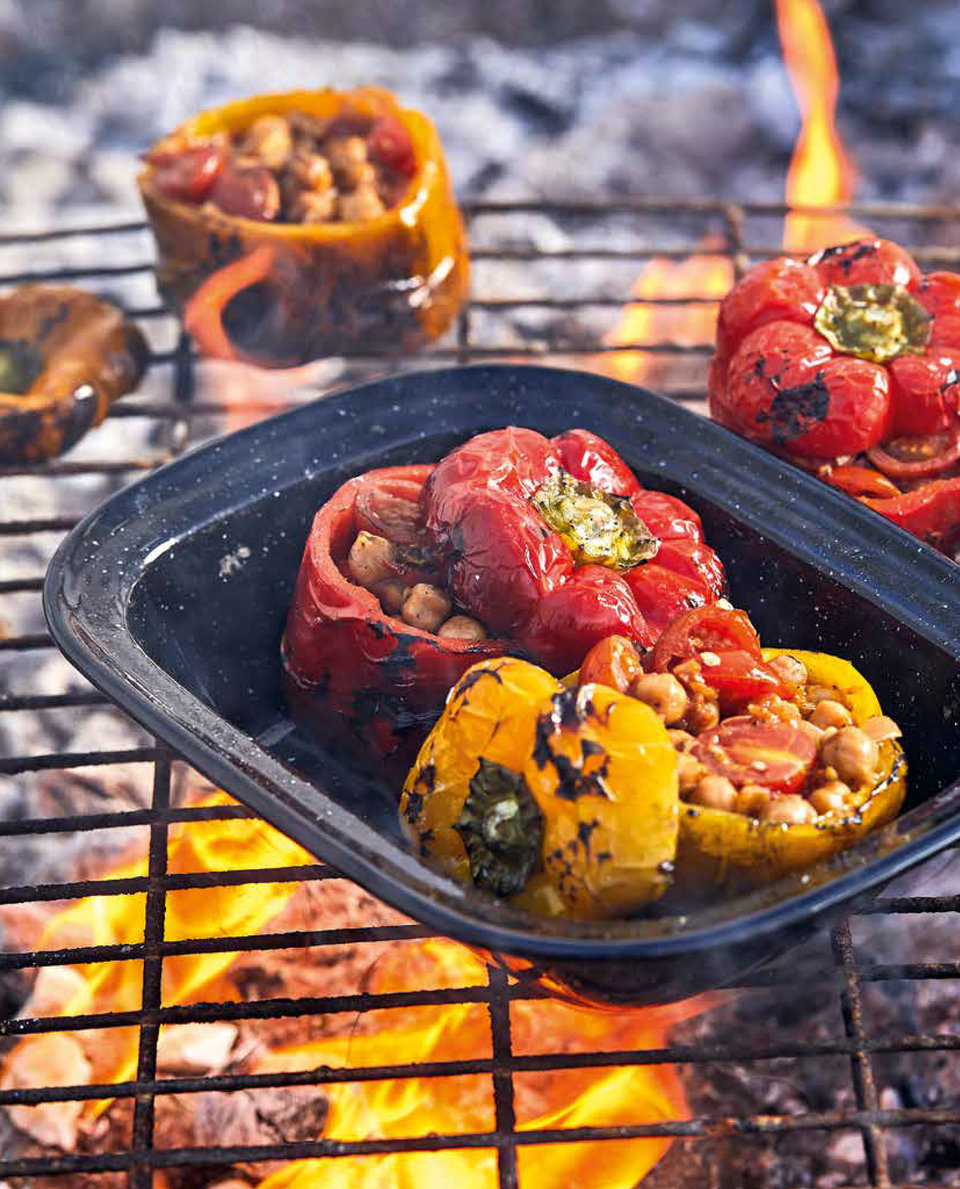 Chickpea-stuffed peppers
3 Tbsp olive oil for frying
1 tsp masala powder
1 tsp grated fresh ginger
1 clove garlic, chopped
½ onion, chopped
12 cherry tomatoes
1 tsp curry powder
5 tsp vegetable stock
2 tsp cornflour, dissolved in
2 Tbsp water
1 x 400g can chickpeas, drained
6 small yellow or red peppers
1. Heat the olive oil in a pan, then fry the masala powder, ginger and garlic for 1 minute. Add the onion and fry for another minute. Add the tomatoes and fry for 2 minutes. Stir in the curry powder and fry for 1 minute. Pour in the stock and cook for 8 minutes. Finally, add the dissolved corn flour and chickpeas and cook for 5 minutes.
2. Cut the tops off the peppers and set aside to use as 'lids'. Deseed the peppers. Stuff the peppers with the chickpea filling and secure the lids back on with foil.
3. Braai over medium coals for 25–30 minutes.
DID YOU KNOW?
Since bell peppers have seeds and come from flowering plants, they are actually fruit, not vegetables.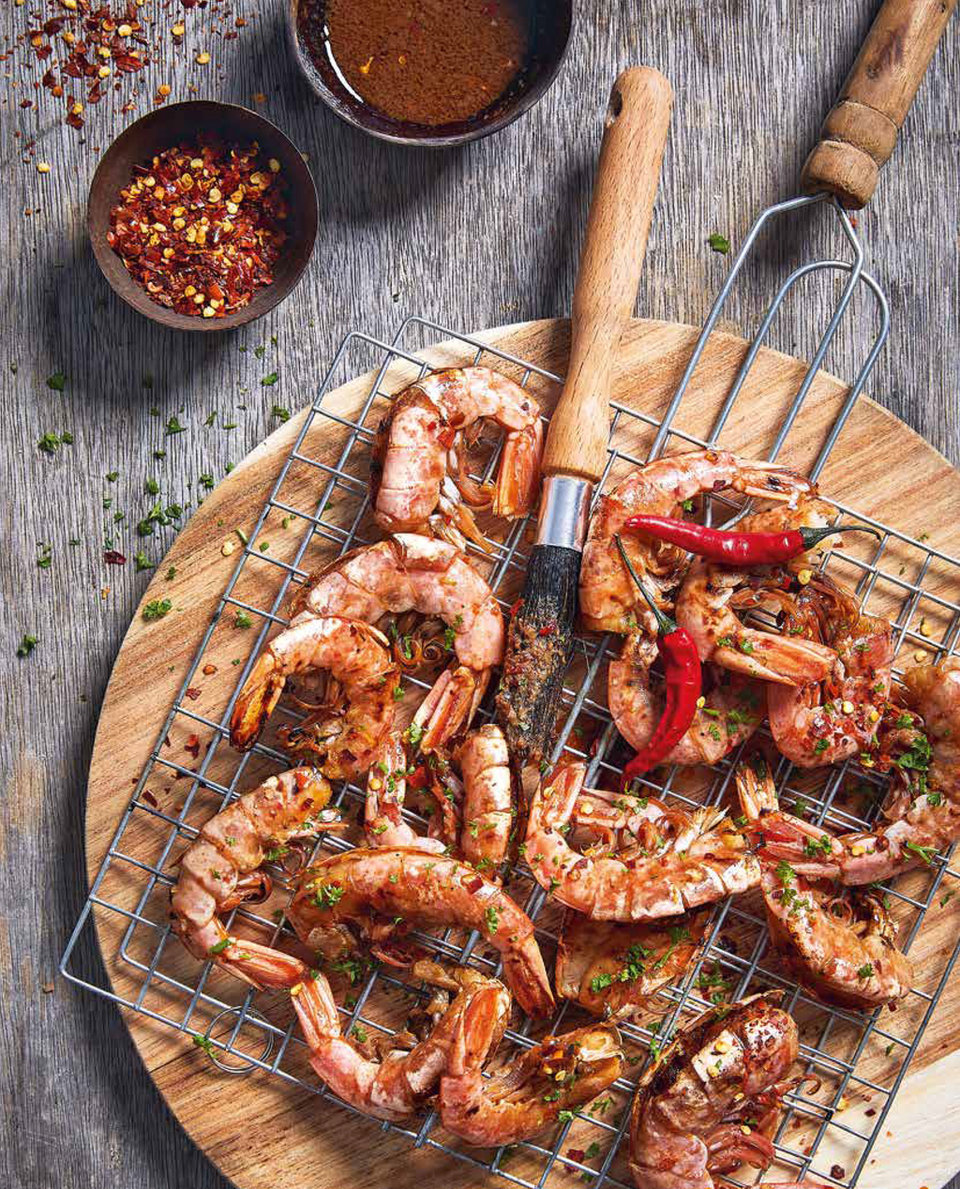 Brandy-marinated prawns
12 butterflied medium prawns
Whole red chillies and/or fresh herbs for garnishing
MARINADE
¼ cup brandy
1 Tbsp chopped fresh red chilli, deseeded
1 clove garlic, chopped
1 Tbsp honey
2 Tbsp olive oil
3 Tbsp soy sauce
Juice of ½ lemon
1. Mix all the marinade ingredients together, then pour over the prawns and leave to marinate for a minimum of 30 minutes.
2. On hot coals, braai the prawns, shell-side down for 2 minutes and pour some of the leftover marinade onto the cut on the backs of the prawns. Turn the prawns over and braai the flesh side for 1 minute.
3. Garnish with the whole chillies and/or fresh herbs before serving.
DID YOU KNOW?
Unlike other animals in the sea, prawns have no problem eating one another. They most commonly do this if they can't find another source of food.
COMPETITION TERMS AND CONDITIONS
Competition submissions should reach us no later than 25th August 2021. The Prize/s is as indicated, no alternatives or cash will be provided. The decision of Integrated Media will be final, and no correspondence will be entered into. Under no circumstances shall Integrated Media, TOPS at SPAR, SPAR or its appointed representatives and the prize donors be liable to anyone who enters these Prize Draws for an indirect or consequential loss howsoever arising which may be suffered in relation to the Prize Draws. By entering these competitions, you make yourself subject to receiving promotional information. Entrants are deemed to have accepted these terms and conditions. Prize Draw Rules: The prize draw is only open to consumers who must be over 18 years of age and resident in South Africa. Employees of Integrated Media and TOPS at SPAR, SPAR and their respective advertising, media and PR agencies, as well as the family members, consultants, directors, associates and trading partners of such organisations and persons are ineligible for the draw. Participants can only win one competition every three issues.