Sweet
–as pie–
Julia Child, the godmother of American cuisine, said everything in life is improved by butter – and also maintained that nothing made one feel more like a real cook than turning out a decent pie.

Pies are not something South Africans really give much thought to. Possibly like New Zealanders and Australians when we think pies it's usually in a savoury sense – like a good chicken and mushroom or hearty beef pie. But Americans LOVE pie!
American cultural references invariably refer to apple pie – it's why the expression is "as American as apple pie". Any diner worth its salt will offer up at least one or two pies for their customers alongside burgers and pancake stacks. So with a national fixation on cherry, blueberry, pecan, key lime or coconut chiffon pie is it any wonder they've celebrated National Pie Day every year since the 1970's?
Not content with serving pumpkin or sweet potato pie at Thanksgiving in November, three or four weeks after Christmas, they celebrate Pie Day on January 23. Heck, there's even an American Pie Council – whose motto is: "In crust we trust"!
It was started by Charlie Papazian, a nuclear engineer from Colorado, who had such a passion for pies he decided to celebrate the pleasurable pastry with its own day and chose his birth date on which to do it!
The ancient Egyptians are believed to have come up with the first pie, Wikipedia reports, something like a flat pastry disc, similar to a galette. But the Greeks – around the fifth century BCE combined water, oil and flour into a pie or tart shell first. Naturally the Romans took it a few steps further, refining it and serving a variety of meats and mussels or seafood in their versions.
Remember the old childhood rhyme about four-and-twenty blackbirds baked in a pie? That's because the English loved pies in medieval times and frequently made them the centrepiece of a grand meal. Filled with venison, lamb, pigeon or beef, the pies were richly seasoned with dried fruits such as dates or currants to counteract the gamey flavours.
It was only later that chefs began to experiment with sweet fillings using fruits such as apples, cherries and blueberries. A cookbook from 1796 listed only three types of sweet pies, while one written in the late 1880s featured eight sweet pie varieties. By 1947 the Modern Encyclopaedia of Cooking listed 65 different varieties and today there are literally thousands of recipes for sweet pies.
Pies today are made with everything from apples to zucchinis. The most popular sweet ones amongst South Africans include the classic apple pie as well as lemon meringue pie and pecan pie, while savoury favourites are pepper steak, chicken and mushroom and steak and kidney. Pies also come in the form of quiches, tarts, big pies or small pies and even dishes like a shepherd's pie, a cottage pie or a favourite of the festive season – the mince pie!
Here's a few fun pie facts and four recipes from chefs at Capsicum Culinary Studio, South Africa's largest culinary school with six campuses across the country. (See www.capsicumcooking.com for more info.)
The first mention of a fruit pie in print is from Robert Green's Arcadia (1590): "Thy breath is like the steame of apple-pyes."
Oliver Cromwell banned the eating of pies in 1644, declaring it a pagan form of pleasure. For 16 years, pie-making and pie-eating went underground until the Restoration leaders lifted the ban in 1660.
The wealthy English were known for their "Surprise Pies" in which live creatures would pop out when the pie was cut open. (That's where the childhood rhyme came from.)
In the 1890s, the word pie was also a common slang expression meaning "easy", hence the expression "easy as pie".
The largest pie made weighed 10 540kg and was made by 17 catering students from Stratford-upon-Avon College in April 1998. It was so huge that it needed a container 9.75m long, 2.32m wide and 0.61m deep.
In early days the crust of the pie was known as a "coffyn" and there was usually more crust than filling. Because the pies were often made using fowl, their legs were left to hang over the side of the dish and used as handles.
The world's most expensive pie is worth around R150 000 and can be ordered from the Lord Dudley Hotel in Sydney. Prime ingredients include two cuts of premium beef, two whole rock lobsters, rare winter black truffles, two bottles of Penfolds Grange Reserve red wine and pastry with a 24 karat German gold leaf!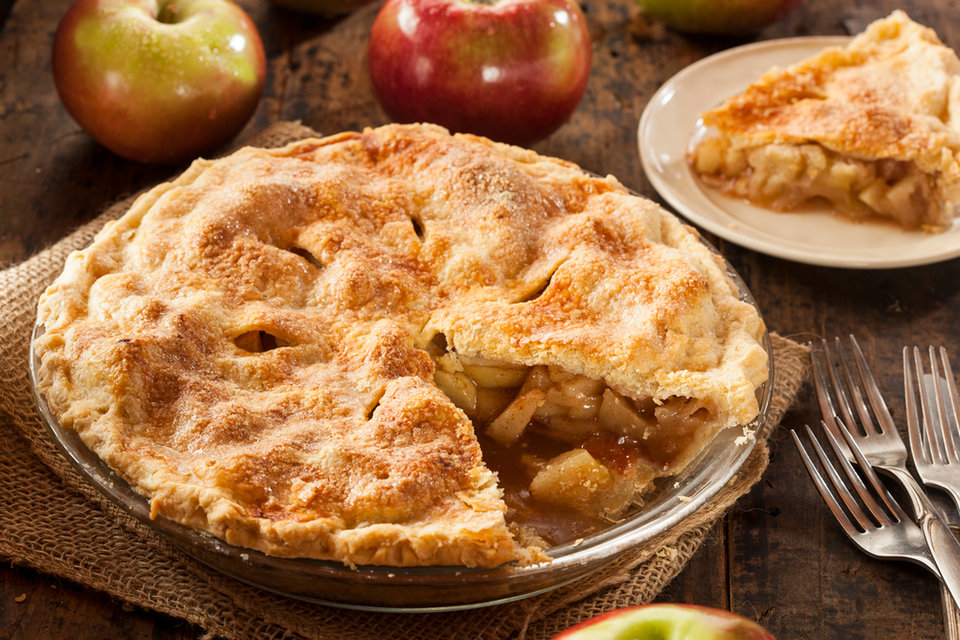 Best apple pie
(Capsicum Cape Town campus)
INGREDIENTS
2 sheets of puff pastry, chilled
7 to 8 Granny Smith apples, peeled
100g light brown sugar
100g white sugar
¼ tsp sea salt
1 tsp ground cinnamon
¼ tsp ground ginger
¼ tsp ground cardamom
¼ tsp ground allspice
¼ tsp freshly grated nutmeg
2 Tbsp corn-starch
1 Tbsp butter
1 egg
METHOD
Heat oven to 200°C. Peel apples then cut in half. Remove cores and slice apple halves into thin 6mm slices. Place apple slices into a large bowl. Scatter both sugars, salt and spices over the apples and toss them with your hands, coating them as much as possible. Set aside for one hour at room temperature.
Roll out half of the pastry on a lightly floured work surface. The pastry should be about 3cm to 5cm larger than the pie dish you are using. Being careful not to stretch it, place the dough into the greased pie dish and trim any overhanging pastry to within 20mm of the edge of the dish. Refrigerate while you make the pie filling. Roll out the second half of pastry to a similar size as before and transfer it to a large parchment-lined baking sheet. Keep this in the fridge until needed.
Toss the apple slices with the corn-starch. Transfer the apples into the prepared bottom crust using your hands to really pack them down. Fill until the apple slices reach the edge of the pie crust. Pour the juices that have accumulated at the bottom of the bowl over the apples. About ½-¾ cup will suffice.
Cut a tablespoon of butter into eight small pieces and dot them over the pie. If you are not adding a lattice crust but adding the top crust in one piece, use a sharp knife to cut a few slits in the pastry lid to allow steam to vent. Trim excess dough from the top crust and fold the overhang underneath itself, forming a thick rim. Press it together or crimp it with your fingers or use a fork.
Whisk the egg with a tablespoon of water and use as an egg wash by lightly brushing the top crust to add shine and help the crust brown. Place onto a baking sheet lined with parchment paper and bake for about 75 minutes, rotating a few times for even browning.
The pie is done when the juices are bubbling through the vents at the top crust or lattice. Use a skewer to test the apples and if they feel too crunchy bake for a little longer. Cool the pie, without slicing into it, for at least one hour as the filling does not fully thicken until completely cooled.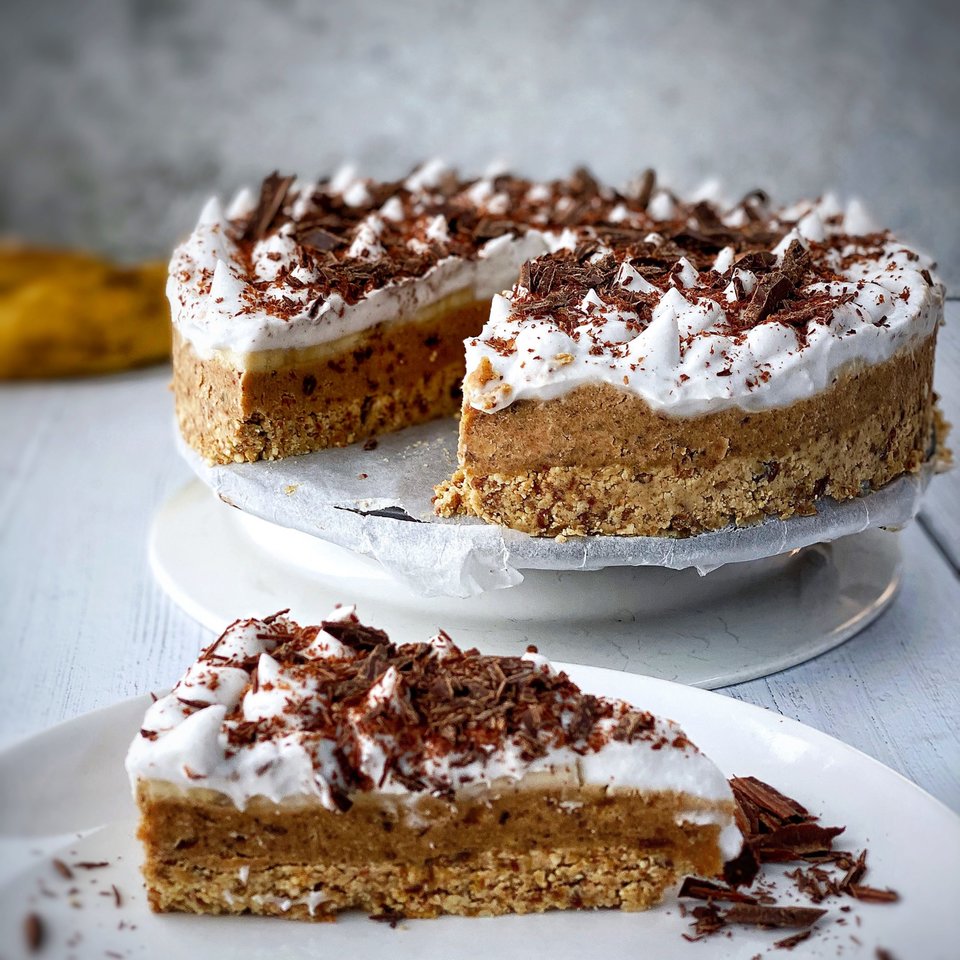 Banoffee pie
(Capsicum Nelson Mandela Bay campus)
INGREDIENTS
For the crust:
230g Tennis biscuits (or any plain biscuit)
¼ cup sugar
110g unsalted butter, melted
For the filling:
6 Tbsp unsalted butter
6 Tbsp brown sugar
1 can sweetened condensed milk
¼ tsp kosher salt
4 ripe bananas
1 cup double cream
2 Tbsp castor sugar
1 tsp vanilla extract
60g milk chocolate
METHOD
To make the pie crust: In the bowl of a food processor, blitz the biscuits until finely ground. Add the sugar and melted butter and pulse until you have moist crumbs. Place crumbs in a 23cm pie plate and press the crumbs firmly into an even layer on the bottom and up the sides of the pan. Freeze the pie crust for 15 minutes so the butter hardens.
Preheat oven to 180°C. Bake crust until lightly browned, about 10 minutes, then remove and cool completely.
To make the filling: In a saucepan over medium heat, combine the butter and brown sugar and stir occasionally, until the sugar dissolves (five minutes). Pour in the condensed milk and heat until it starts to boil, thicken, and take on a little colour (seven to10 minutes). Remove from the heat and stir in the salt. Pour into the biscuit crust and cool at room temperature for 30 minutes, then cover and chill in the fridge for at least two hours. Remove from fridge. Peel and slice the bananas and arrange on top of the filling. In the bowl, combine cream, castor sugar and vanilla and beat until medium peaks form. Spoon the cream on top of the bananas, then sprinkle over chocolate shavings. Refrigerate until ready to serve.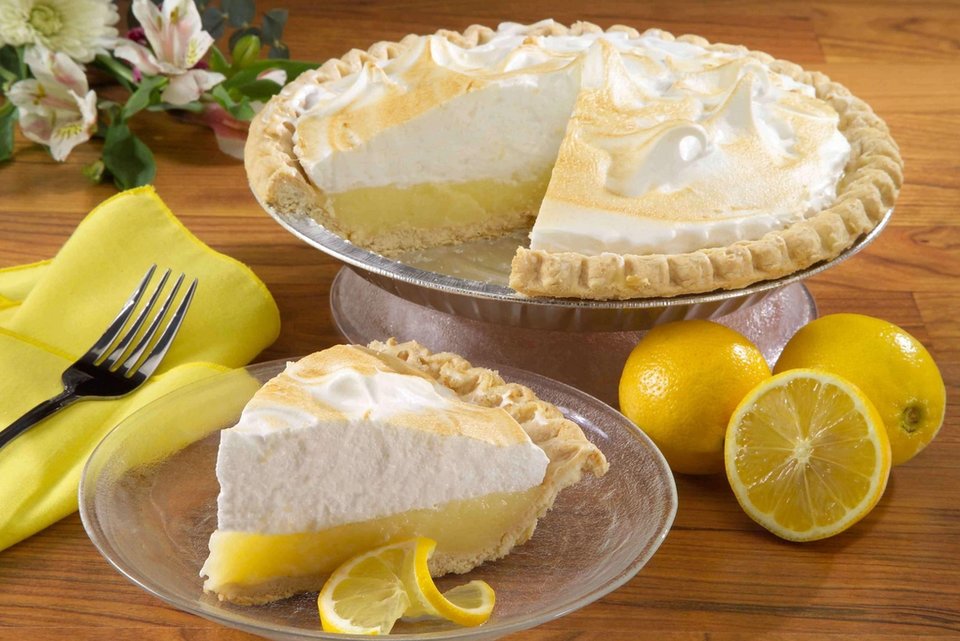 Lemon meringue pie
(Capsicum Rosebank campus)
INGREDIENTS
1 baked rich shortcrust pastry shell
3 eggs, separated
250g sweetened condensed milk
Grated rind and juice of 3 lemons
5 Tbsp of castor sugar
METHOD
Pre-heat the oven to 180ºC. Beat the egg yolks, lemon rind and lemon juice together until thick and creamy. Beat in the condensed milk and pour into the baked pastry shell. In a separate bowl, beat together the egg whites and the castor sugar until stiff peaks form. Spoon the mixture over the lemon filling and bake in the centre of the oven for 25 minutes. Remove and let the pie cool completely before serving.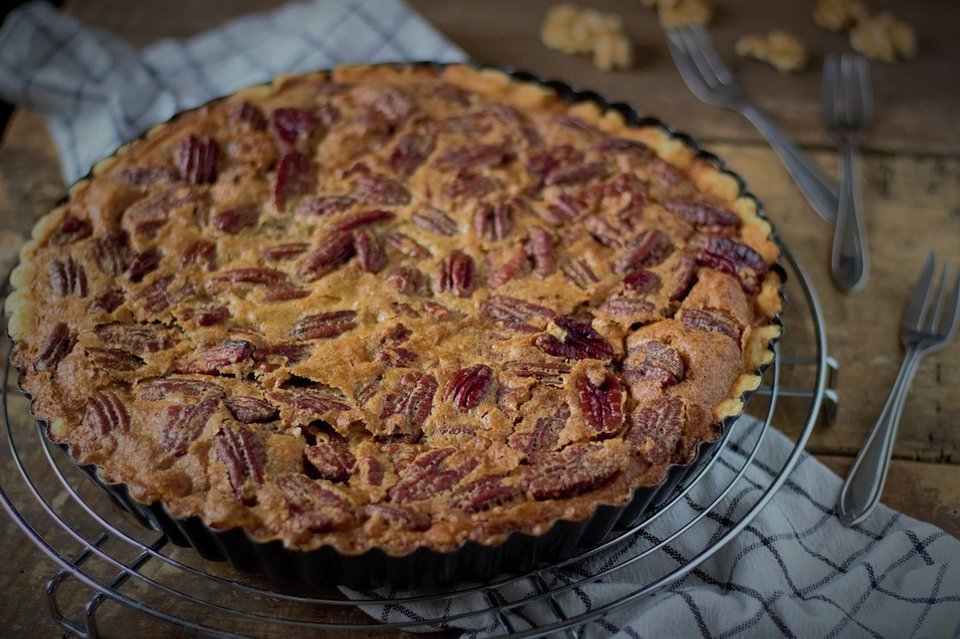 Pecan pie
INGREDIENTS
500g short crust pastry
75g butter, softened
100g castor sugar
175g golden syrup
175g maple syrup
3 eggs, beaten
¼ tsp salt
½ tsp vanilla extract
300g pecan halves
METHOD
Roll out the pastry on a lightly floured surface and line a 23cm tart tin. Prick the bottom of the pastry case with a fork and chill in the fridge for at least 30 minutes. Pre-heat the oven to 190ºC. Line the pastry case with baking paper, fill with baking beans (or uncooked rice) and bake for 15-20 minutes until the sides are set. Remove the beans and paper and return the tin to the oven for five to 10 minutes until the pastry is golden and the base is set. Remove and leave to cool. Bump up the oven temperature to 200ºC. Use an electric whisk to beat the butter and castor sugar together until light and fluffy and while still beating, pour in the golden and maple syrups. Gradually add the eggs, salt and vanilla extract and whisk until well combined. Stir in the pecans then pour the mixture into the tart case. Bake for 10 minutes before turning the oven down to 160ºC and continue baking for 30-35 minutes. Leave to cool in the tin before turning out and serving with whipped cream or ice cream.