Thinking
out the
BARREL
Creativity. What provides the spark in someone's brain that makes them think: "What would happen if I did XYZ with this old wooden barrel?" Well, the proof of the pudding is in the myriad secondary uses for oak casks which have served their original purpose.

There's more to upcycling a previously loved and used wooden wine barrel than making a rope-handled cheese platter or bread board. With smoking of ribs and other meaty cuts becoming more popular, wine barrel chips are sometimes used. Avid braai fans have also been known to soak a scaled down piece of wine barrel before placing a piece of salmon on it prior to cooking it on a kettle braai. As the winey oak plank steams, it imparts a subtle oaky, vinous and smoke nuance to the fish.
Barrels aren't necessarily something consumers pay a lot of attention to – unless the oak influence is a touch too heavy in their chardonnay or chenin! Winemakers and brand owners on the other hand pay a LOT of attention to them – because they are very expensive items to have in the winery.
A brand-new barrel, freshly imported from Europe, can set wineries back between R15 000 and R25 000, depending on the capacity or volume (generally between 225 and 500 litres FYI), the thickness of the individual staves, whether it's an entry level or top-of-the-line cask and, of course, which forest it came from. Prices of Hungarian, Russian and French barrels vary substantially with the latter frequently specifying which forest the oak tree originated from.
Let there be fire! Charring or toasting the barrels is one of the final steps in the process with winemakers specifying whether they prefer light, medium or heavy toast
Make no mistake, wine producers get their money's worth from those oak vessels, reusing them a number of times – unlike Bourbon producers who believe in "one and done" for their American oak casks. (Of course, Scottish whisky producers are happy to snap up the American casks for maturation of their distilled spirit, appreciating the vanilla flavour it lends their final product.) It's why winemakers will impress upon consumers whether their wine has matured in first fill, second fill, third fill or fourth fill barrels. With each additional vintage, the oak flavour influence decreases, to the point (usually around the fourth go round) that the barrel is serving as a virtually neutral container, imparting little or no oaky, buttery taste to the final wine.
Society is increasingly aware of the need to preserve resources, to reuse and recycle – and there comes a point when wineries need to dispose of old oak casks to make room for fresher vats. Oak forests are also notoriously slow growing in Europe, taking decades, if not centuries to be of sufficient stature to be harvested.
There are only so many plant pots, cheese and bread boards which can be made. So what are the newer, innovative and totally different uses which creative folks have come up with?
Furniture is the obvious one. Internet websites – Pinterest in particular – are full of photos of porch swings, garden furniture, stools, Adirondack and rocking chairs. Some creative woodworkers like to retain the original look of the oak vessel, fashioning liquor cabinets and bars from disused barrels. At Cape Town International's arrivals hall there is even a set of chairs and a coffee table for the use of those awaiting passengers from abroad.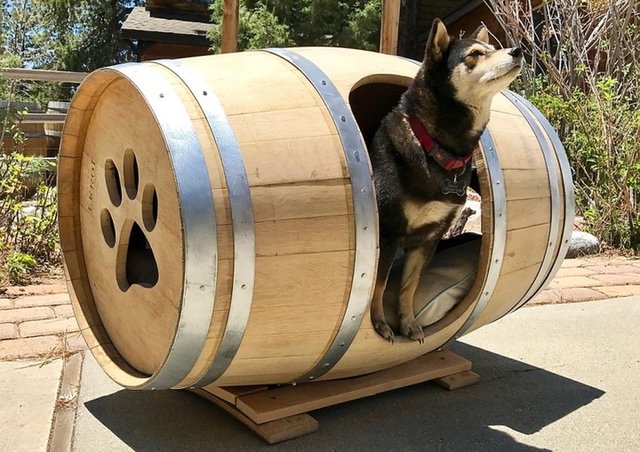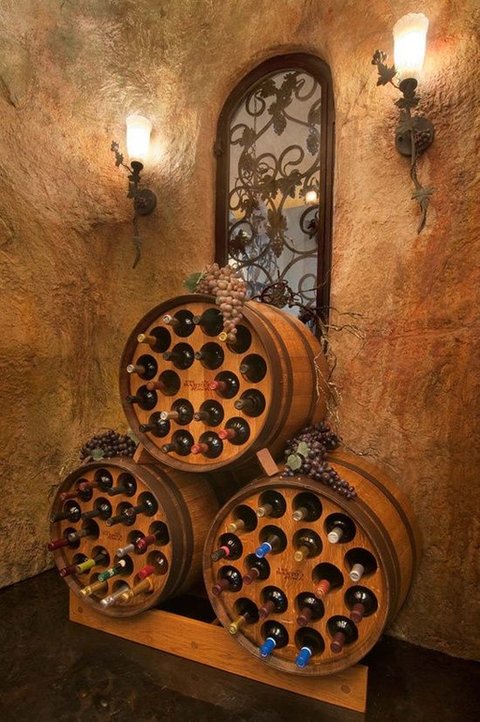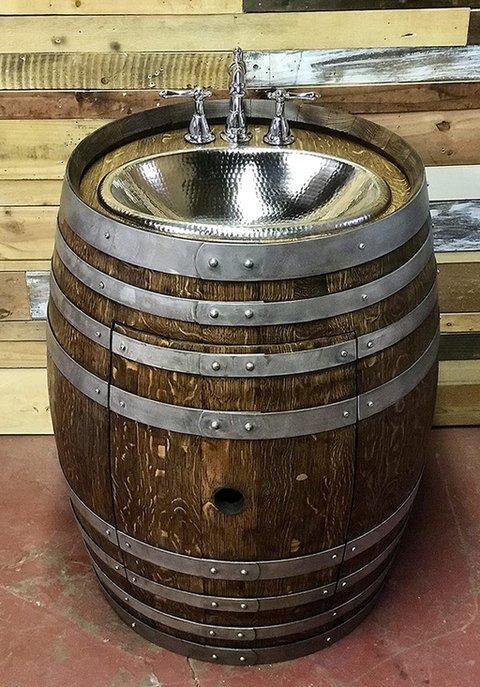 It stands to reason that wine farms have easy access to oak casks reaching the end of their life cycle – and in typical "boer maak 'n plan" fashion, they utilise the resources available. Rustenberg and Jordan estate in Stellenbosch both have tasting counters made from barrel staves – and are not the only wineries to have done so. Others like Franschhoek's La Motte and Worcester's Seven Oaks have used the staves for eye-catching ceilings. Vertical wine bottle racks and candleholders with holes for wax tea candles are also frequently sold in wine farm shops.
Dr Paul Cluver is a retired neurosurgeon – and is used to pondering innovative solutions to problems. He is also a serious environmental custodian: it's why Paul Cluver Wines was one of the first biodiversity champions recognised by the Worldwide Fund for Nature (WWF).
Elgin is renowned worldwide as a popular mountain biking spot, with hundreds of kilometres of trails winding through forests, mountains, vineyards, and pastures. Competitors at the popular FNB Wines2Whales multi-stage MTB race annually bomb down single track or sweat over the mountain passes there. Dr Cluver saw the opportunity for a win-win initiative, combining the use of old barrel staves for safe bridges over gullies and streams on the wine estate – as well as a chance to employ and upskill local youths.
The young folks were taught rudimentary construction skills, use of power tools, teamwork, scheduling and communication, project management and more as they built these innovative, sturdy bridges. Their pride in making something tangible as well as earning a solid wage was palpable and has been the first career step for many of them.
The only perceivable limit to what crafty upcyclers can come up with for wine barrels, are the restrictions of their own creativity.