Kinder
cuisine
The Kind Kitchen – Vegan. Now what? Jason McNamara has been on a principled journey and this book – which one CHEERS reader could win – demystifies and simplifies recipes and foods for anyone following the same path.

Woodstock, Cape Town is a long way from Austin, Texas, where Jason McNamara trained as a chef at the Natural Epicurian School of Culinary Arts – but it's a great base for fans of this talented vegan food meister.
Like so many people, the pandemic had a huge impact on McNamara's life. Having started out cooking vegan meals from his home and offering a takeaway service, McNamara had graduated to opening not just one but two vegan restaurants. The Kind Kitchen could be found in both Woodstock and Constantia – but closed their doors due to the multiple lockdowns and curfews.

His journey to veganism had its origins in the practice of Jivamukti yoga in Craighall Park, Johannesburg. The emphasis on respect and compassion for all things saw him continue the evolution from eschewing meat, through vegetarianism to veganism in 2009.
"I was able to transition to a kinder way of living," he said, believing resolutely in the impact of personal choices on the future of the planet.
Mushrooms are his favourite ingredients to use because of their versatility and flavour as well as texture, something which is highlighted in the book.
It's obviously geared to folks who have chosen a vegan lifestyle – but is not exclusive. Chef Jay is happy for non-vegans to try his recipes and realise that it doesn't have to involve only chickpeas and lentils … He has reimagined everything from mac 'n cheese to burgers, bunny chow and even milk tart and cheesecake!
As the book promo blurb states, "Jay Mac has mastered the art of turning mushrooms into chicken, carrots into lox, celeriac into fish and beetroot into burgers, as well as the even darker art of making meat from wheat."
There is honestly something for everyone, ranging from breakfast to soups and salads, sandwiches, basic stocks, sauces and dressings to snacks and then main meals and sweet stuff. There are tips and tricks about making your own juices and plant-based milks as well as meat substitutes.
It's been a long journey for chef Jay McNamara and as you turn the pages of his book, he's helped anyone following in his footsteps to a more environmentally friendly eating plan, finding their way in a really tasty manner.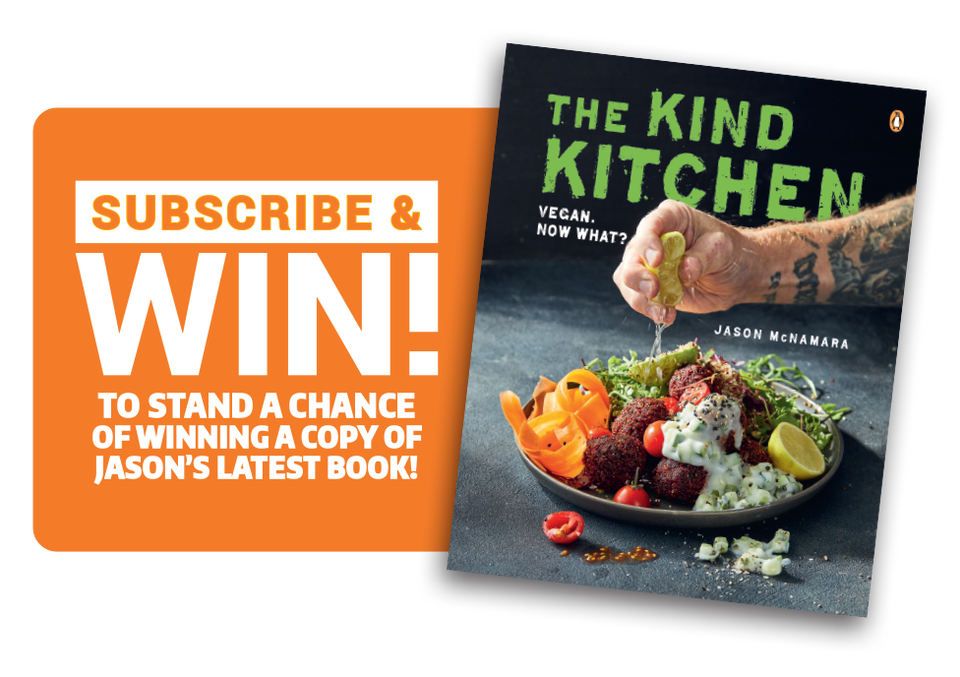 COMPETITION TERMS AND CONDITIONS
Competition submissions should reach us no later than 25th April 2022. The Prize/s is as indicated, no alternatives or cash will be provided. The decision of Integrated Media will be final, and no correspondence will be entered into. Under no circumstances shall Integrated Media, TOPS at SPAR, SPAR or its appointed representatives and the prize donors be liable to anyone who enters these Prize Draws for an indirect or consequential loss howsoever arising which may be suffered in relation to the Prize Draws. By entering these competitions, you make yourself subject to receiving promotional information. Entrants are deemed to have accepted these terms and conditions. Prize Draw Rules: The prize draw is only open to consumers who must be over 18 years of age and resident in South Africa. Employees of Integrated Media and TOPS at SPAR, SPAR and their respective advertising, media and PR agencies, as well as the family members, consultants, directors, associates and trading partners of such organisations and persons are ineligible for the draw. Participants can only win one competition every three issues.