SmarT
speedy and healthy
Summer bodies are built in winter and as tempting as it might be to seek solace in a bowl of pasta or a hearty baked potato, it's possible to both trim the carbohydrate intake and soothe flavour cravings. Low-Carb Express by Vickie de Beer provides practical tips and recipes.

Her son's diagnosis of diabetes sent food writer and chef Vickie de Beer on a journey she could never have anticipated. It changed the way she looked at food, wrote about it and prepared it for her family.
De Beer is well-known in South Africa having worked as the food editor for popular Rooi Rose magazine for years – and this is not her first book either. She was awarded the Sunday Times Cookbook of the Year Award for The Low-Carb Solution for Diabetics in 2015, a book which detailed the family's relationship with a healthier way of eating as a result of having a diabetic to cater for.
The many benefits of reducing carbohydrate intake are well-known having been researched exhaustively and written about extensively, but many people believe the move to a low-carb diet is difficult and food preparation is time consuming. De Beer comprehensively debunks that myth in Low-Carb Express.
The pages contain a host of recipes which are both quick to prepare and are easy too. And with everything she does, flavour is a non-negotiable. De Beer also adds some bonus tips after recipes of how to switch things up and vary the dish a little because she knows how important it is to not get stuck in a rut.
Nutritional and flavourful meals without refined carbohydrates are possible even when pressed for time. With some planning and good time management, De Beer demonstrates in Low-Carb Express that you can cook healthy meals in a jiffy that will not only benefit the family's overall health, but potentially the budget too.
In Low-carb Express meals are planned around the available time. Whether that's five minutes for a nutritionally dense egg scramble or immune-boosting smoothie, or half an hour to make a delicious low-carb bobotie or the best-ever low-carb cupcakes, De Beer proves there's no such thing as too little time to make healthy food choices. With recipes that take between five and 30 minutes to prepare, there really are no more excuses!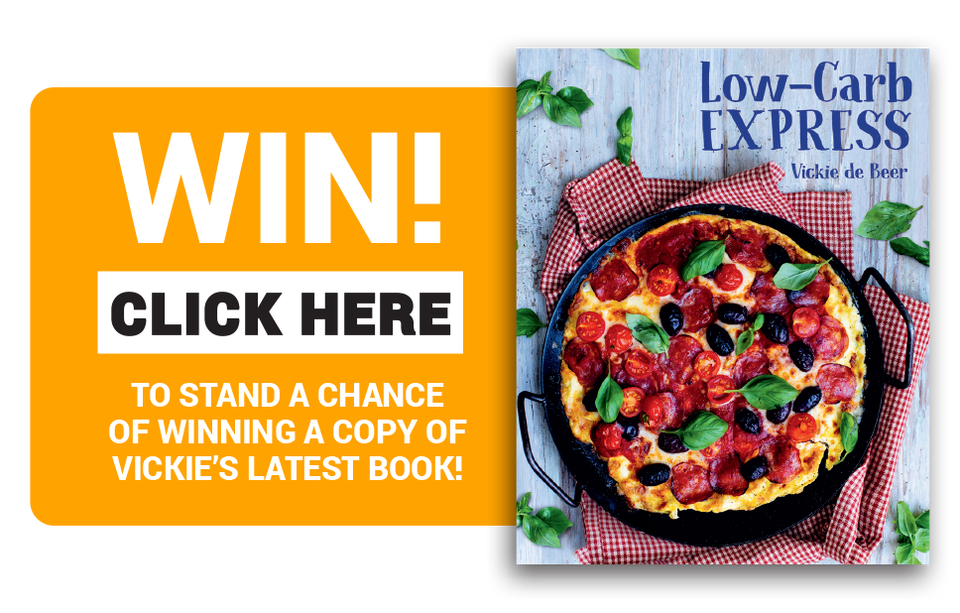 COMPETITION TERMS AND CONDITIONS
Competition submissions should reach us no later than 25th June 2021. The Prize/s is as indicated, no alternatives or cash will be provided. The decision of Integrated Media will be final, and no correspondence will be entered into. Under no circumstances shall Integrated Media, TOPS at SPAR, SPAR or its appointed representatives and the prize donors be liable to anyone who enters these Prize Draws for an indirect or consequential loss howsoever arising which may be suffered in relation to the Prize Draws. By entering these competitions, you make yourself subject to receiving promotional information. Entrants are deemed to have accepted these terms and conditions. Prize Draw Rules: The prize draw is only open to consumers who must be over 18 years of age and resident in South Africa. Employees of Integrated Media and TOPS at SPAR, SPAR and their respective advertising, media and PR agencies, as well as the family members, consultants, directors, associates and trading partners of such organisations and persons are ineligible for the draw. Participants can only win one competition every three issues.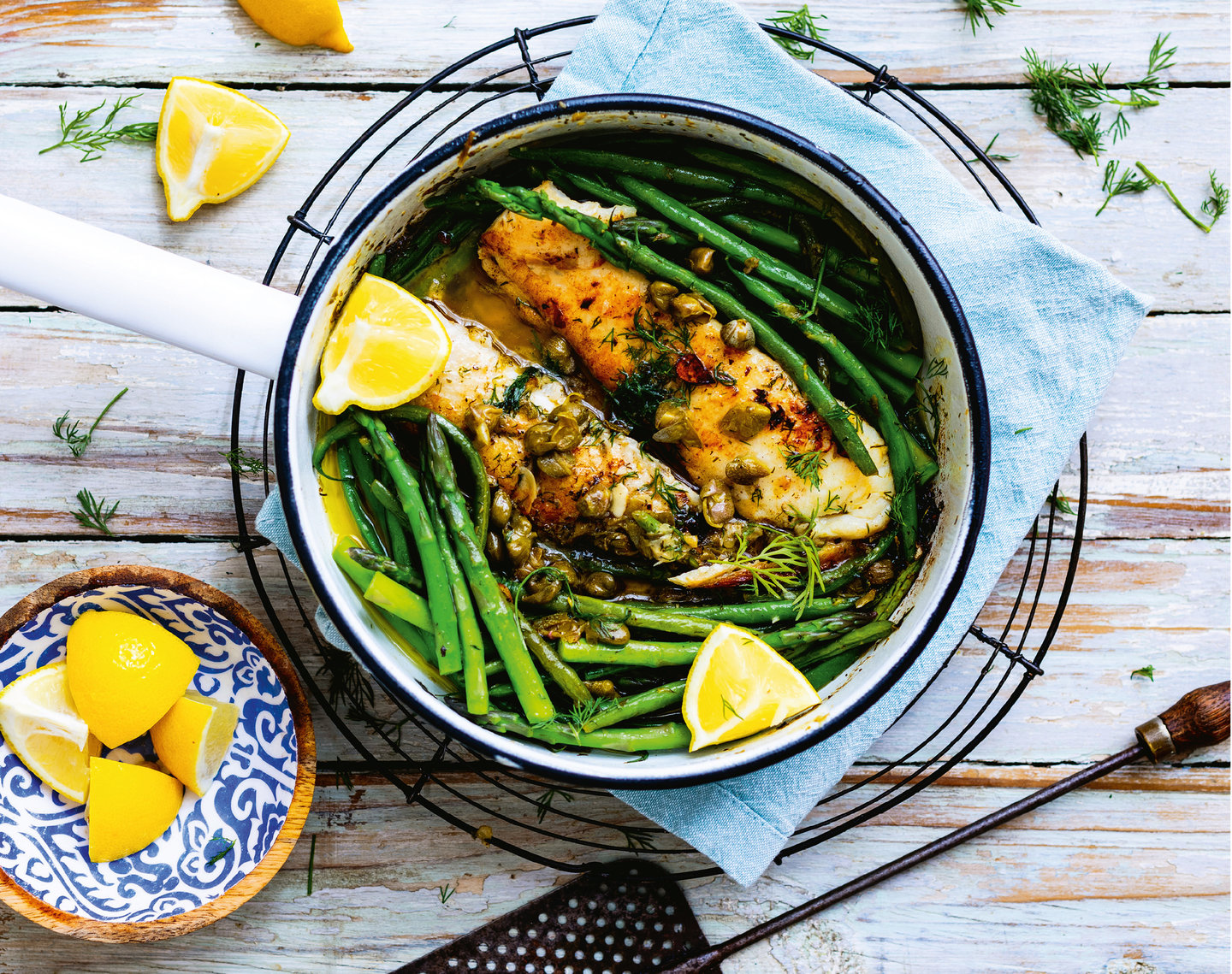 Grilled fish with lemon and caper butter
Serves 4
Flavoured butters are one of the quickest ways to add flavour to dishes. You can even make them in advance and keep them in the fridge in little rolls.
Ingredients:
100 g butter
2 garlic cloves
A small handful of fresh parsley
A small handful of fresh dill
Grated zest and juice of 1 lemon
30 ml capers, plus extra for serving
4 x 150 g white fish fillets such as kingklip or hake
A pinch of salt
100 g fine green beans
100 g asparagus
Method:
1 Place a medium frying pan over medium heat and a medium saucepan of salted warm water over high heat.
2 Combine the butter, garlic, herbs, lemon zest, lemon juice and capers in the bowl of a food processor and process until smooth.
3 Place half the caper butter in the frying pan and add the fish fillets. Season with the salt and fry the fillets for 2 minutes on each side.
4 As soon as the water in the saucepan is boiling, add the beans and asparagus and simmer for 1 minute. Drain and add to the pan with the fish along with the remaining caper butter. Toss gently and serve.
Shortcuts:
• Thai-flavoured butter: combine 100 g butter with 1 green chilli, 1 garlic clove, 6 cm ginger root, the soft inside of 1 lemongrass stalk and a small handful of fresh coriander. Process until smooth.
• Mexican-flavoured butter: combine 100 g butter with 1 jalapeño chilli, 1 garlic clove, 10 ml smoked paprika, 5 ml cumin seeds and a small handful of fresh coriander. Process until smooth.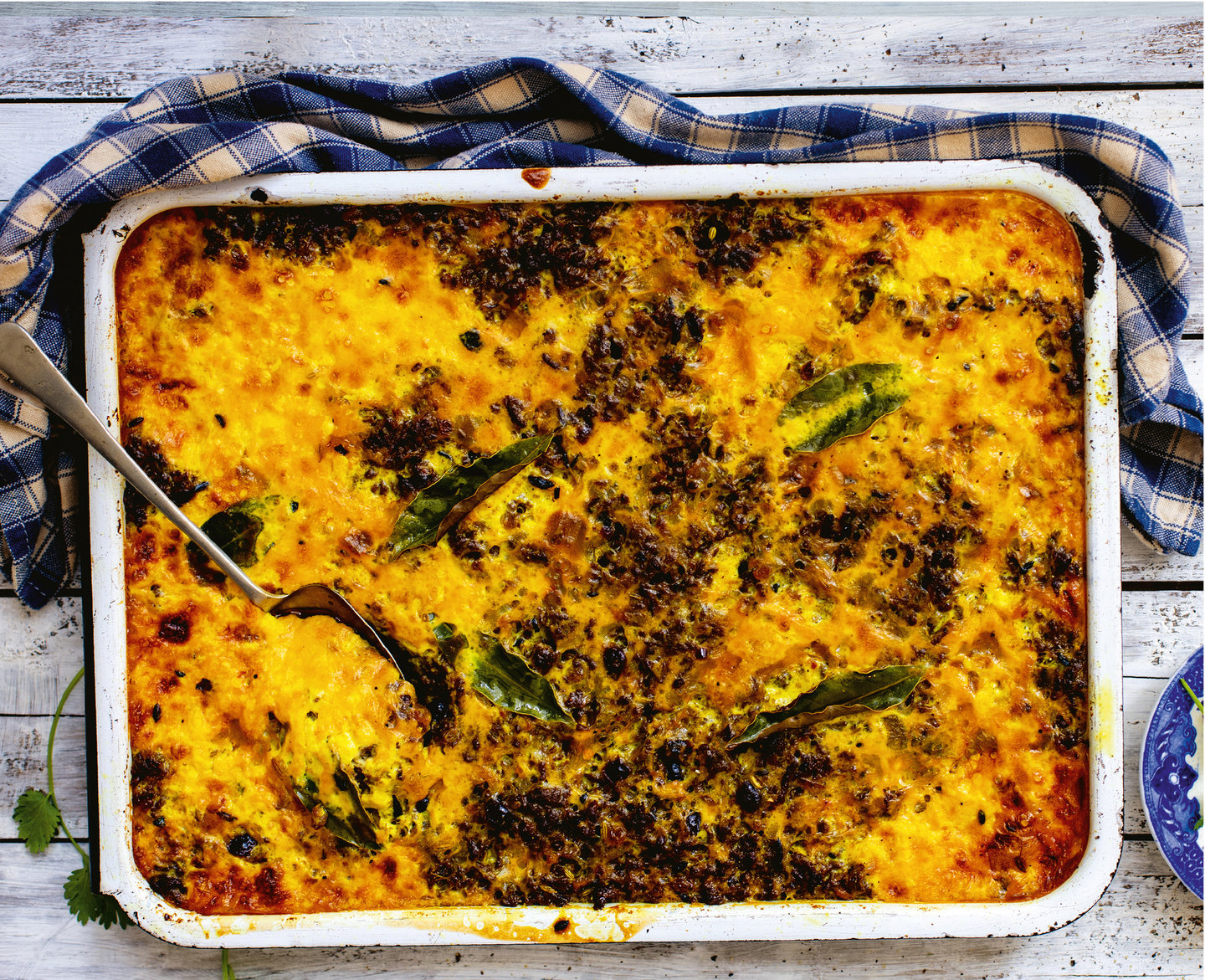 Low-carb bobotie
Serves 4
Traditional bobotie has a sweetness to it that balances the spices perfectly. Normally raisins and fruit chutney are added to create the sweetness, but these up the carb count quite significantly. I add half an apple and unsweetened dried cranberries to create the same flavour.
Ingredients:
30 ml olive oil
3 onions, chopped
2 garlic cloves
6 cm ginger root
30 ml mild curry powder
5 ml ground cinnamon
5 ml cumin seeds
10 ml fennel seeds
1 kg beef mince
Salt and freshly ground black pepper to taste
40 g unsweetened dried cranberries, roughly chopped
½ apple, grated
6 bay leaves
500 ml cream
4 eggs, beaten
Salt to taste
Method:
1 Preheat the oven to 200 °C.
2 Warm the olive oil in a medium frying pan over medium heat.
3 Place the onions, garlic and ginger in the bowl of a food processor and quickly pulse until coarsely chopped. Add to the pan and cook until soft. Add the curry powder, cinnamon and seeds and cook for 1 minute.
4 Add the mince to the pan in batches and fry until browned. Use a fork to break up any clumps. Season with salt and pepper.
5 Mix through the cranberries and apple and spoon the mixture into a 40 x 30 cm oven pan. Top with the bay leaves.
6 Combine the cream and beaten eggs in a small jug and season with salt. Pour evenly over the mixture and bake for 20 minutes until golden and set. Serve warm.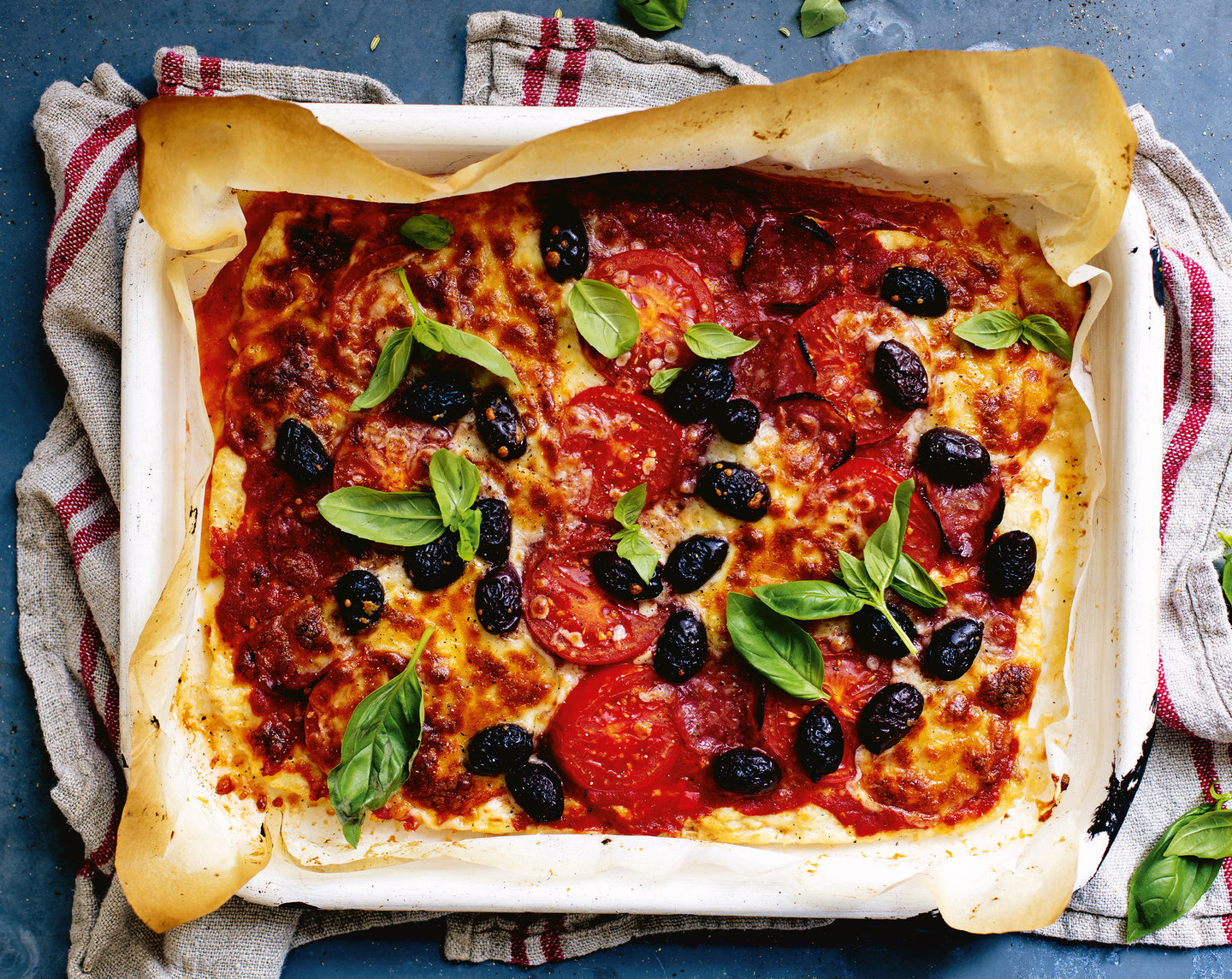 Pan pizza
Serves 4
We love eating low-carb pizza, but to roll out so many pizzas takes a lot of time. Enter the pan pizza: one large pizza for the whole family! When it comes to toppings, let your imagination run wild. You can even distribute the toppings in such a way that each person gets the topping they prefer. We are particularly partial to this combination.
Base:
500 g skinless and boneless chicken thighs, quartered
40 g Parmesan cheese, grated
60 g mozzarella cheese, grated
1 garlic clove
5 ml salt
Sauce:
30 ml olive oil
1 red chilli, finely chopped
150 ml Italian passata
Toppings:
100 g spicy salami, sliced
100 g black olives, pitted
2 large ripe tomatoes, sliced
A small handful of fresh basil
150 g mozzarella cheese, grated
Method:
1 Preheat the oven to 200 °C. You will need a 40 x 30 cm oven pan.
2 Combine the chicken, Parmesan, mozzarella, garlic and salt in the bowl of a food processor and process until smooth.
3 Spoon the chicken mixture onto a large sheet of baking paper, top with another sheet of baking paper and roll into a rectangle to fit your tray. Remove the top sheet of baking paper and lift the pizza onto the oven pan using the bottom sheet. Use your fingers to evenly spread the chicken mixture over the baking paper and into the corners.
4 Bake for 10 minutes until firm and golden on the edges.
5 In the meantime, heat the olive oil for the tomato sauce in a large saucepan over medium heat. Fry the chilli for 1 minute and add the passata. Heat through.
6 Spread the tomato sauce over the pizza base and top with all the toppings, ending with the mozzarella. Return to the oven and bake for another 10 minutes, then switch on the grill and grill for 2 minutes. Serve warm, sliced into squares.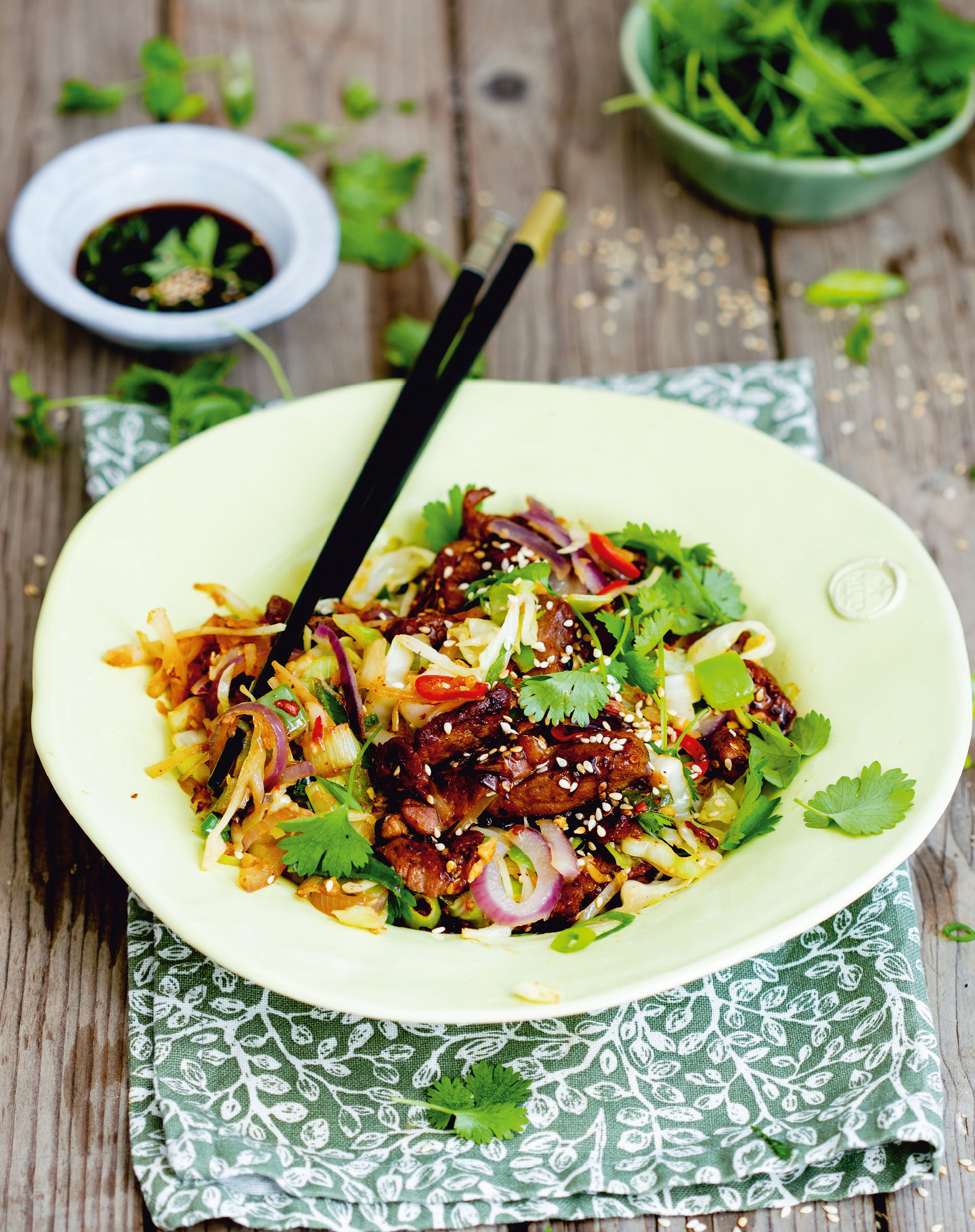 Speedy stir-fry
Serves 4
You can use any combination of vegetables. I sometimes buy a packet of pre-cut stir-fry veggies to save time. A few carrots here and there will not push the carb count up too significantly, so it's a great solution for a quick dinner.
Ingredients:
1 red onion
1 small cabbage
2 small leeks
1 large zucchini
30 ml olive oil
500 g pork neck steaks, thinly sliced
Salt to taste
2 garlic cloves, finely chopped
2 red chillies, finely chopped
8 cm fresh ginger root, finely chopped
30 ml sesame seeds, plus extra for serving
60 ml freshly squeezed orange juice
30 ml soy sauce
5 ml erythritol
A small handful of fresh coriander
4 scallions/spring onions, thinly sliced
Method:
1 Shred the vegetables with the shredding attachment of a food processor or slice thinly using a mandoline. Set aside until needed.
2 Heat the oil in a large pan or wok over medium heat.
3 Lightly season the pork with salt and fry for 3–4 minutes until golden. Remove from the pan using a slotted spoon.
4 Add the garlic, chillies and ginger to the same pan and cook for 1 minute.
5 Add the chopped vegetables and sesame seeds and stir-fry for 5–7 minutes.
6 Combine the orange juice, soy sauce and erythritol in a small bowl.
7 Return the pork to the pan and add the orange sauce. Toss well and fry until just heated through.
8 Serve the stir-fry topped with the fresh coriander, scallions and extra sesame seeds.
Shortcuts:
• Buy stir-fry pork strips to save time.
• You can substitute beef or chicken for the pork.