Different
a-peel
Skin it any way you want to, citrus adds a zest and a zing to life. It's a broadly appealing flavour or aroma which is why it features in everything from shower gels, furniture polish, aroma diffusers, cookies and cakes to drinks. Fiona McDonald looks at its role in gin.

"When life gives you lemons, make lemonade," right? But when you are a winemaker with a bit of a thing for distilling, lemonade is not the first thing you think of. Or it wasn't for Rolf Zeitvogel, the former Blaauwklippen vineyards general manager who was one of the first to create a local citrus themed gin.
The Triple 3 Citrus Infusion came about because Zeitvogel, a third generation distiller from Germany's Black Forest region, knew someone who grew fantastic organic citrus. That pure fruit zest – untainted by sprayed chemicals and sourced in the Eastern Cape and the lemons virtually in his backyard in Stellenbosch – was the biggest appeal for the fledgling gin brand when it was introduced in late 2016.
It was ahead of the curve, predating the explosion of local gin by about a year. Take a browse around the shelves of your local retailer and make a note of the variety of gins. There are fynbos elements, Kalahari truffle, cucumber, African botanicals but the profusion of citrus soon becomes obvious.
Clemengold and Bloedlemoen are the two obvious ones. CHEERS wrote about the emergence of craft gin distilling in 2019 and quoted Clemengold's Charlene Nieuwoudt: "Eight botanicals – with sundried Clemengold peels taking the flavour lead – are used when handcrafting the distillation," she said of the soft citrus cultivated in Mpumalanga, Limpopo, Southern and Western Cape, which goes into their product.
One of the partners behind Bloedlemoen, Stefan Coetzee, said South Africa had a bounty of botanicals, describing it as a "treasure trove". "Gin has been the perfect fit for presenting our natural bounty to both local and international audiences. It's a versatile spirit which leaves a lot of room for creativity and flair." In Bloedlemoen's case the flair is using the special Tarocco blood orange which boasts high levels of anthocyanins which give the fruit its distinct ruby colour – as featured prominently on the label. "It's the backbone of our gin, balanced by the spicy nuances of nutmeg, cassia, grains of paradise and angelica root," he said. Along with the obvious requirement of juniper berries which make it a gin.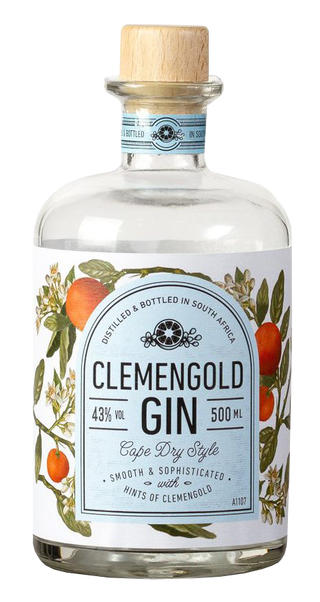 Pienaar & Son's Empire gin focuses more on being juniper forward, in true London dry gin style. Lemon, grapefruit and lime leaves, along with some cucumber can be found in the Empire. The prize for sheer citrus exuberance has to go to another renowned wine producer: Boplaas of Calitzdorp in the Klein Karoo. Their Boplaas 8 citrus gin genuinely celebrates the cornucopia of oranges, lemons, tangerine, blood orange, lime, bitter orange, grapefruit and even kumquat which goes into its making.
Yet South Africa is not alone in this orange, lemon and grapefruit-hued gin love. The continuing success of the popular Malfy range with its three flavour variants – Limone, con Arancia and Rosa – as well as Tanqueray's Flor de Sevilla are the obvious examples. Beefeater, a quintessentially British London dry gin, has also recently introduced its Blood Orange to the market.
A point to note of the last two is that they are not labelled as gins but rather as spirit aperitifs. The reason, spirit expert Hector McBeth explained at the CHEERS tasting, lies in the alcohol levels – 35% abv and 37.5% abv respectively – and that they are not distilled in the single shot method, with juniper character being forward in the nose and palate.
Beefeater's marketing tells the romantic tale of its founder James Burroughs hand-selecting oranges from Covent Garden market in London for his first orange gin distillation in 1876! The modern version stays true to its gin roots with juniper, orris, liquorice and angelica roots, coriander and angelica seed, along with lemon and Seville orange peel and natural blood orange.
Tanqueray's marketing info also sings the same tune, claiming that the new flavour variant was inspired by Charles Tanqueray's original recipes. Spanish Seville oranges are known for their bright, zingy bittersweet flavour which makes them perfect for that breakfast treat so beloved of Briton's – orange marmalade. Yet those tastes, when married with the botanicals in gin, make for a wonderful flavour burst enhanced by tonic or even soda. It must be said that the Tanqueray Flor de Sevilla can comfortably be sipped on its own since it has a notable sweetness – and the alcohol level is lower than its competitors.