Cooking
by numbers
The cheeky chappie who gained fame as the Naked Chef has been a fixture on the food scene for two decades. His latest book, 7 Ways – Easy ideas for every day of the week, doesn't disappoint.

Having learned to cook in his parent's Essex pub, Jamie Oliver has gone on to achieve great things. Not only establishing himself as a restaurant owner and one of the original celebrity chefs, but as a social activist eager to make a difference to school children's nutrition in Britain too.
So much so that people simply refer to him by his first name – his surname is superfluous because everyone knows who you're referring to when you mention that it's a Jamie recipe.
It's mainly off the back of his television appearances that his recipe books have achieved runaway success – and for a dyslexic, that's no mean feat. He inspires in overcoming obstacles. Oliver – Jamie – managed to strip away a lot of the stuffy cheffy nonsense that intimidated home cooks, empowering them with confidence to simply "have a go".
His latest recipe book, 7 Ways, ties in with his latest television series, Keep Cooking Family Favourites, and many of the recipes from the show conveniently appear between the covers. The premise is a simple one: take 18 ingredients which are everyday favourites and demonstrate a few different ways of jazzing them up and presenting them to the family.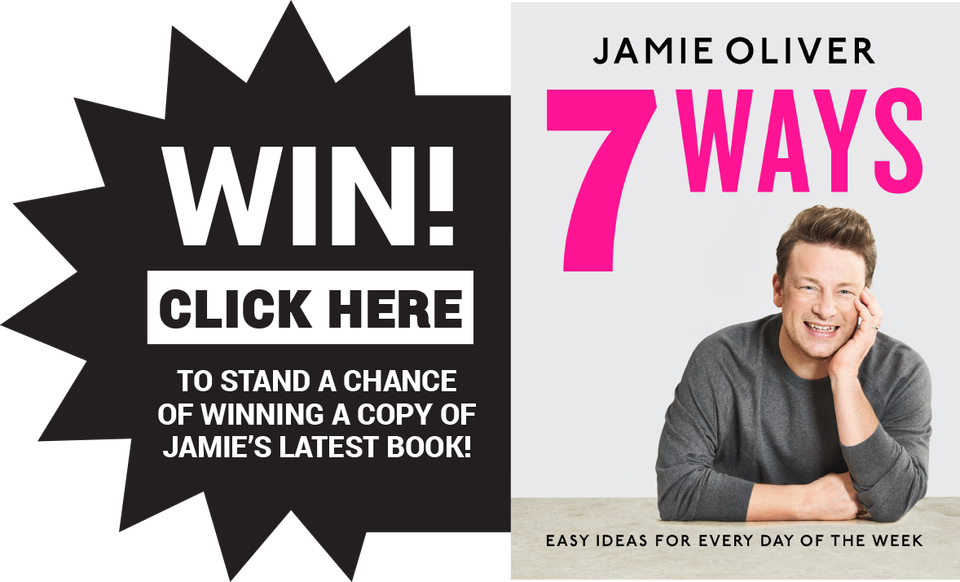 WIN! A COPY OF 7 Ways – Easy ideas for every day of the week by Jamie Oliver
To qualify, send an e-mail or a postcard clearly marked Cheers Book Giveaway and containing your name, ID number, physical address (not a PO Box please!) along with a contact telephone number to qualify for the lucky draw.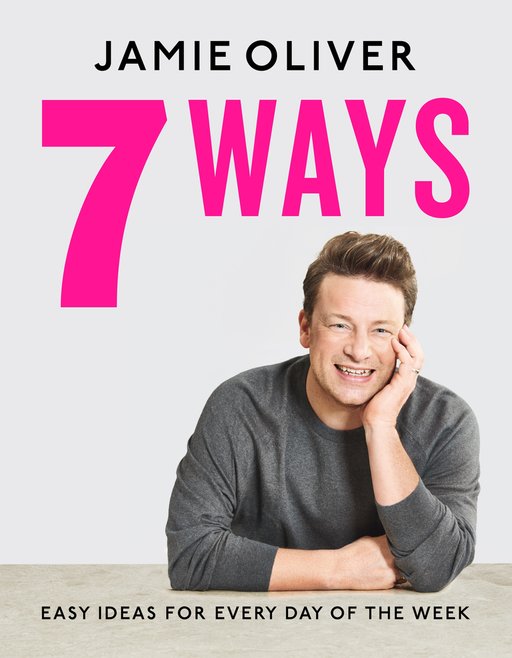 Address: cheers@cheersmag.co.za or Cheers, PO Box 259, Rondebosch 7701.
Entry deadline: 15th February 2021
See T&C's on Editors Letter
LIKE US ON Facebook www.facebook.com/CheersMag to double your chance of winning.

COMPETITION TERMS AND CONDITIONS
Competition submissions should reach us no later than 25th February 2021. The Prize/s is as indicated, no alternatives or cash will be provided. The decision of Integrated Media will be final, and no correspondence will be entered into. Under no circumstances shall Integrated Media, TOPS at SPAR, SPAR or its appointed representatives and the prize donors be liable to anyone who enters these Prize Draws for an indirect or consequential loss howsoever arising which may be suffered in relation to the Prize Draws. By entering these competitions, you make yourself subject to receiving promotional information. Entrants are deemed to have accepted these terms and conditions. Prize Draw Rules: The prize draw is only open to consumers who must be over 18 years of age and resident in South Africa. Employees of Integrated Media and TOPS at SPAR, SPAR and their respective advertising, media and PR agencies, as well as the family members, consultants, directors, associates and trading partners of such organisations and persons are ineligible for the draw. Participants can only win one competition every three issues.
Which means that chicken, eggs, mince, broccoli, mushrooms, peppers, aubergine, salmon and a host of others are given a revamp. Reviews from readers have been very positive. Like this one: "Each of the sections has a handful of recipes featuring and highlighting that food with a handful of simple ingredients. The recipes also feature a pictorial ingredient list along the left side and great pictures for each recipe. Very user friendly – a great guide for fast weeknight meals using nutritious whole foods. I'm not usually a Jamie Oliver fan but I really liked this one! Will be adding it to my collection for sure."
Or this from another fan: "To my own surprise, as I age and indeed have more time, I want things that are ready quicker, easier but taste fantastic and Jamie Oliver delivers recipes that make that possible again and again. Very good book ... A lot from the Keep Cooking show he and his family filmed from their home during this pandemic and very useful tips and ideas. The programme is a pleasure to watch too, with lots of clips from the archives over the years also included. Never lets me down does Jamie Oliver."
With praise like that, the book is a dead cert to top the best seller lists – again!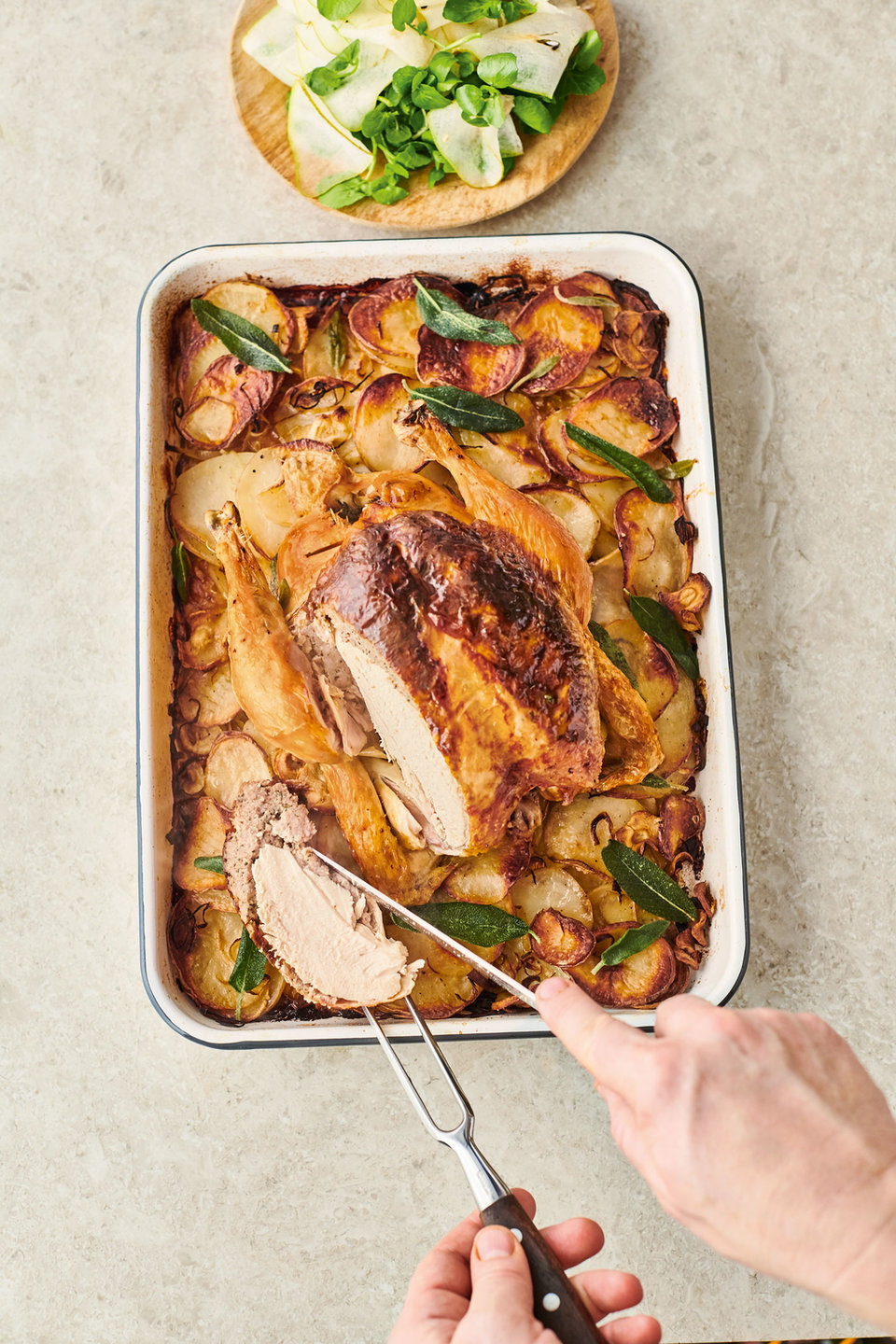 Cumberland roast chicken
Roast potato, parsnip, leek and sage tray bake, pear and watercress
Serves 6
Total time: 1 hour 45 minutes
1.2kg potatoes
2 parsnips
2 leeks
Olive oil
½ a bunch of sage (10g)
3 higher-welfare Cumberland sausages
1 x 1.5kg free-range whole chicken
1 pear
85g watercress
Preheat the oven to 180ºC. Scrub the potatoes and slice finely, then wash, trim and finely slice the parsnips and leeks. Place it all in a 30cm x 40cm roasting tray, and toss with 2 tablespoons of olive oil, a pinch of sea salt and black pepper and the sage leaves (reserving the stalks and a few leaves for later). Squeeze the sausage meat out of the skins and scrunch together. Pull up the chicken skin at the tip of the breasts and use a spatula to gently separate the skin down the breast meat, then poke half the sausage meat into each side, smoothing it out as you go. Secure the skin with a cocktail stick. Rub the chicken all over with a pinch of salt and pepper and 1 tablespoon of oil. Stuff the sage stalks into the chicken cavity. Place the chicken directly on the bars of the oven with the tray of veg underneath, and roast for 1 hour 20 minutes, or until everything is golden and cooked through.
With 10 minutes to go, sprinkle the reserved sage leaves over the tray of veg, so they crisp up nicely. Very finely slice or coarsely grate the pear, and toss with the watercress. Sit the chicken on the veg and serve everything together at the table.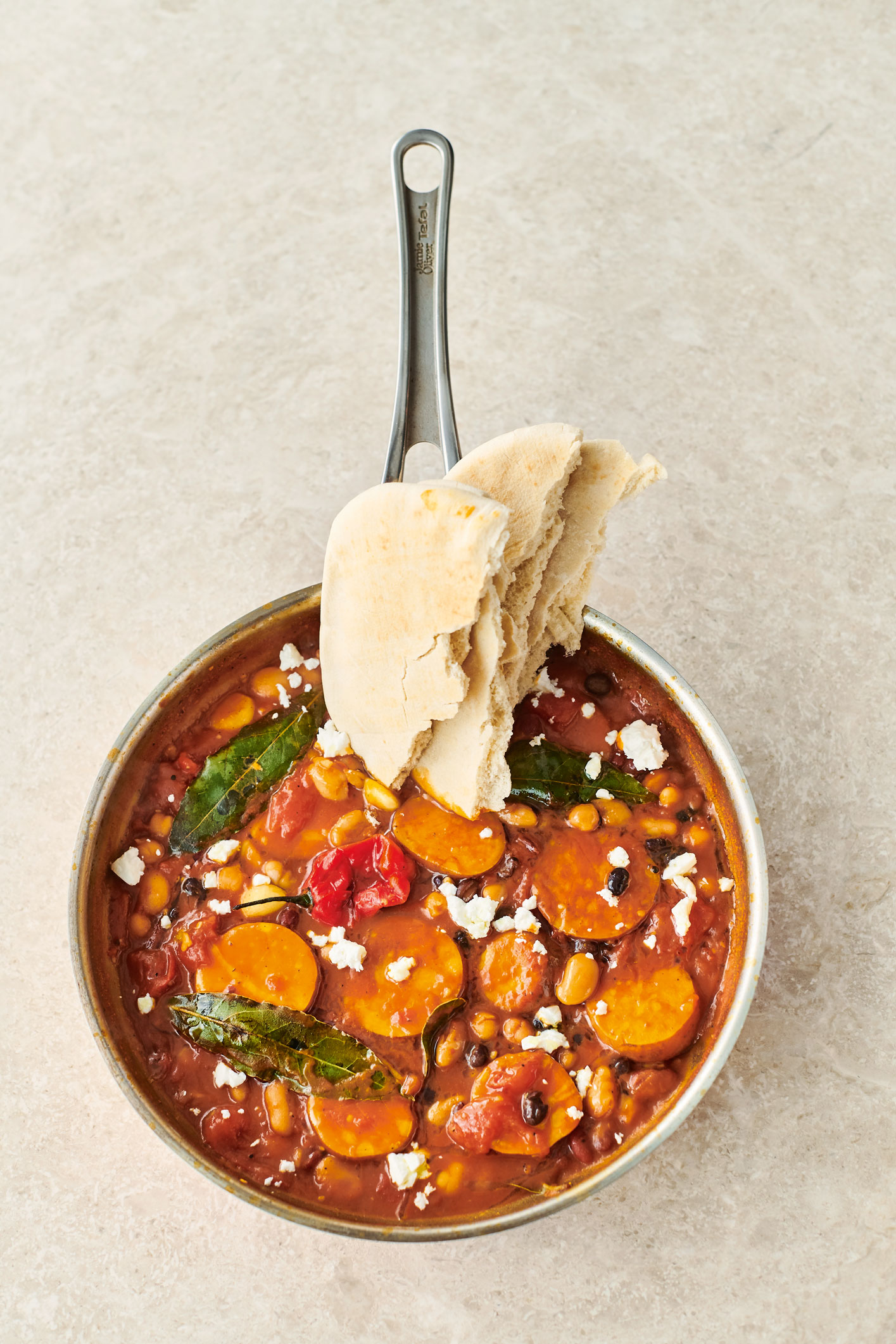 Sweet potato stew
Beans, bay leaves, Scotch bonnet chilli, pittas and feta cheese
Serves 2
Total time: 30 minutes
Olive oil
4 fresh bay leaves
1 fresh Scotch bonnet chilli
4 cloves of garlic
2 sweet potatoes (250g each)
1 x 400g tin of mixed beans
1 x 400g tin of quality plum tomatoes
2 pitta breads
30g feta cheese
Put a 30cm non-stick frying pan on a medium-low heat with 1 tablespoon of olive oil and the bay leaves. Prick and add the whole chilli. Peel and add the whole garlic cloves. Scrub the sweet potatoes, slice them into 2cm-thick rounds and add to the pan to cook for 10 minutes, turning halfway. Pour in the beans (juice and all), and the tomatoes. Break up the tomatoes with a wooden spoon, then cover the pan and simmer for 10 minutes, or until the sweet potatoes are cooked through.
Remove the lid, turn the heat up, and let it bubble away for a few more minutes, or until the sauce is nice and thick. Toast the pitta bread. Season the stew to perfection, then crumble over the feta. Serve with toasted pitta, for dunking.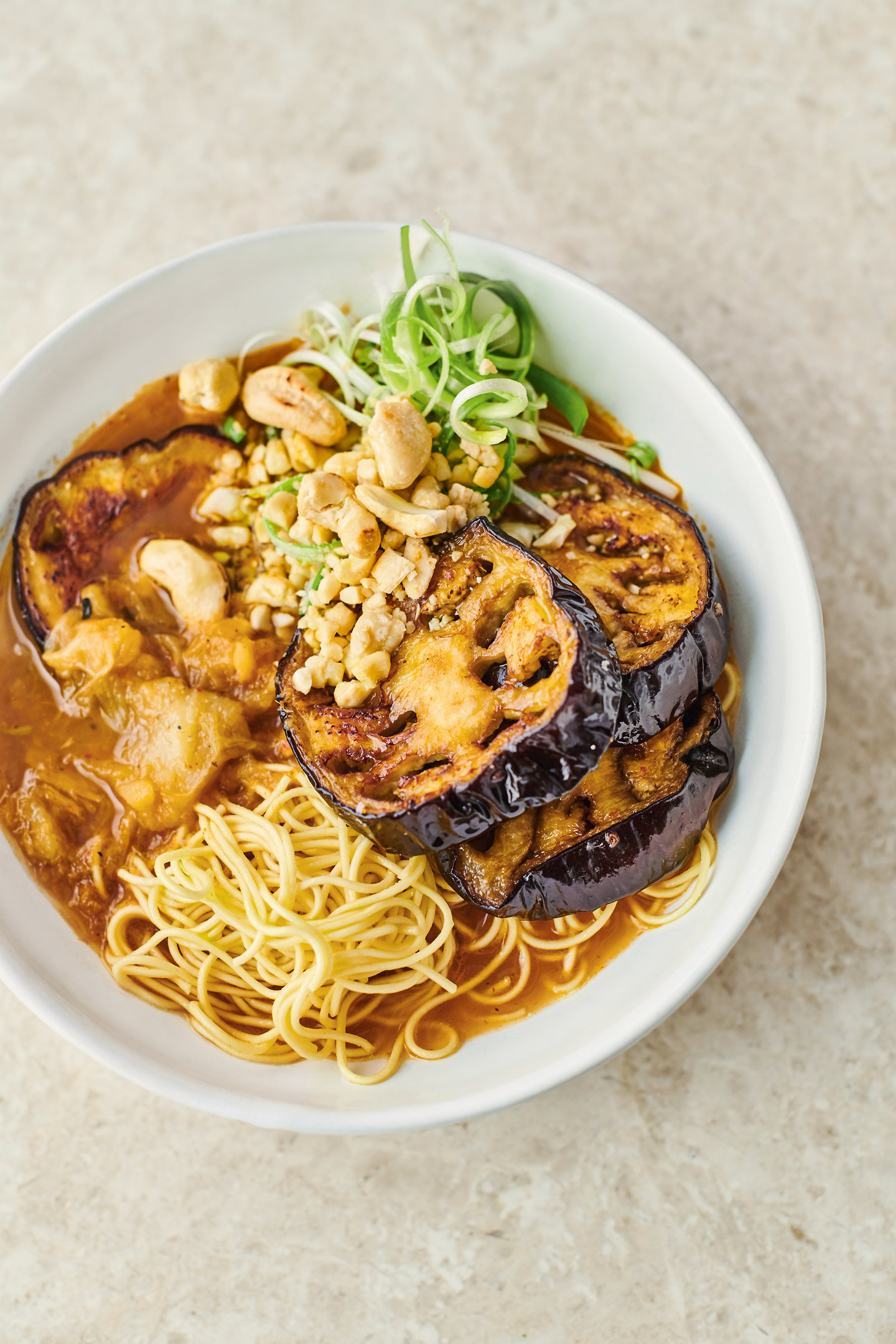 Roasted aubergine laksa
Massaman, ginger, noodles, coconut milk and crushed cashews
Serves 6
Total time: 50 minutes
6 large aubergines (400g each)
Olive oil
Red wine vinegar
6 heaped teaspoons massaman curry paste
60g honey roasted cashew nuts
6 spring onions
6cm piece of ginger
1 x 400g tin of light coconut milk
1 litre veg or chicken stock
450g free-range egg noodles
Preheat the oven to 180ºC. Slice 3 aubergines into 2cm-thick rounds. In a small bowl, mix 1 tablespoon each of olive oil and red wine vinegar, 1 heaped teaspoon of massaman paste and a small pinch of sea salt and black pepper, then brush on both sides of the sliced aubergines. Arrange in a single layer in a large roasting tray and roast for 40 minutes.
Meanwhile, blacken the remaining 3 aubergines in a deep non-stick frying pan on a high heat, turning until charred and tender, then remove, leaving the pan on the heat. While they blacken, crush the cashews in a pestle and mortar, then put aside. Trim the spring onions, chop the white halves (reserving the greens) and place in the pestle and mortar with the remaining massaman paste. Peel, chop and add the ginger, then pound into a paste. Finely slice the green spring onions lengthways and put into a bowl of cold water to curl up.
Halve the charred aubergines and scoop the insides into the hot pan with 1 tablespoon of oil, discarding the skins. Stir in the paste for 2 minutes, then pour in the coconut milk, stock and 1 tablespoon of red wine vinegar, and bring to the boil. Alongside, cook the noodles according to the packet instructions, then drain and divide between warm bowls. Season the soup to perfection and ladle over the noodles, then top with the roasted aubergine slices. Drain the curly spring onions and toss in a little red wine vinegar, then scatter over with the crushed cashews.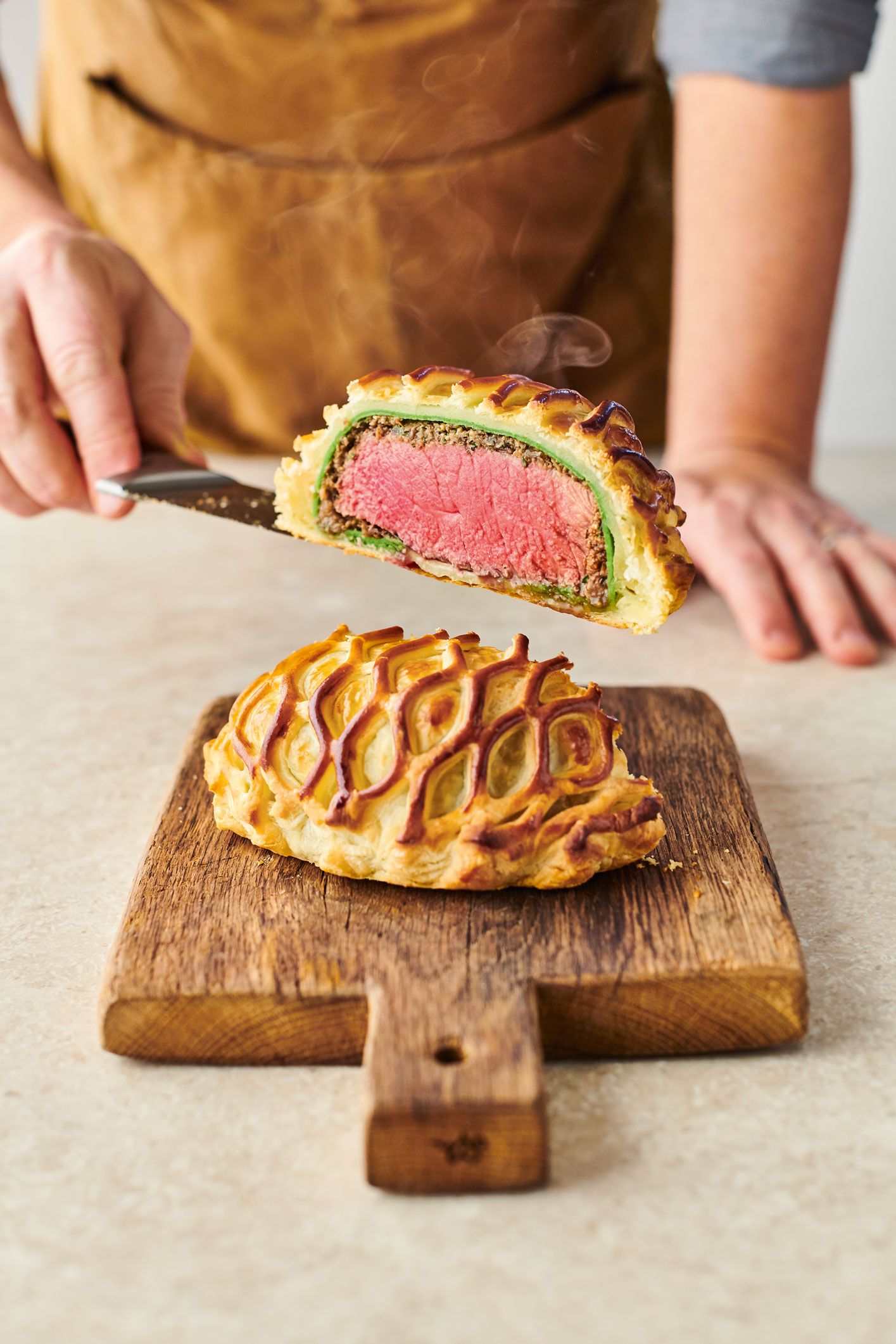 Beef Wellington for 2
Puff pastry, spinach pancakes and mushroom pâté
Serves 2
Total time: 1 hour 30 minutes
1 red onion
250g mixed mushrooms
1 x 230g quality fillet steak
Olive oil
½ a bunch of thyme (10g)
2 large free-range eggs
1 mug of plain flour, plus extra for dusting
100g baby spinach
1 x 320g sheet of all-butter puff pastry
Peel the onion and roughly chop with the mushrooms. Put a 30cm non-stick frying pan on a high heat.
Season the steak with sea salt and plenty of black pepper and rub with 1 teaspoon of olive oil. Turning with tongs, sear the steak all over for 2 minutes in total, then remove to a plate.
Return the pan to a medium heat with the onion and mushrooms. Strip in the thyme. Cook for 15 minutes, or until soft, stirring regularly. Blitz in a food processor until spreadable, season to perfection, and remove. Blitz 1 egg, the flour, spinach, a pinch of salt and 1 mug of water in the processor until smooth. Put your pan back on a medium heat, rub with oil, then pour in a thin layer of batter. Cook for 1 minute on each side without colour. Tip on to a plate to cool. Cover the leftover batter and chill for breakfast or brunch.
Preheat the oven to 220°C. Sit your pancake on a large sheet of clingfilm. Evenly spread over the mushroom pâté. Place the steak in the centre, then gather up the clingfilm and twist into a parcel. Sit the wrapped steak (clingfilm discarded) on the pastry, 2cm from one side. Egg wash all the pastry, then fold and mould the excess over the wrapped steak, leaving a pastry border around it. Trim to 2cm, pinch the edges to seal, egg wash, and decorate with the trimmings, if you like. Cook on the bottom of the oven for 25 minutes, or until the pastry is golden on top and crispy underneath, for blushing, juicy beef. Rest for 2 minutes, then serve.