New beginnings
There has seldom been a year as eagerly anticipated as 2021, surely! It seems the world is happy to put 2020 and all its traumas and challenges behind and start this new year fresh and motivated.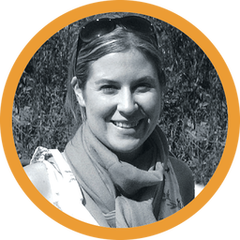 So 2021 is finally here ... happy 2021! We might not yet have any idea of what the next 12 months have in store for us, but what I can personally guarantee is a good dose of deliciousness with these recipes.
First up is a winner-winner-chicken-(pesto)-dinner which doubles up as a quick midweek supper or a delicious lunch. This speedy meal is easy to make, satisfying and packed with flavour. I've used a zesty homemade basil pesto to bring it all together and if you've never made your own pesto before you're in for a treat. (I love to keep some in my freezer to add to all sorts of meals.) But there's also no judgment if you decide to go the store bought route. For ease of convenience, opening a jar wins the race on those hectically busy days!
Traditionally basil pesto contains pine nuts, but with the lasting legacy of 2020's financial crunch many a budget is somewhat tighter these days, so I've swopped them out for cashew nuts and added some spinach to the mix too. I enjoy using whole-wheat pasta for this dish, but you can use any type of pasta you like.
And since everyone likes a little sweet treat, I've included a very moreish cookie recipe. It's a personal favourite that I just love. This recipe came about quite simply because I had a surplus of egg yolks which had accumulated in my freezer and needed to be used. If, like me, you were making Christmas meringues and Pavlovas last month then you might be in the same situation! Yes, I could have made pasta or used the egg yolks for pastry, but I wanted something quick and simple – so cookies it was. These chewy and chocolaty cookies were such a hit with my family the first time I made them, that we've subsequently made them many, many times since.
Enjoy the recipes, and I wish you a healthy and happy new year.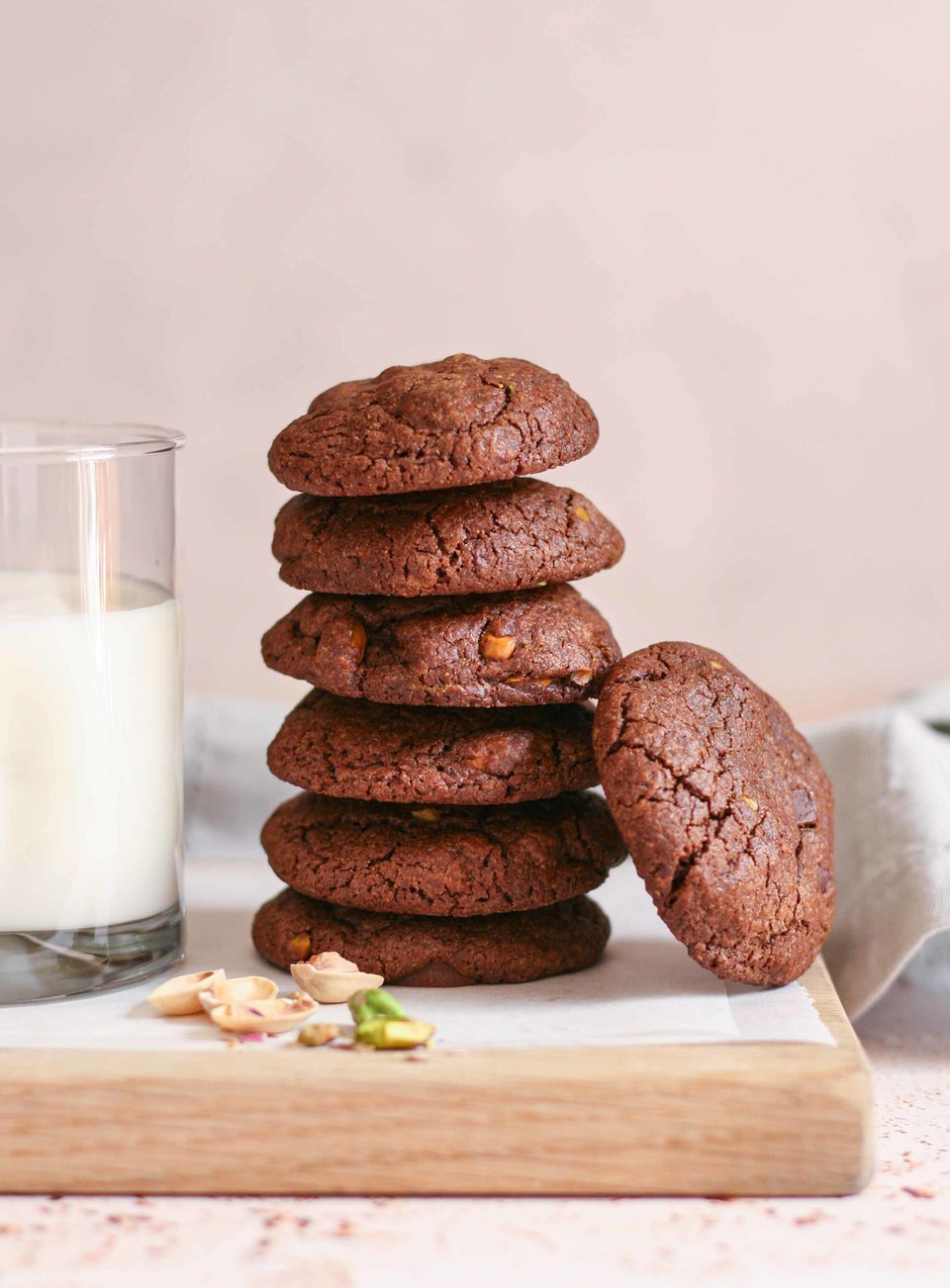 DOUBLE CHOCOLATE PISTACHIO COOKIES (Makes 12)
85g butter, room temperature
150g muscovado sugar (or brown sugar)
2 large egg yolks
5ml (1 tsp.) vanilla extract
110g flour
20g cocoa
2.5ml (½ tsp.) baking powder
50g dark chocolate chunks or chips
40g shelled pistachios, roughly chopped
Preheat the oven to 180ºC. Line a tray with baking paper.
In a mixer, cream butter and sugar together for 8-10 minutes until fluffy and light, scraping down the sides of the bowl regularly.
Add the egg yolks and vanilla and mix to combine. Add the flour, cocoa and baking powder and mix until just combined. Add the dark chocolate and pistachios and gently work the mixture together by hand.
Roll the dough into 12 balls. Arrange these on the tray, allowing some space for spreading.
Bake for 12-14 minutes, then allow to cool before serving.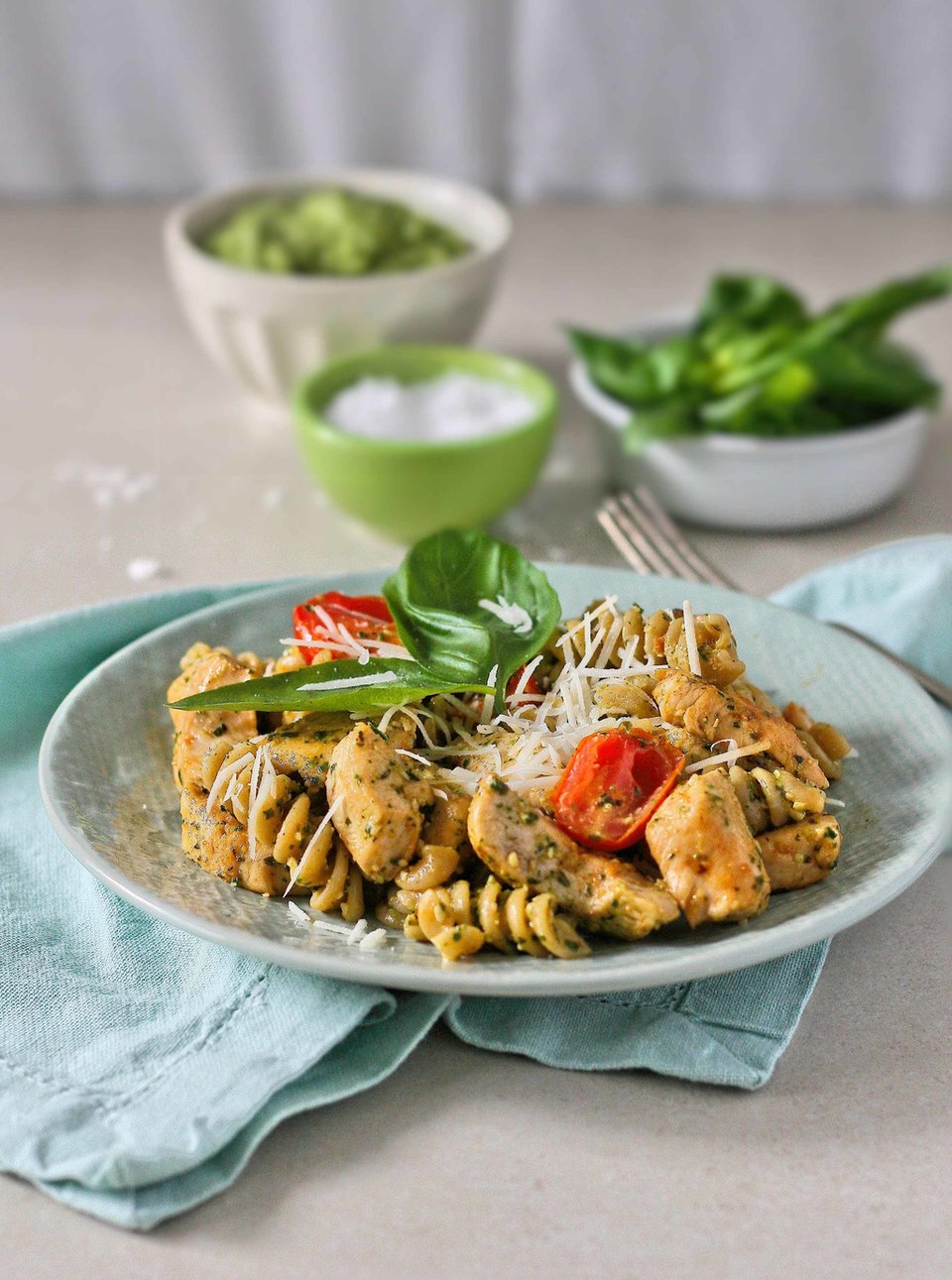 CREAMY CHICKEN AND PESTO PASTA (Serves 2)
For the pesto: (makes 200ml)
1 cup roughly chopped spinach leaves
1 cup fresh basil leaves
1 clove of garlic
60ml (¼ cup) raw cashews
45ml (3 Tbsp.) grated pecorino romano cheese
75ml olive oil
30ml (2 Tbsp.) fresh lemon juice
5ml (1 tsp.) lemon zest
Salt and pepper
To assemble:
1½ cups whole-wheat pasta
2 free range chicken breast fillets
10ml (2 tsp.) olive oil
120g cherry tomatoes, halved
15ml (1 Tbsp.) cream
Salt and pepper
Grated parmesan, to serve
Fresh basil leaves, to garnish
To make the pesto place the spinach, basil, garlic, cashews, pecorino cheese, olive oil, lemon juice and lemon zest in a food processor. Add a good pinch of salt and pepper and process until the ingredients are combined. Refrigerate until needed.
Cook the whole-wheat pasta as per the packet instructions, until al dente.
While the pasta is cooking cut the chicken into strips. Drizzle the olive oil into a pan over a medium heat and fry the chicken strips until golden on the outside. Add the cherry tomatoes. Continue cooking until the chicken is cooked through and the tomatoes have softened slightly.
Add four tablespoons of basil pesto and the cream to the pasta and stir. Add the chicken and tomatoes and stir gently to combine. Season with salt and pepper to taste. Dish onto warmed plates and top with some grated parmesan, a few basil leaves and an extra dash of black pepper.