Southern
medicine
A cocktail which instantly evokes seersucker suits, glasses sweating with condensation and drawling conversations held on the verandas of antebellum mansions – the mint julep.
It's the quintessentially southern drink – and also officially the cocktail of the Kentucky Derby, but that's only been the case since 1938.
However, the origins of this particularly popular drink go back further than anyone might think. The cocktail history book Imbibe!, authored by David Wondrich, reports that its source is actually Persian – and its primary use was medicinal.
Apparently the Kitab al-Mansuri, an ancient text from around 900 BCE described a julāb vastly different to the modern drink which bears its name. It was a medicine made by soaking violet flowers in sugar and water. The first time the word julep appears is in a Latin translation of the Kitab al-Mansuri in the 1400s.
It stands to reason that European settlers familiar with this medicine and other tinctures would have ensured it was a staple of their supplies when sailing to America. And with them, according to an article by Claire Maclafferty on the website Mental Floss, was a prized medicinal herb: mint.
The switch from being a remedy or linctus to being consumed recreationally occurred around the 1700s, Maclafferty wrote. "But we wouldn't recognise those tipples as a modern julep."
She writes: "First off, they would have been made with whatever spirit was locally available. Before the Civil War, Southern juleps were likely made with fruit brandy. In Maryland, the julep was (and still is) made with rye whiskey. Elsewhere, it would have been made with rum or rye or moonshine or pretty much any available booze. The drink would be sweetened with honey, sorghum syrup, or any other available sweetener."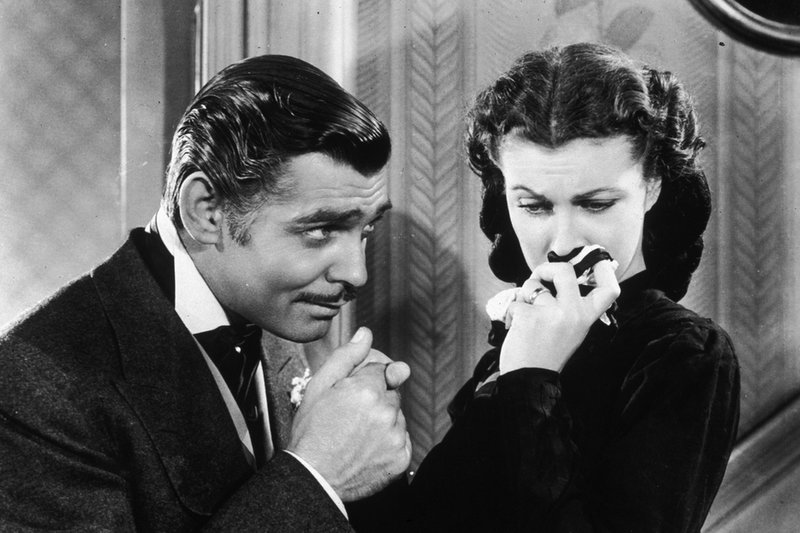 Many a mint julep was sipped in Gone with the Wind starring Clark Gable as Rhett Butler and Vivien Leigh as Scarlett O'Hara.
In 1803 Londoners were made aware of this drink by author John Davis who described it as "a dram of spirituous liquor that has mint steeped in it, taken by Virginians of a morning". This appears to tally with something written by Reverend Harry Toulmin in 1793, who specifically reported that the mint julep was "a tumbler of rum and water, well sweetened, with a slip of mint in it".
It would also have been a seasonal thing – spring and summer – since mint wasn't perennial. It appears that Kentucky senator Henry Clay is the person responsible for it becoming a bourbon-based drink.
Here's his evocative recipe for the mint julep, from his diary which the University of Kentucky Press published: "The mint leaves, fresh and tender, should be pressed against a coin-silver goblet with the back of a silver spoon. Only bruise the leaves gently and then remove them from the goblet. Half fill with cracked ice. Mellow bourbon, aged in oaken barrels, is poured from the jigger and allowed to slide slowly through the cracked ice.
"In another receptacle, granulated sugar is slowly mixed into chilled limestone water to make a silvery mixture as smooth as some rare Egyptian oil, then poured on top of the ice. While beads of moisture gather on the burnished exterior of the silver goblet, garnish the brim of the goblet with the choicest sprigs of mint."
It's this recipe which the senator demanded be used for his drinks at the Willard Hotel's Round Robin bar in Washington DC when he attended political sessions in the late 1840s.
Mellow bourbon, aged in oaken barrels, is poured from the jigger and allowed to slide slowly through the cracked ice.
The mint julep is an ostensibly simple drink with just four ingredients: bourbon, fresh mint leaves, simple (sugar) syrup and crushed ice. Initially, convention dictated that the mint used was spearmint but nowadays normal common-or-garden peppermint is used. The issue for mixologists is whether one carefully cossets the leaves as per Clay's direction or smashes them as one would for a mojito. The latter technique is somewhat more brutal and extracts more of the herb's essential oils, adding an intensity to the drink.
Post-Prohibition, the iconic southern cocktail became the drink of the Kentucky Derby. It's estimated that around 120 000 of these drinks are sold at the racing meet annually. International liquor giant Brown-Forman signed an exclusive agreement with Churchill Downs race track which has been in place for two decades. And should a punter's horse come romping home, first past the post, a winner could pop for the exclusive ultra-premium, custom-made mint julep costing $1 000! Proceeds from these drinks – served in gold-plated cups with silver straws and made from Woodford Reserve bourbon, imported Irish mint, sugar from Australia and ice cubes made from spring water from the Bavarian Alps – were for charitable causes for old, retired race horses.