what's NEWS!
Three decades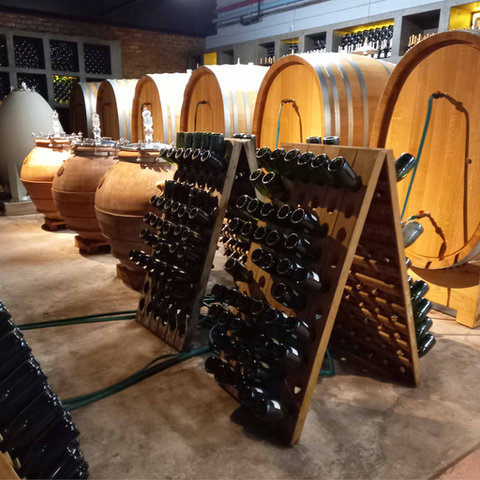 Three decades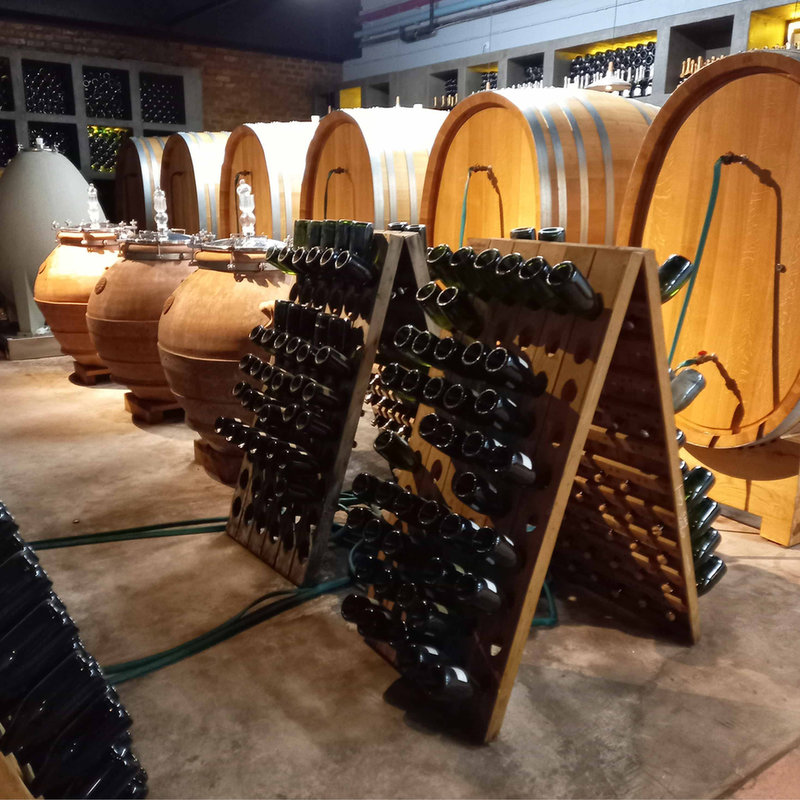 In 2016 CEO Chris du Toit announced that still wines would no longer be part of the Graham Beck portfolio: the focus would solely be on sparkling wine. Over three years there was a R150 million investment in all aspects of the business.
November 2020 saw the bubbly specialist celebrate 30 years of sparkling success for wines which have been served for presidents – both Nelson Mandela at the dawn of South Africa's democracy in 1994 and Barack Obama at his historic inauguration in 2008 – as well as enjoyed at weddings, graduations, 21st birthdays and as a welcome drink for guests in peoples' homes.
It marked the 30th anniversary with a typical 2020-style socially distant celebration – by Zoom conference! As it stated in a press release, "Cap Classique is intrinsically a drink which is intended to be savoured and enjoyed with good company – and we revel and are humbled in the fact that so many have invited Graham Beck to be part of their journey."
Cellar master Pieter Ferreira recalled the first ever harvest 30 years ago. It was literally under the stars because the cellar wasn't finished and lacked a roof! But one thing Ferreira and Du Toit revealed during their Zoom party is that Graham Beck fans can look forward to a new tier of wine: the artisan collection. The niche, limited, single site bottlings will be high end and will no doubt be a hit with true bubbly fans and wine geeks.
The Malfy influence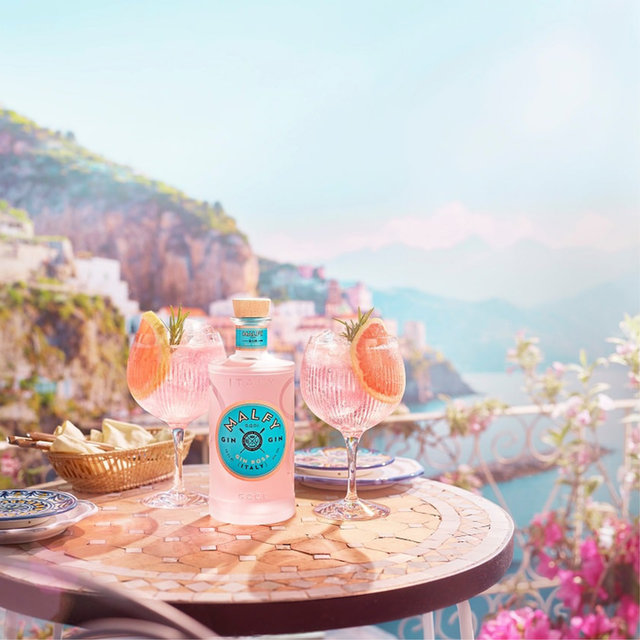 Malfy gin celebrates two things: La Dolce Vita – or the good life and its origins in the beautiful sun-dappled shores of the Amalfi coast in Italy.
The brand decided to embrace the Italian flair in everyday life by aligning itself to lux influencers Kefilwe Mabote, K Naomi and Tshego Manche, who portray an affluent lifestyle, full of aspirational food, travel and fashion.
"'Made in Italy' is a label that's respected around the world," said Malfy marketing manager, Grant Hendricks. "It's known for quality, great craftsmanship and for luxury.
"Malfy is not only made in Italy, at our distillery in Moncalieri, just outside the city of Torino but every bottle proudly carries our GQDI stamp which stands for Gin di Qualità Distillato in Italia which simply means quality gin distilled in Italy. The brand also carries with it a piece of the sunny Amalfi Coast wherever it's enjoyed, and now also in South Africa."
The trio will highlight the spirit of the Amalfi Coast, sharing the three flavour variants in the range: blood orange, coastal lemon and pink grapefruit.
Tropical taste of summer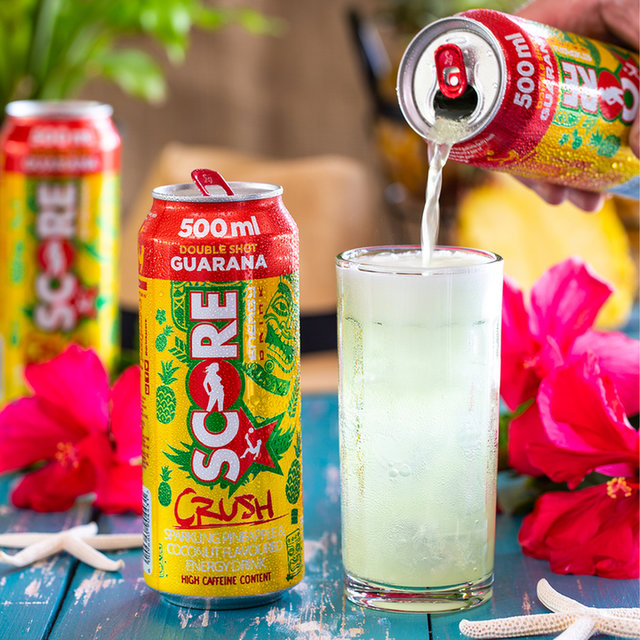 Energy drink manufacturer Score has just launched a new flavour. Score Crush is the tropical energy drink which has been released just in time for summer.
Summer is synonymous with warm sunshine and calls for more energy since everyone makes the most of the long, activity filled days. The flavour is tropical with a fruity coco-pine abundance and appeal. A double shot of Guarana for a natural caffeine kick and a dose of B Vitamins. An added bonus is that Score is Taurine free. And to cater for the big thirst which hot days generate, lightly sparkling Score Crush is available in 500 ml cans.
The power of 10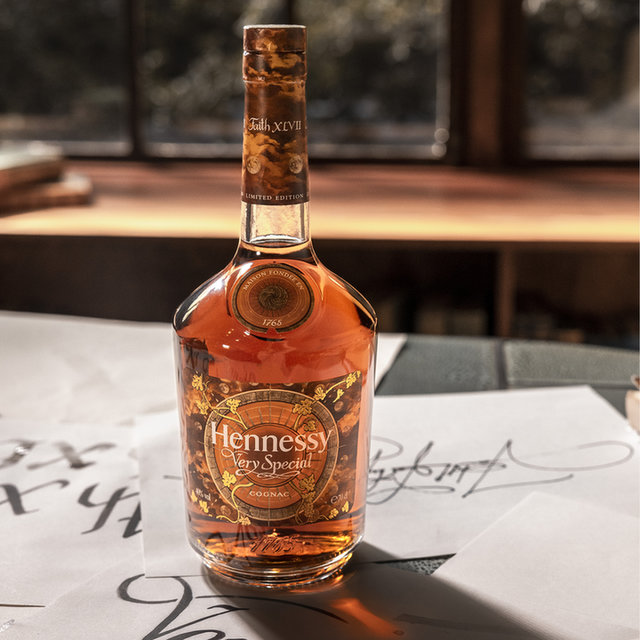 South African street-turned-studio artist Faith XLVII was selected for a unique global art collab for Hennessy Very Special Limited Edition.
As the guest artist for the 10th annual Hennessy Very Special Limited Edition, Faith XLVII is also the first female voice to join the Limited Editions series; a formidable artistic lineage that features international talents such as Felipe Pantone, Vhils, JonOne, Shepard Fairey, Os Gemeos, Futura and Kaws.
"This marks an exciting new chapter in the Maison's tradition of fostering partnerships with artists who are part of a global movement," said Pascal Asin, MD for Moët Hennessy Africa Middle East. "Through it, Hennessy reaffirms its commitment to supporting emerging talent that strives to effect positive change at community level. It has been a privilege to work with Faith and to reflect on the artistic synergies between our art forms. We believe the result is extremely striking and encapsulates much of what we both stand for."
Fostering healing and awareness of interconnectivity is what informs Faith XLVII's artistic journey from graffiti and the streets to the studio. "It's an energetic phenomenon," she said. "We're seeing a shift in perspective toward protecting nature, the earth, animals and the environment.
"My process is similar to the Master Blender's selection of eaux-de-vie, in that you take basic elements and use them over time to craft something extraordinary."
A singular sensation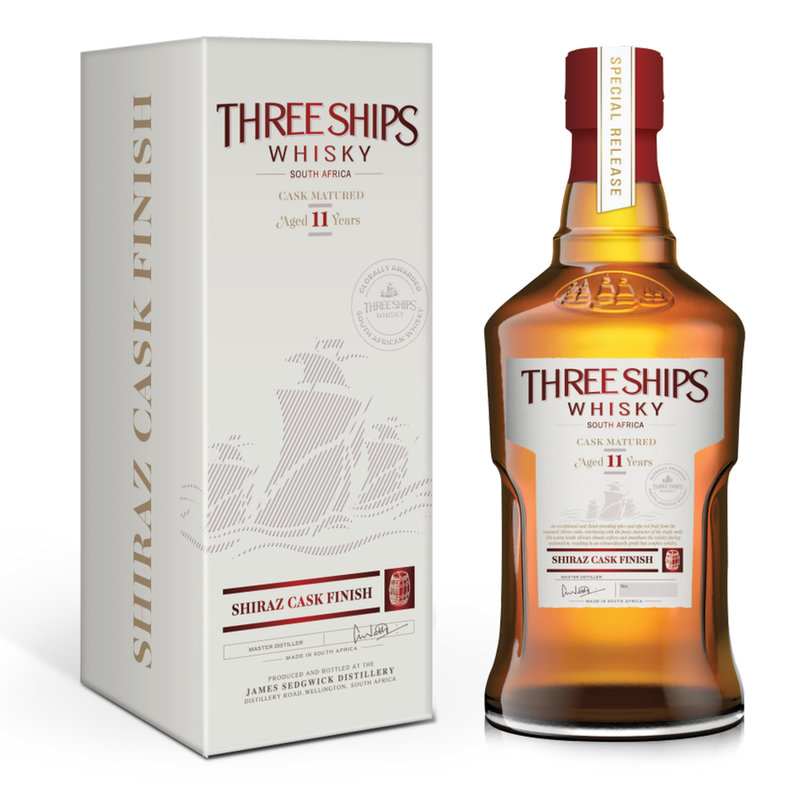 The James Sedgwick distillery in Wellington has become synonymous with South Africa's home-grown whisky sensation, Three Ships.
In the capable hands of master distiller Andy Watts Three Ships has just grown and grown – in both volume, expression, stature and respect. No-one lifts an eyebrow or curls a lip when talking about South African single malt because these Three Ships whiskies have won a number of international awards for quality and excellence.
The latest limited edition bottling to be released – the fifth – has been 11 years in the making and with less than 3 000 bottles available, had whisky enthusiasts locally and abroad eagerly anticipating it hitting the market. So much so that in an online sale of 400 bottles late last year, 85% of it sold out in eight minutes!
The whisky is an 11 year old single malt shiraz cask finish and forms part of the Whisky Master's Collection.
"To achieve the exceptional cask finish that is the mark of this Master's Collection, the latest release was first matured for eight years in American oak barrels, before being finished in seasoned shiraz oak casks for three years," Watts revealed.
His tasting notes speak of cherries, roasted nuts and Christmas fruit cake flavours with white pepper and other spice notes. It is complex, warm and lingers with a subtle peat note, as well as being bottled at its natural strength of 51.4% ABV and is un-chill filtered.
Watts is justifiably proud of it and describes it as "a fine example of how South African whisky ingenuity is revolutionizing the whisky category – it celebrates the tenacity of the dedicated team at the James Sedgwick Distillery in Wellington."
Savvy summer wines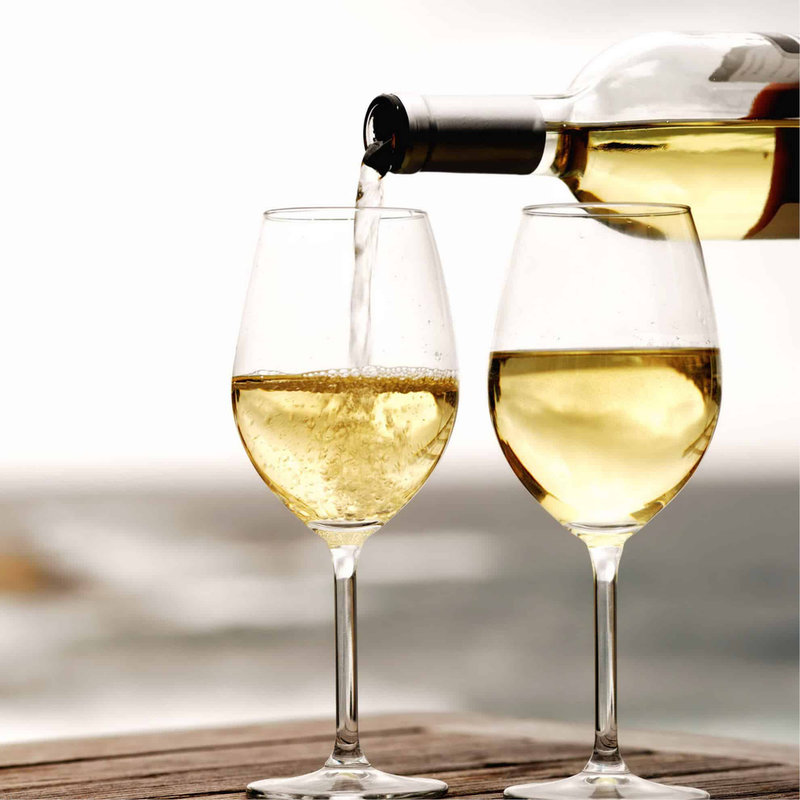 With South Africa's new grape harvest just a month away, Sauvignon Blanc remains a popular wine choice for refreshing enjoyment in warm summer weather.
And the list of winners of the FNB Sauvignon Blanc Top 10 for 2020 provides rich pickings.
In alphabetical order the Top 10 were:
Alvi's Drift Sauvignon Blanc Reserve 2020, Cilmor Limited Edition Sauvignon Blanc 2019, Diemersdal Winter Ferment Sauvignon Blanc 2020, Ghost Corner Wild Ferment Sauvignon Blanc 2018, Iona Elgin Highlands Wild Ferment Sauvignon Blanc 2019, Kleine Zalze Family Reserve Sauvignon Blanc 2019, Ormonde Chip Off The Old Block Sauvignon Blanc 2019, Paul Cluver Sauvignon Blanc 2019, Stark-Condé Round Mountain Sauvignon Blanc 2019 and Stellenbosch Vineyards Southern View Sauvignon Blanc 2020.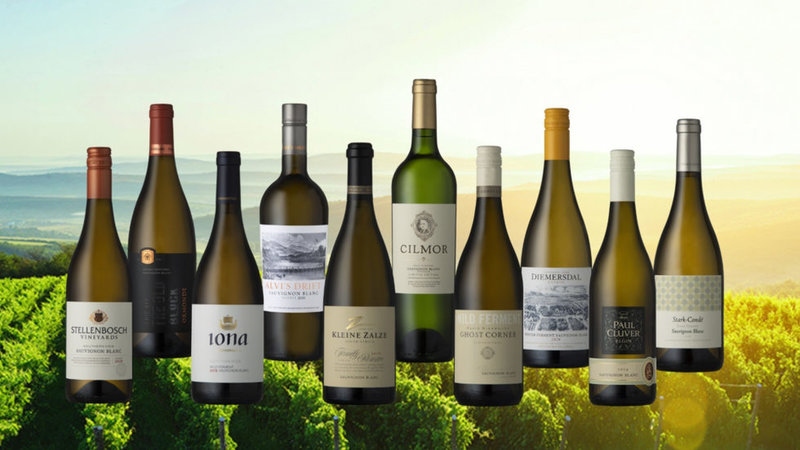 Judges praised the balance of fruit and signature acidity on the winning wines, drawn from an entry pool of 96 wines. Half of the Top 10 had some oak contact, something the judges believed promoted the future potential of wooded Sauvignon Blanc.
2020 was a challenge for winemakers, RJ Botha Sauvignon Blanc SA's chairman said. "It's a privilege to be able to celebrate South African Sauvignon Blanc worldwide as our country's top seller. We see exciting innovation in style and flavour profiles, as well as diversity in origin with three Top 10 winners from Stellenbosch, two from Elgin, and one each from Breede River, Elim, Worcester, Durbanville and Darling."
Winemaker of the year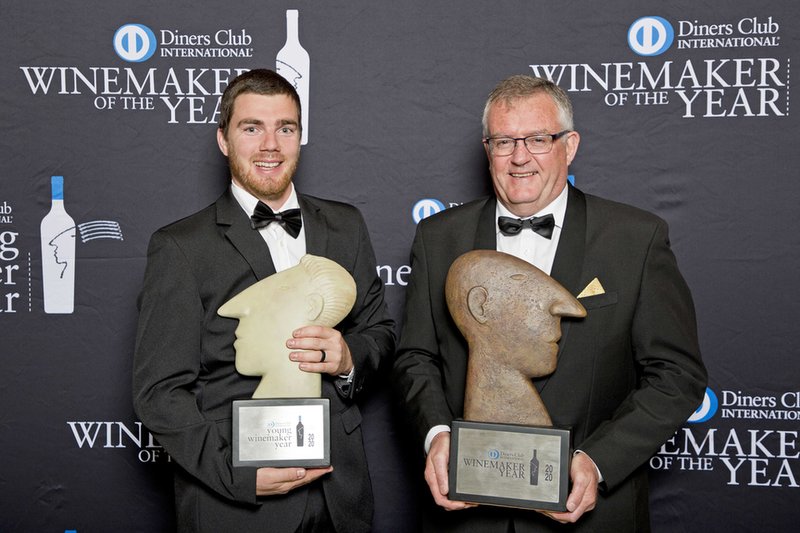 Left to right - Diners Club Young Winemaker of the Year winner Philip Theron (Glen Carlou) with his 2018 Tannat; Diners Club Winemaker of the Year winner Johan Malan (Simonsig) with his 2015 Kaapse Vonkel Brut
Simonsig Kaapse Vonkel was the first ever South African sparkling wine made in the traditional French method for Champagne, way back in 1971.
So it was fitting that with the category for the annual Diners Club Winemaker of the Year for 2020 being Méthode Cap Classique (MCC), Simonsig winemaker Johan Malan should walk off with the top honours.
It was the 40th staging of the prestigious event which celebrates winemaking excellence within a particular wine category, one that changes every year and a competition that carries no entry fee in order to be as inclusionary as possible.
The Young Winemaker of the Year was introduced 20 years ago and the prize went to Phillip Theron of Paarl winery Glen Carlou for a Tannat from the 2018 vintage.
lucky legs 11 for five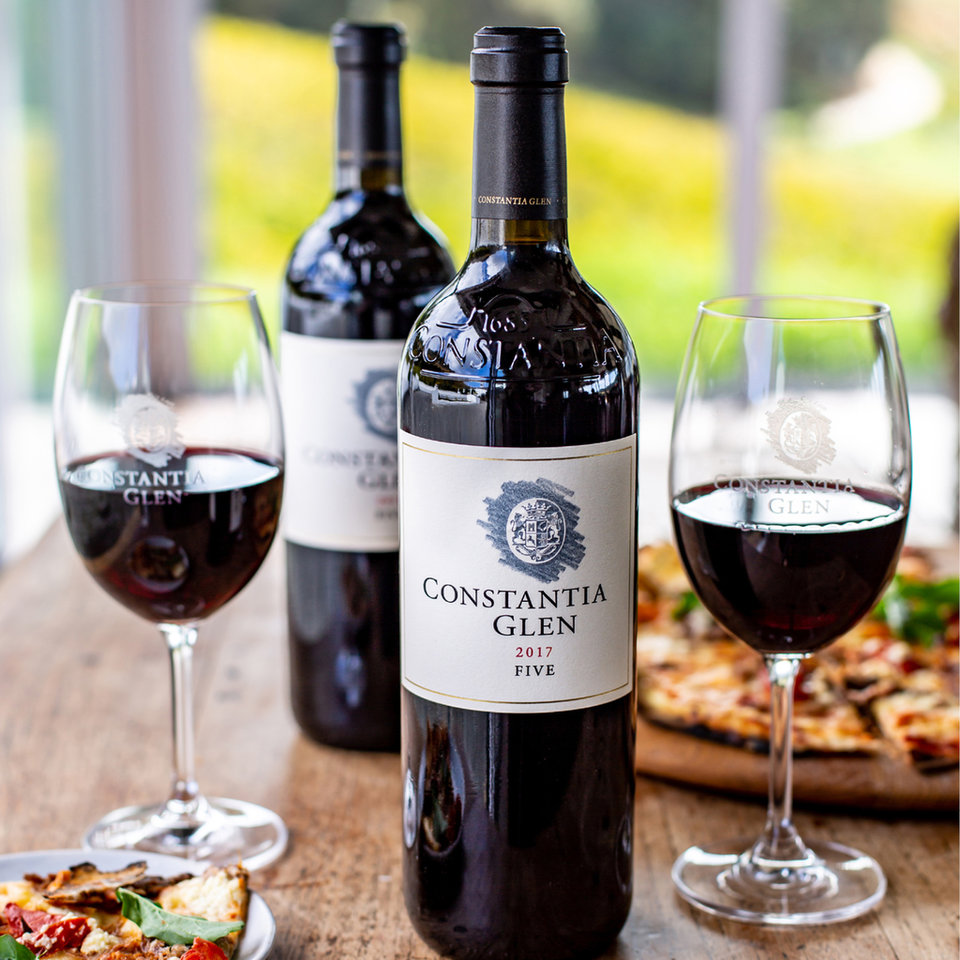 In the game of bingo, the number of 11 is always called out as lucky legs 11 – simply because the roman numerals look like a pair of legs!
But could the 11th vintage of Constantia Glen's flagship Bordeaux style red blend from the fabled 2017 vintage be their luckiest to date? Only time will tell but the Constantia Glen FIVE blend already boasts an impressive track record, winning rave reviews and scores from local and international wine commentators. The International Wine & Spirit Competition awarded the 2015 vintage the overall trophy as the world's best blended red wine in 2019.
Winemaker Justin van Wyk hailed the "textbook" ripening condition of 2017. "Combined with meticulous attention to extraction and maturation methods in the cellar have led to a compellingly structured wine with excellent freshness and depth," he said
All five Bordeaux red grape varieties are used in the blend, and all appreciate Constantia Glen's unique micro-climate and undulating vineyards – hence the name FIVE. The 2017 vintage contains 32% cabernet sauvignon, 24% merlot, 17% each of cabernet franc and petit verdot and 10% malbec.
Aromatics and flavours of ripe blackcurrant and juicy plums, hints of fragrant dried herbs and fynbos balance refinement and power after maturing for 18 months in predominantly new French oak barrels. "The ever-present Constantia freshness provides for a long, lingering finish that will have you beckoning for another sip," said van Wyk.