Gather
round
Inspirational, but practical is how one reviewer described the latest book by Jamie Oliver: Together - Memorable meals, made easy

What is the heart of the home and what is the preferred language of love? For cheeky chappie, Naked Chef Jamie Oliver, it's food. With his most recent book, Together, Oliver has become personal, if not emotional, about the role that food plays in peoples' lives.
"It's close to my heart, I wrote it during lockdown knowing this day would come – when we can have friends and family together again," he said in a Facebook video posted ahead of the book's release.
"The whole point is getting people around the table." Food allows people to kick back, relax, talk, laugh and just connect, he believes.
"Every time you get a new book – it's so exciting! To see what it looks like, feels like …" he admitted with the refreshing candour that the Essex chef is known for. "I'm really proud of it. It feels substantial and gorgeous and quality – there's a nice little ribbon to mark your place …"
How many other authors would be chuffed about a place marker?! Furthermore, Oliver has dedicated this book, his 25th, to "the wonderful NHS and key workers" for the pivotal role they played during the pandemic. Now that vaccinations have gained momentum and restrictions are being lifted, people can gather once more and this is what Oliver knew would be the case.
"There's something for everyone," he said in his FB promo. "Starters, main course, desserts, dinners, lunches, brunches. Table plans, cocktails. Veggies are covered, vegans are covered. Pescatarians covered …"
Perhaps the most important attribute of the book is the sentiment behind it. It was a lockdown project in which Oliver and wife Jools made the best of a bad situation, filming footage with their mobile phones rather than a film crew. Their children helped out too, both with the preparation and the consumption.
"The job of the book is to arm you with the ability to get ahead so that you can spend as much time with friends or family as you can," Oliver said. "And be there and enjoy both them and enjoy being together as much as possible."
His final word was about everyone affected by the pandemic appreciating the simple things in life; a cup of tea, a bit of cake. And getting to see friends and family in the flesh. "Food is the most incredible excuse to get people together."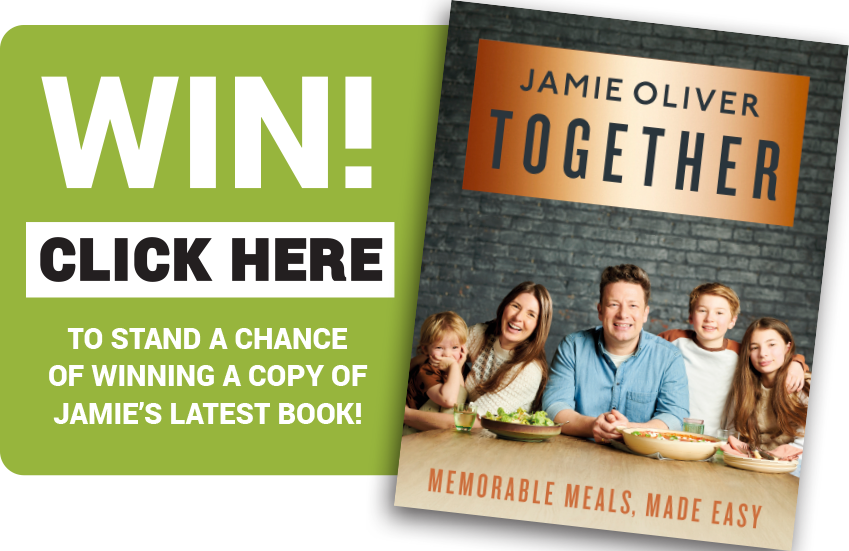 COMPETITION TERMS AND CONDITIONS
Competition submissions should reach us no later than 25th January 2022. The Prize/s is as indicated, no alternatives or cash will be provided. The decision of Integrated Media will be final, and no correspondence will be entered into. Under no circumstances shall Integrated Media, TOPS at SPAR, SPAR or its appointed representatives and the prize donors be liable to anyone who enters these Prize Draws for an indirect or consequential loss howsoever arising which may be suffered in relation to the Prize Draws. By entering these competitions, you make yourself subject to receiving promotional information. Entrants are deemed to have accepted these terms and conditions. Prize Draw Rules: The prize draw is only open to consumers who must be over 18 years of age and resident in South Africa. Employees of Integrated Media and TOPS at SPAR, SPAR and their respective advertising, media and PR agencies, as well as the family members, consultants, directors, associates and trading partners of such organisations and persons are ineligible for the draw. Participants can only win one competition every three issues.