The crisp, zesty refreshment sauvignon blanc offers during the South African summer can't be beat. Fiona McDonald looks at this white wine and how it has changed in the past two decades.

fashion
Slave to
Speak to any wine farmer and they'll tell you that sauvignon blanc is a must – because it sells. Consumers just can't get enough of it. And sales figures don't lie. According to the latest available stats on the Sauvignon Blanc Association website, South Africa exports 36.3 million litres of this wine alone! The United Kingdom and Germany are the two single biggest markets for it, importing 19.1 million litres and 7.6 million litres respectively – but the United States is growing in importance too. In 2000 the US figure was 221 000 litres – and in 2020 it had grown to more than 2 million litres.
The most interesting thing about sauvignon blanc in South Africa is how much the style has changed in the past 10 to 20 years. It's a grape which has been planted locally for some time, although precisely when it first went into the ground is unclear. Records reflect that Groot Constantia had it as far back as the 1880s and the first to claim sauvignon blanc on its label was Verdun (now Asara) in 1977.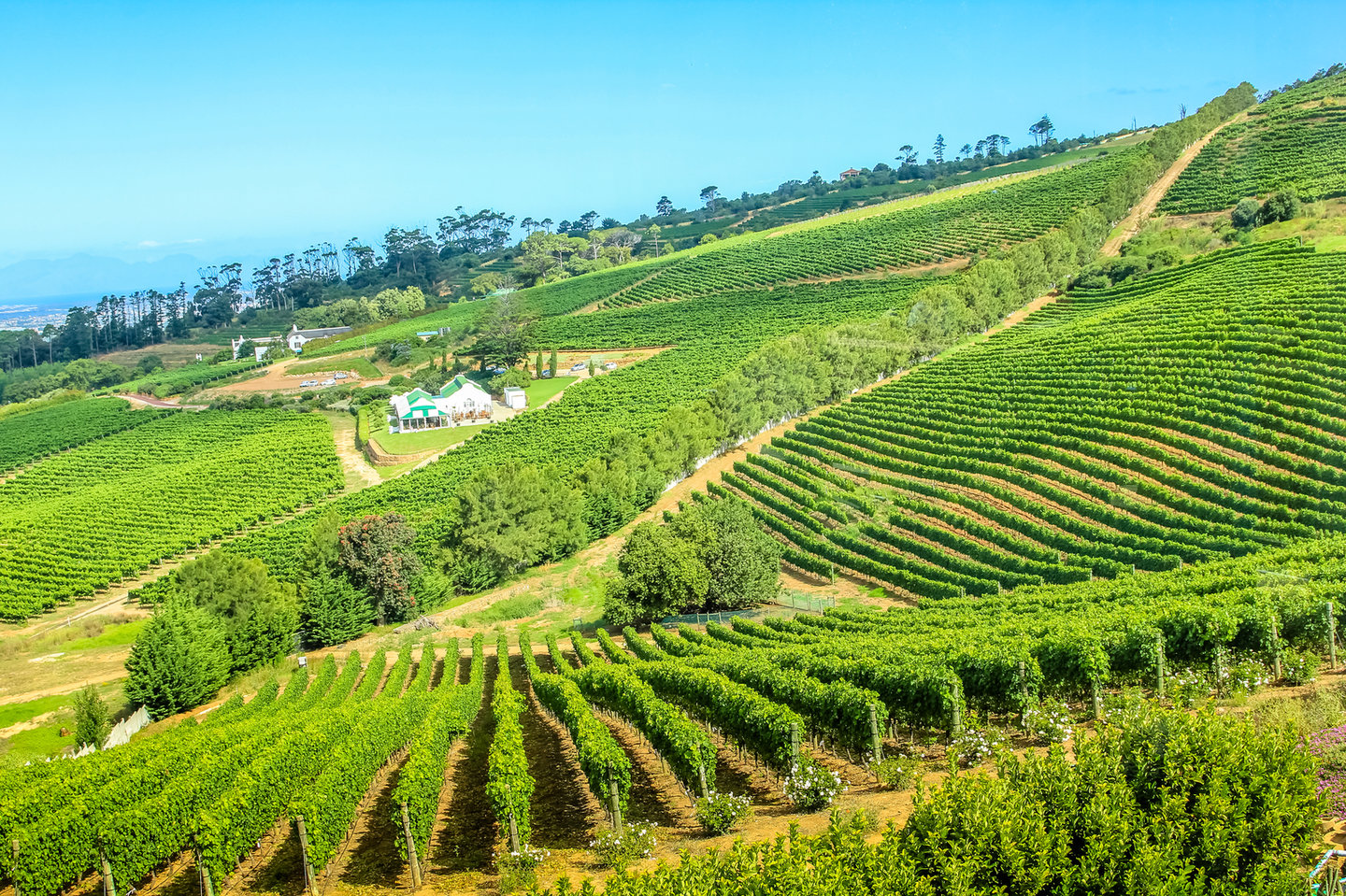 With breezes from nearby False Bay to cool these vineyards, Constantia is prime sauvignon blanc real estate.
At 9 831 hectares it's currently the country's fourth most planted grape variety, according to the latest stats available from SA Wine Industry Information and Systems (SAWIS); in 2020 a further 213 hectares were added.
If there's one country synonymous with this grape and wine style worldwide, it would be New Zealand. Sauvignon blanc – or savvie to Kiwis – comprises 72% of the country's total wine production and it's therefore no great surprise that, at 25 000 hectares, is the most planted grape.
The reason this is relevant in a story on South African sauvignon blanc is because so many local producers tried to emulate the impressive success New Zealand had with wines such as Cloudy Bay. It used to be that "cat's pee on a gooseberry bush" was how you'd recognise the wine. Two decades ago producers were chasing that grassy, vegetal, gooseberry and green pepper style of wine that New Zealand made so effortlessly.
But South African producers have come to realise that chasing a style is not necessarily the way to go. Sauvignon blanc is one of the most expressive grape varieties out there (barring the floral muscat and gewürztraminer grapes, possibly) but it also reflects its site and growing conditions well. As the doyenne of global wine writing, Jancis Robinson MW, states on her website: "The smell is sharp and piercing (unlike that of chardonnay) and reminds different tasters variously of gooseberries, nettles, crushed blackcurrant leaves, and occasionally cat's pee. With age, aromas reminiscent of canned asparagus can develop. The smell of sauvignon (which is most of its character) is relatively simple, so it is not surprising that it was one of the first to be explained in terms of the dominant flavour compounds, called methoxypyrazines. Sauvignon also smells and tastes remarkably similar wherever it is planted."
The green pepper/asparagus/pea pod style of sauvignon blanc is indicative of cool climate sauvignon – something New Zealand is blessed with. The bulk of the country's plantings are in the northeast of the South Island, in the Marlborough region. By contrast, South Africa's vineyards tend to be planted in much warmer areas – with few genuinely cool climate areas to be found. Which explains why the style has changed so noticeably from grassy, green pepper pungency to more tropical, fruit-driven examples.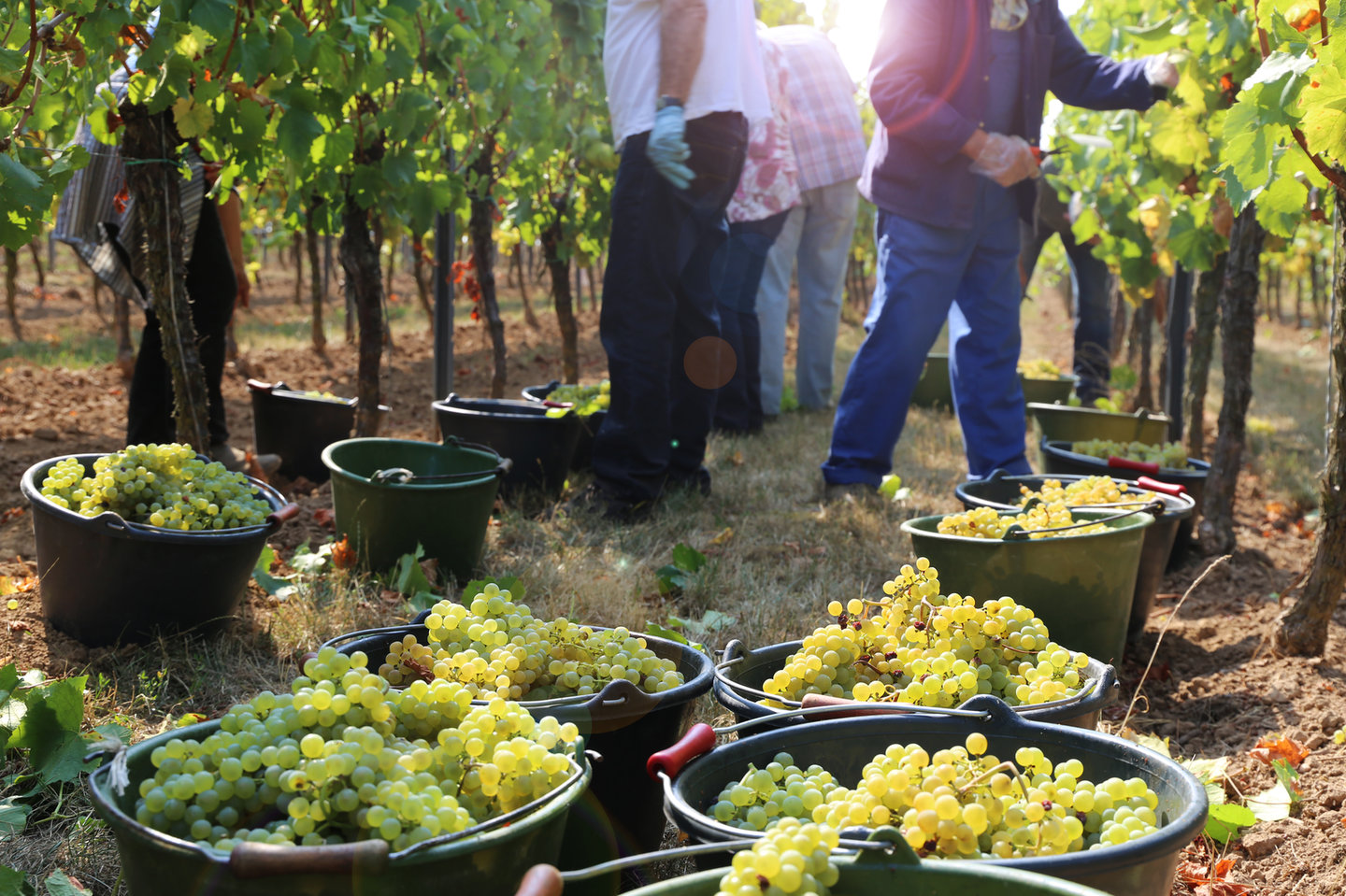 Time is of the essence when harvesting sauvignon, to keep the grapes and juice from oxidation.
The Sauvignon Blanc Association details four distinct styles to be found in South Africa: tropical and yellow fruit; spicy and herbaceous; flinty and mineral and lime; melon and grapefruit.
The tropical style tends of offer up aromas and flavours of stone fruit (apricot, peach, nectarine), along with floral notes, pineapple, papaya, guava and banana – and are generally from warmer climate areas.
The herbaceous style is where the green pepper, asparagus, peas, grass, nettles, English gooseberry and herb descriptors are applied. Origins for these cooler site expressive wines include places like Darling, Durbanville and the Cape South Coast areas of Elim and Agulhas.
Gravel, flint, dust, gun smoke, steel or the smell of rain on dusty earth are terms that crop up when describing the flinty and mineral category. According to the Sauvignon Blanc Association's research they're "mostly found in temperate climate areas with moderate fluctuation in diurnal temperature".
The fourth and final niche is fairly self explanatory: lime, melon and grapefruit. Racy, zesty citrus aromas and flavours – lime, lemon, grapefruit which are tangy, bright and zippy. "Mostly associated with cooler climate areas, or high-altitude vineyards or those which receive cool ocean breezes," the Association states.
Possibly one of the most interesting developments in this category recently has also been an appreciation for the ability of sauvignon blanc to age. Thelema's Gyles Webb always said that local consumers believed that sauvignon blanc had to be drunk in the same year of its making – or before the end of the cricket season. Just as the styles are changing, so is that notion. More and more consumers are happy to drink savvie with a year or two of age on it. Which also explains why producers increasingly only release their sauvignons one year after harvest.
So as 2022 approaches, fans of this style can look forward to drinking the 2021 vintage with total confidence – if not eager anticipation. (If they are not already enjoying the 2020 sauvignon blancs that is!)