Visiting tourists duly trot along to Cape Point as part of their list of "must do" things when in the Cape and have their photograph taken for posterity – not realising that they aren't actually at the true southern tip of the African continent.

triangle
A newfangled
Just past the town of Struisbaai, 250km southeast of Cape Town, is where the African continent ends – and where the conflicting warm Agulhas Current of the south Indian Ocean and the cold upwelling Benguela Current from the Atlantic commingle out to sea.
There's a cheery red and white striped lighthouse on a promontory, warning passing sea traffic of the dangers which await any navigational errors – and it's now a popular museum and tourist attraction. It was Portuguese seafarers in the 15th century who gave this rocky spot its name; Cabo dos Agulhas – or Cape of Needles. Those needles have resulted in something like 150 shipwrecks between May 1488 when Bartholomew Dias named it and November 1982 when the fishing vessel Meisho Maru ran aground, the last recorded wreck which still perches on the shore, it's hull rusting away inexorably.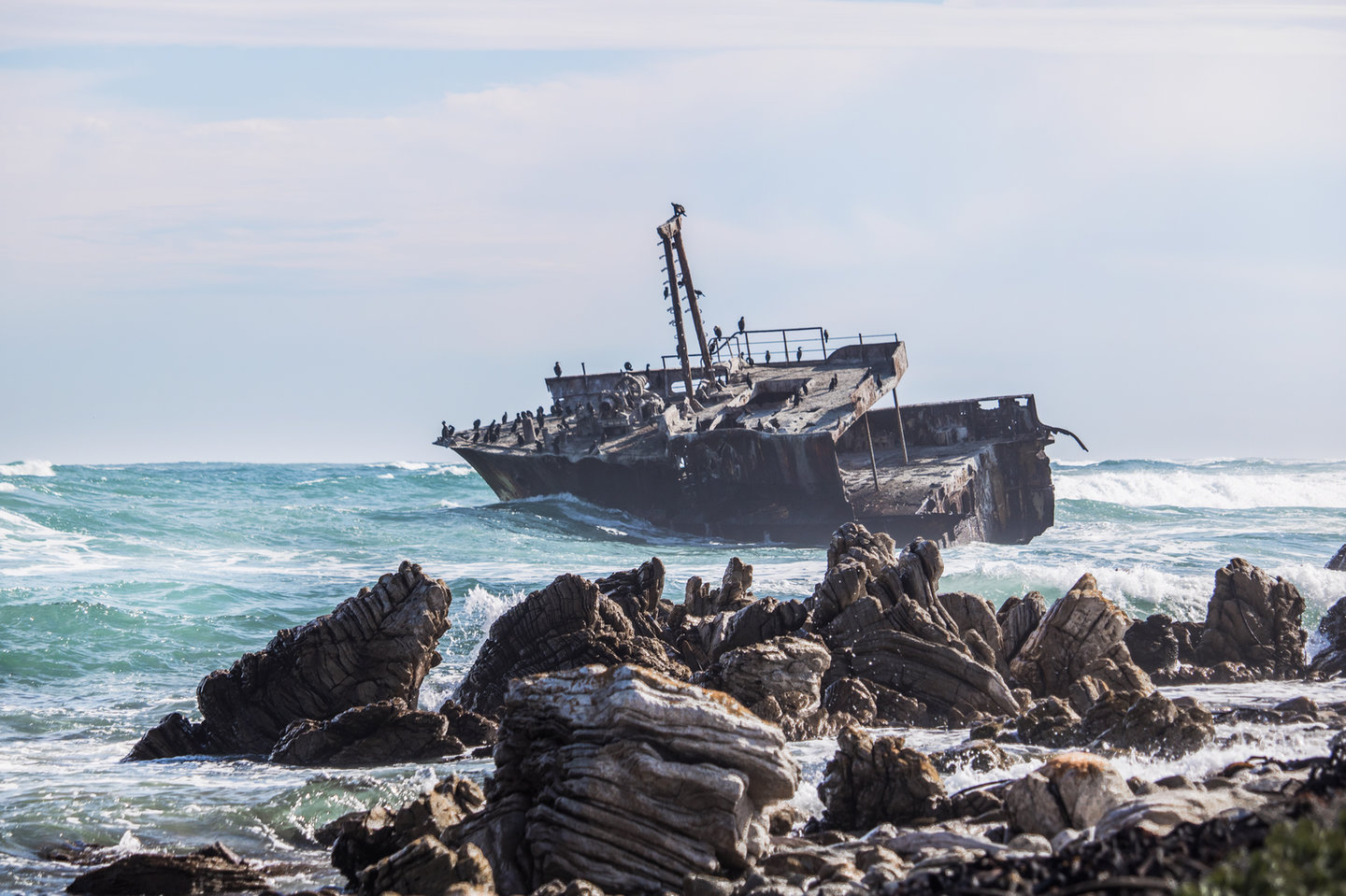 Pounding seas take an inevitable toll on the wrecked fishing trawler, Meishu Maru, which ran aground on the rocky shores near Agulhas in 1982
Struisbaai and Agulhas are also the southernmost points of South Africa's most recent – fledgling – wine area, the Agulhas Wine Triangle. Not to be obtuse, but whether or not it could be geometrically delineated as a triangle is moot because this true southern tip of the African continent is a beautifully unique and special place. And the wines reflect their origins so distinctively. It's home to Strandveld vineyards, Black Oystercatcher, Giant Periwinkle, Land's End, Bruce Jack Wines, Lomond, Zoetendal, Sijnn and Olivedale.
It's cool – genuinely cool which makes it a happy hunting ground for sauvignon blanc and semillon grapes which find their way into a host of other labels. David Niewoudt of Cederberg famously uses grapes from the area for his Ghost Corner range with The Bowline blend a standout. Trizanne Barnard has long sung the praises of the area and its grapes which she uses in her eponymous range. And her faith has been vindicated in this year's Old Mutual Trophy Wine Show triumph when her 2019 Reserve Syrah won the varietal trophy with a score of 97 points. La Motte cellar master Edmund Terblanche is also a fan of the area, sourcing sauvignon blanc and blending it with his Franschhoek fruit.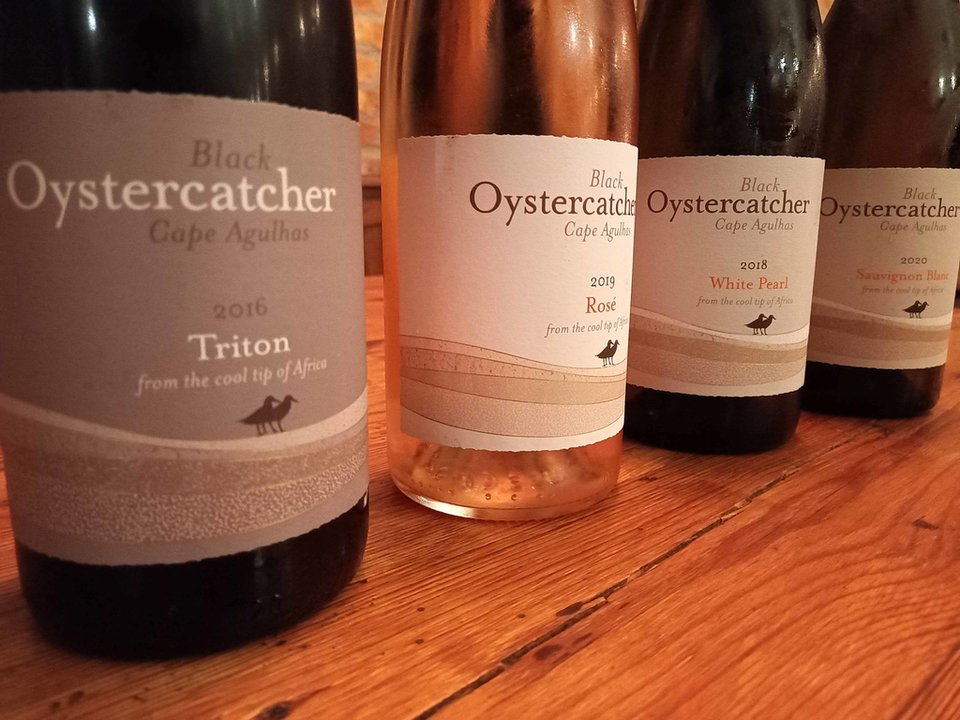 Cape Agulhas is proudly proclaimed on Black Oystercatcher's labels – and it's definitely a region to watch
Flinty, dusty gooseberry and lime zest typicity are what set sauvignons and semillons from this area apart – be they from Dirk Human's Black Oystercatcher (also available in funky new wave cans for easy access), Conrad Vlok's Strandveld or The Giant Periwinkle. There's a bracing acidity which carries the proverbial smack of the sea with it. A revelation on a recent visit was a 2007 Black Oystercatcher sauvignon blanc which was diamond bright, vital and vivacious with grapefruit zest and just a hint of waxy tertiary flavour – 14 years on from harvest! The naturally low pH and good acidity contribute to excellent longevity.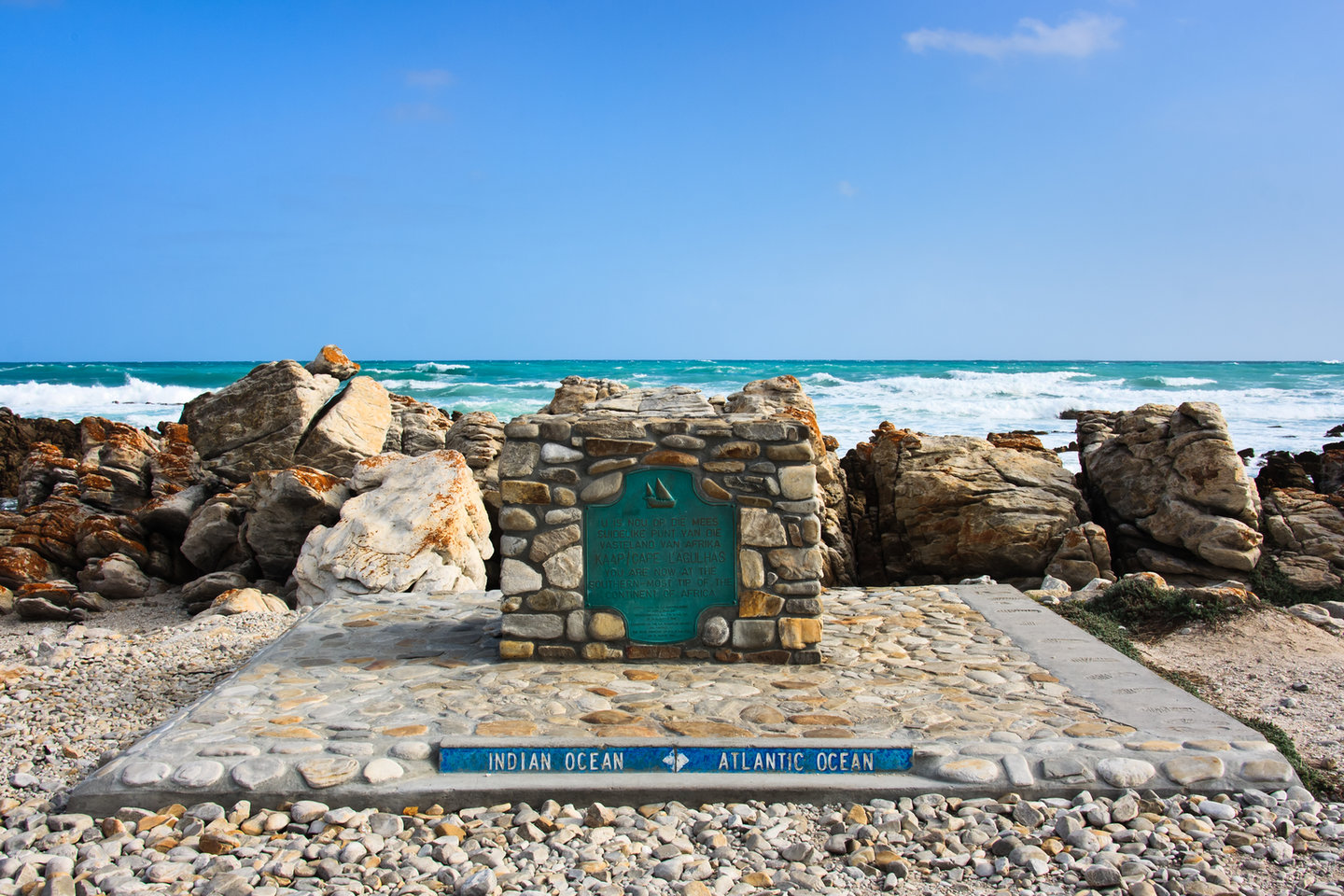 The point where Africa ends – and the two ocean currents meet, Cape Agulhas
As Lomond winery's Hannes Meyer put it when interviewed, there is just so much untapped potential. In the three years he has been resident he's begun experimenting not only with sauvignon blanc, semillon and shiraz but with mourvèdre and merlot too. Lomond has a rosé which will sell like gangbusters this summer – and the carbonic mourvèdre is an experiment worth repeating because of its vivacity and succulence. Grenache plantings are also in the pipeline.
Bearded advocate Pierre Rabie of Giant Periwinkle also believes in red wines burnishing the area's reputation, and the Sun Spider pinotage and Baardbek cinsaut/shiraz blend bear him out. Bruce Jack concurs with mourvèdre and shiraz potential but ever the crazy scientist he's trying barbera and pinot noir too. Although it must be said that these vineyards are on The Drift farm, which is further inland, near the wheatfields of Napier.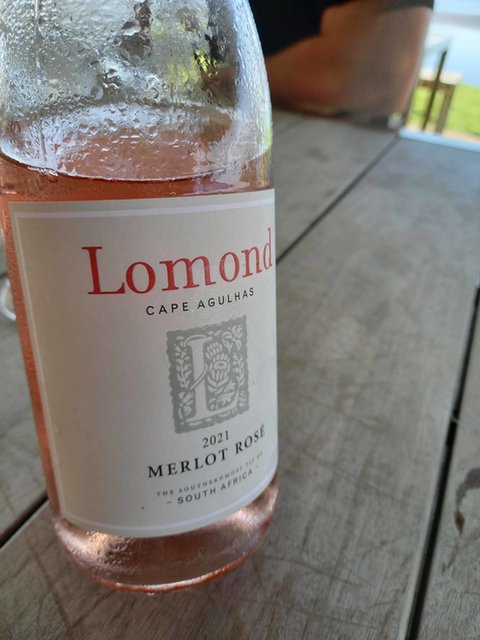 Perfect for summer, Lomond Merlot Rosé
Conrad Vlok is the winemaker with the most vintages under his belt at Strandveld having been hired in 2004. Farming here is not for the fainthearted … Vlok said the average temperature was between 20 and 21 degrees. "And the wind can destroy a grape crop!" he said. First Sighting and Strandveld ranges are impressive – especially the Navigator, a shiraz driven blend with grenache and mourvèdre, Adamastor sauvignon/semillon and a particularly beguiling Cap Classique called Skaamgesiggie which takes its name from an endangered protea, a red data species. Vlok relates that this particular protea is pollinated by field mice – and is endemic to a 20 kilometre area nearby.
David Trafford was either utterly bonkers to plant in rocky, shale and schist soils near Malgas, or a genius blessed with amazing foresight! Charla Bosman heads up the pragmatic and functional cellar he designed utilising the locally available stone and slate – and it's been beautifully done.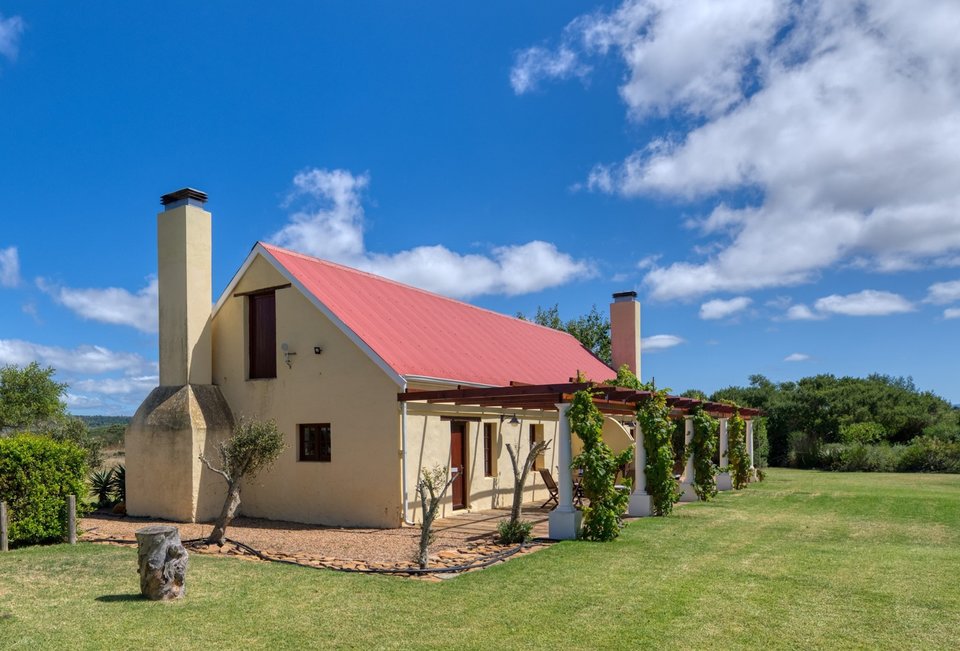 Ocean and earth influence the grapes and wines – and winemaker! – at Strandveld vineyards
Sijnn white and red blends are seamless and their use of Portuguese grapes like verdelho and touriga nacional makes sense in the dry area which overlooks the Breede River. The mulching on the bushvines is huge but Bosman said they want to ensure they retain as much of the moisture from recent rains as possible since their annual average is a scant 350mm or so. And while Jolene Calitz-le Roux makes wines at Olivedale near Buffeljags, most of it is exported to Belgium.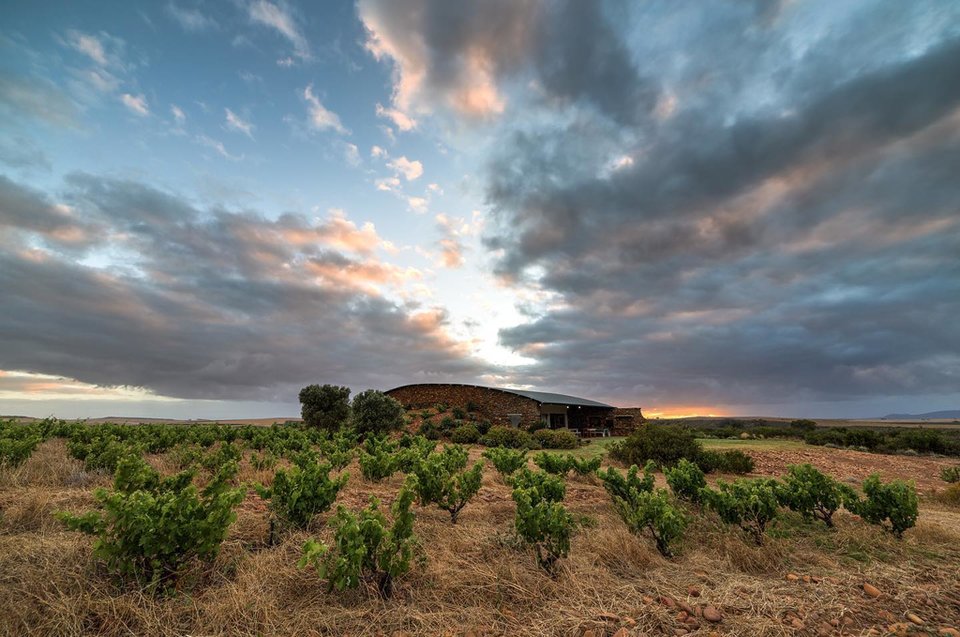 More rock and shale than soil can be found at Sijnn with David Trafford's low profile winery taking its cue from the Akkedisberg range nearby
Overall there's a different feel to the Agulhas Wine Triangle. It's laid back, relaxed with unforced easy hospitality to be found at all the places. Black Oystercatcher with its cottages and restaurant make a great base of operations for a weekend – or even mid-week – visit. This is a "bubbling under" little gem of a wine area and is well worth exploring at leisure.