Save Our Seas
There's a hymn which is regarded as the official tune for both the Royal Navy and the US Navy. "Eternal Father, Strong to Save" but it's instantly recognisable both as a tune and for its chorus about saving "those in peril on the sea". But what happens when the sea itself and all the creatures in it are in peril? Fiona McDonald asks.

In December 2021 two separate events occurred which highlighted the need to think about something bigger than humanity's own selfish needs. The first was the arrival of a vessel sent to conduct extensive and lengthy seismic testing on the pristine Wild Coast – for oil exploration; the second was two days of wonder as a super pod of between 30 and 50 humpback whales fed and frolicked within sight of Cape Town's Atlantic seaboard.
People posted video clips of the unique spectacle on social media, realising they were witnessing something truly special – and wanting to share it with others. And just a few kilometres away, tethered to the quay in Cape Town's harbour was Shearwater Geoservice's Amazon Warrior, set to conduct sound blasts to 3D map the ocean bed looking for hydrocarbon deposits on behalf of Shell.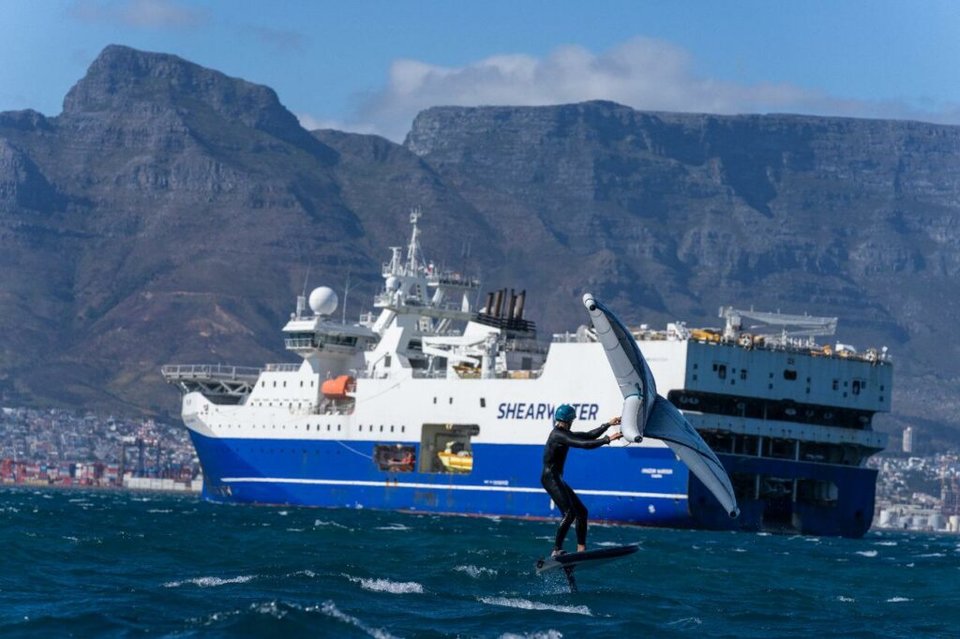 The ironic juxtaposition of a wind-powered surfer foiling against the backdrop of Shearwater's Amazon Warrior, a vessel set to look for oil deposits off the pristine Wild Coast, should not be lost
The irony was staggering since whales, dolphins and a host of other marine mammals were at risk of being audibly assaulted by the sonic explosions from this vessel. Motorists boycotted Shell filling stations while protesters held placard demonstrations on the forecourts and thousands signed digital petitions against the Wild Coast exploration and urgent legal challenges were lodged with the courts.
This salient moment highlighted the need for marine protection – not just of migrating whales or the Wild Coast but the planet's oceans and everything in them which are under threat like never before.
Is there anything more majestic than a humpback broaching – only to fall back into the water with a mighty splash?
Around 90% of the world's goods are carried between continents by sea. Toys, furniture, mobile phones, computer components, cars, whisky, and wine … all get to where they're going by ship. And below these bobbing vessels, the seas absorb 90% of the sun's heat and 30% of carbon dioxide emissions. It distributes heat and regulates temperatures and weather systems. As South Africans we know the effect of an El Nino or La Nina system on our rainfall patterns, inextricably linked as they are to droughts and floods. Hurricanes and typhoons are becoming more severe globally because ocean temperatures are rising, providing energy to fuel the ferocious storms.
In between all this, the world's oceans provide roughly 20% of the protein that people eat. From massive factory fishing operations which spend months at sea, catching and processing, to small boats and individual lines utilised by subsistence fishermen, the oceans provide …
"According to leading conservation experts, 30% of each marine biogeographic region must be conserved in effectively and equitably managed, ecologically representative, well-connected systems of marine protected areas by 2030 to safeguard biodiversity and the benefits humans derive from nature." – Marine Conservation Institute
So, what IS a Marine Protected Area or MPA? The International Union for Conservation of Nature describes an MPA as "a clearly defined geographical space, recognised, dedicated, and managed, through legal or other effective means, to achieve the long-term conservation of nature with associated ecosystem services and cultural values". For the lay person, you can think of an MPA as an ocean nature reserve.
As the Two Oceans Aquarium's website states it: "Generally, MPAs, or sections of MPAs are divided into zones with limitations on the human activities that may take place in them. The two major zones are Restricted Areas (a.k.a. 'no-take zones') where fishing is strictly prohibited, and Controlled Areas where some activities, e.g., angling or spearfishing may be allowed with proper permissions. Furthermore, one might hear MPAs described as 'Wilderness Areas' or 'Sanctuary Areas', which are Restricted Areas that forbid all economic activity, except for some low-impact eco-tourism. In practice, many large MPAs are a combination of zone types, and the managing authorities are able to add or remove restrictions based on the needs and health of the ecosystem."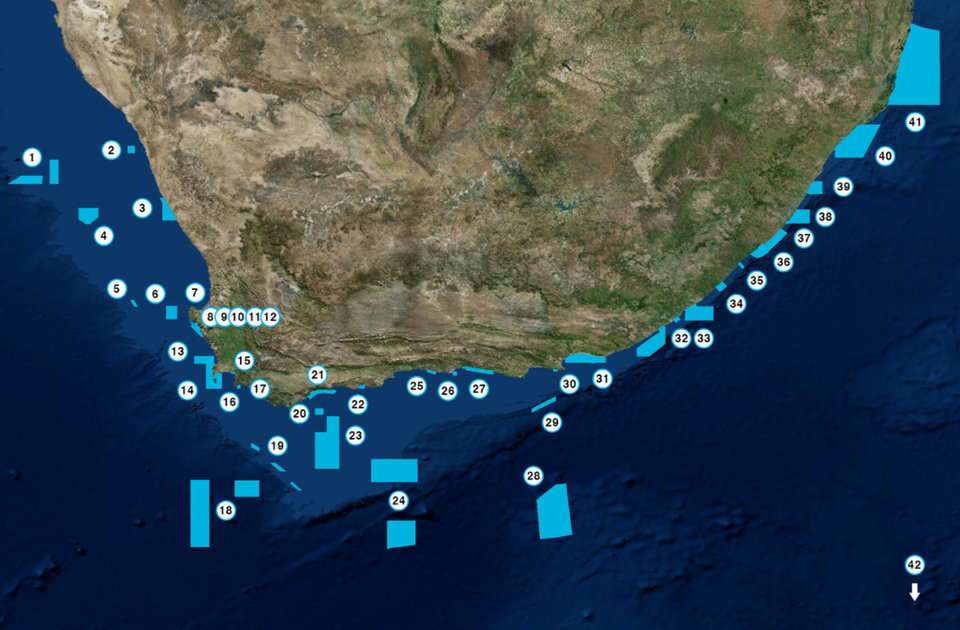 5% of South Africa's oceans are protected by 42 marine protected areas. Map source: https://www.marineprotectedareas.org.za
The Marine Conservation Institute has a useful Marine Protection Atlas on its website, highlighting the location of global Marine Protected Areas – as well as assessing their effectiveness.
South Africa has 1 547 576 square kilometres of sea to call her own, of which about 15% (228 263 square kilometres) has been designated MPAs. Of these 42 MPAs stretching from the massive isiMangaliso area which borders Mozambique and is home to huge sea turtle nesting sites and coral reefs at Sodwana, to the cold Benguela waters of the Orange Shelf Edge bordering Namibia, "a pristine, untrawled section of our border" Two Oceans states, less than 1% is considered "fully/highly protected".
In an interview carried in the Daily Maverick, Dr Judy Mann of the SA Association for Marine Biological Research (SAAMBR) said resources and management remained a problem facing South Africa's MPAs. "They are an important investment in our future," Dr Mann said. "They protect specific areas, allowing for many species of fish to thrive. This abundance in turn benefits local fisheries. In addition, they provide a protected space for endangered species to be nurtured, biodiversity to be created and a natural balance to be restored. They also have a critical value in terms of protecting the ocean floor against mining, which can be exploitative. In a unique way, MPAs protect the many biomes of our oceans in a network that can benefit not only the life within oceans, but life on land as well."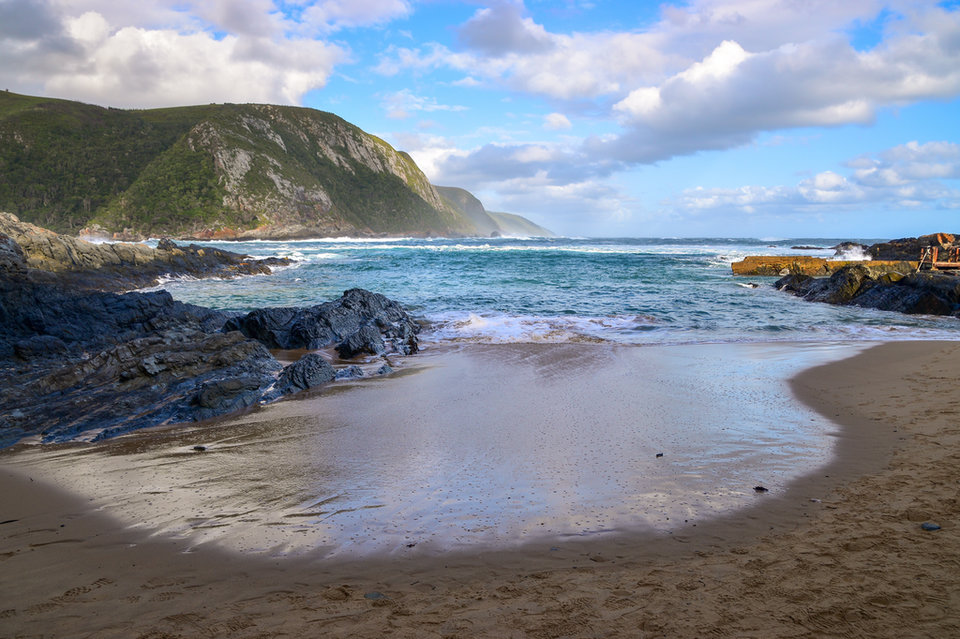 Tsitsikamma is the oldest MPA, proclaimed in 1964, and a valuable breeding ground for a host of aquatic species
Dr Mann pointed to Stilbaai, De Hoop and Tsitsikamma on the Cape South Coast and Eastern Cape as examples of well managed MPAs. "Tsitsikamma is the oldest MPA in Africa and a treasure trove of marine life," she said. It was established in 1964 and is considered the marine equivalent of the Kruger Park with a pristine eco-system well studied by marine scientists.
As the Marine Conservation Institute stated: "Human activities are putting unprecedented pressure on the ocean and its inhabitants. Unsustainable fishing and other extractive industries are placing species at risk, destroying vital habitats, and polluting waters. A changing climate is leading to a warmer ocean, rising seas, and ocean acidification, which in turn impact species, ecosystems, and the vital ecosystems services we rely upon. The time for change is now."