Treasured
memories
Anyone who is serious about food treasures their recipe books – and always has a few favourites. Michael Olivier's new book, Friends. Food. Flavour. Great South African recipes, is illustrated by Roelien Immelman and is certain to become one of those treasured reference books.

There are some people you meet who just radiate warmth and charm. Michael Olivier is one of those people – which is what made him the ideal restaurant host; that bonhomie and his abiding love for food and wine. There were few who were surprised when he was honoured with a Lifetime Achievement Award at the 2013 Eat Out awards.
Both food and wine have been central to Olivier's existence since he was a child. The stories he tells about people, places and memorable meals, preparation of food with aunts, uncles and grandparents on the farm when still in short pants are mesmerising and entertaining.
Olivier harnessed those early lessons in food and parlayed it into a formal Cordon Bleu training in London – and unleashed his creativity and excellent taste when he returned to South Africa, in restaurants such as the popular Parks in Wynberg, Paddagang in Tulbagh, Auberge Burgundy in Hermanus and others elsewhere.
Olivier has already authored five books as well as spent time as the host of the breakfast cooking slot on Expresso on SABC3. Some years ago, Vanya Cullen of Voyager estate in Australia's Margaret River wine region summoned him to do a Cape Buffet for the duration of the Western Australian region's November Wine Festival – a food residency he recalls fondly. It's one of the reasons his strapping son Peter spent a few years Down Under, at turns rowing and playing rugby.
Now retired and living in Johannesburg so that he and wife Madeleine can be near their grandchildren, Michael reviewed that Australian idyll, sharing South African food and flavour with his new Aussie friends. The duo researched, rejigged, deconstructed and tweaked the recipes they used for the Cape Buffet residency. The result is this sixth book which is already being hailed as one of those which will become a constant reference, handed down from generation to generation.
Olivier's collaborator in the project is illustrative designer Roelien Immelman, a graduate in Information Design from Pretoria University who now lives in Taipei. Immelman has long lived and worked abroad, including in London doing illustrations for Japanese fashion brand Michiko Koshino. Her keen eye for detail and colour provide a unique visual backdrop to this book.
How can you not love a book that has a segment titled "Bits and bobs" or "A few words about prickly pears …"?! For purists out there, Olivier deals with the buffet – Old Cape Style, as well as more traditional starters, salads and light meals, veggie sides as well as vegetarian dishes. Naturally there is fish, poultry, lamb, beef, pork and even offal – along with desserts and the all important afternoon tea. Ultimately, 84 recipes enlivened with memories of people and places, which is destined to become a South African favourite.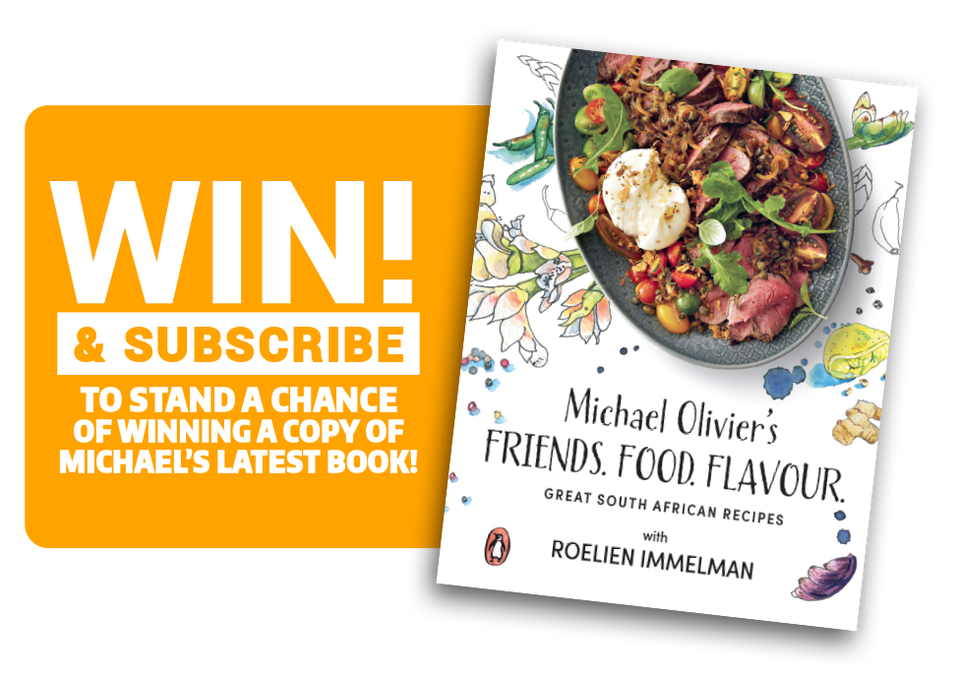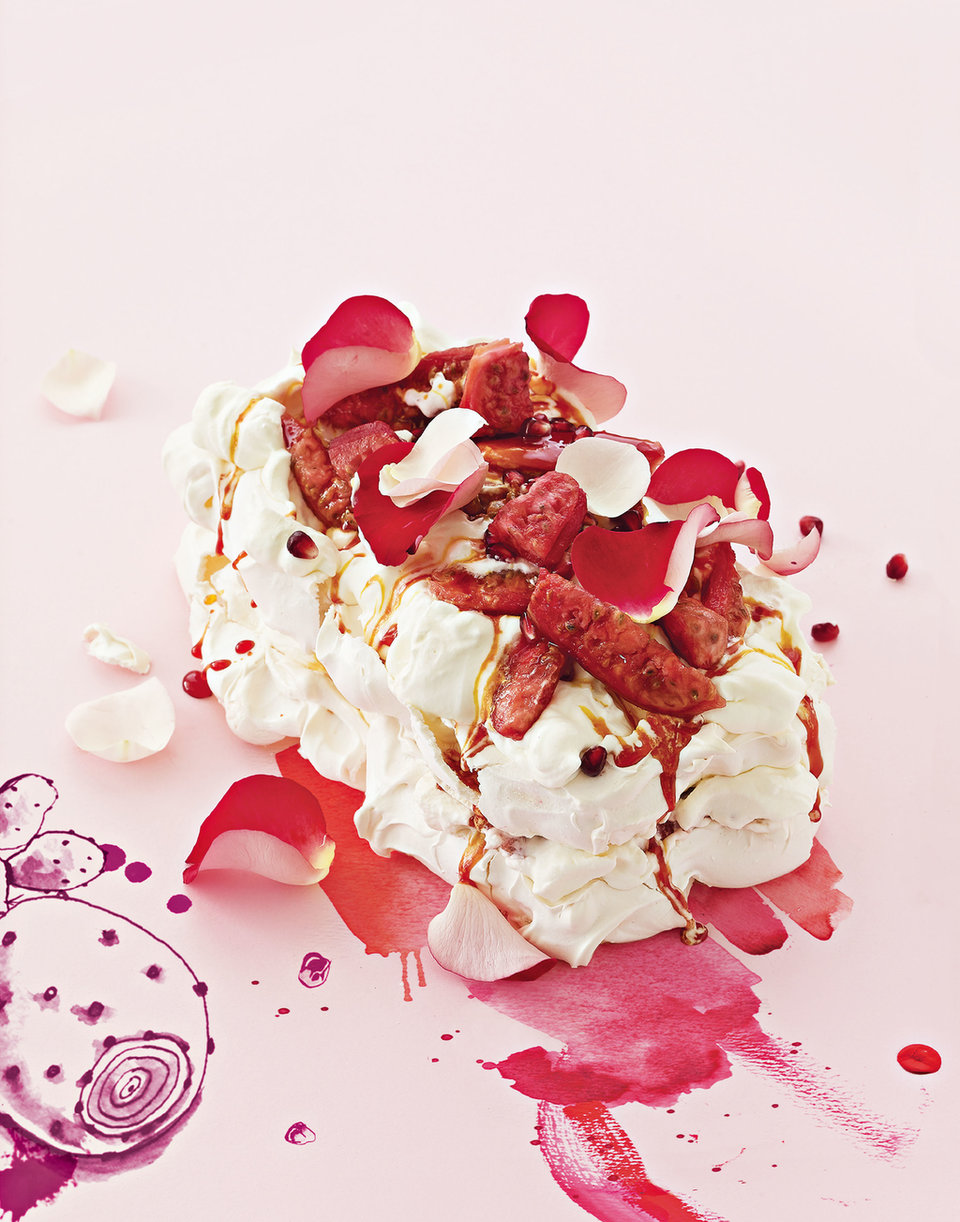 PRICKLY PEAR PAVLOVA WITH ROSE PETALS AND POMEGRANATE SYRUP
Prickly pears were very much a part of my childhood, as most farm houses had a cactus in the garden somewhere, like a pile of green dinner plates balanced on top of each other with the pears around the edges.
Serves 8
Wine pairing: Gabriel Boudier crème de Cassis
4 extra-large or jumbo free-range egg whites
A pinch of fine salt
1 ml cream of tartar
250 g castor sugar, plus extra for sweetening the cream
15 ml corn flour
15 ml white wine vinegar
750 ml fresh cream
5 ml vanilla extract
6 ripe prickly pears (these come in white, yellow or red)
Pomegranate syrup
2 large open roses (use yellow roses for white prickly pears, orange roses for yellow prickly pears and pink roses for red prickly pears)
Preheat the oven to 160 °C. Prepare two baking trays by lining them with non-stick baking paper. Mark out a rectangle on each with a pencil, about 22 cm x 8 cm.
You will need an electric mixer for this recipe. Also, weigh the mixer's bowl – you will need this for later.
Tip the egg whites into the bowl of your mixer. Add the salt and cream of tartar. Start whisking and continue until you have soft peaks. Now add the castor sugar in 50 g increments and continue to whisk well after each addition. When you have added all the sugar, beat well for a while to ensure that all the sugar has dissolved. Add the corn flour and the vinegar and give it a good whisk again. The meringue will now stand up in stiff peaks when you lift out the beater.
Now, having weighed your mixing bowl, you can weigh again so that you have the weight of your mixture which you then divide in two, each portion going on one of the prepared baking trays. Using a spatula, spread the mixture to the edges of your marked-out rectangle, ensuring even thickness throughout.
Place the trays in the oven and turn down the temperature to 140 °C. Bake for 40 minutes, plus another 5 minutes if you feel it necessary. The interior of the meringue will still be soft. Switch off the oven, and wedge open the door using a wooden spoon.
When cold, the two meringues can be kept, wrapped in aluminium foil, until required.
Whip the cream for the filling, sweeten it slightly with castor sugar and add the vanilla extract. Keep half in a separate bowl for the top of the dessert.
Place the one meringue layer on your serving dish of choice. Chop half the prickly pears into chunks and add them to one half of the cream and spread onto the meringue layer. Place the other meringue layer on top and decorate with the remaining cream (to the edges) and the remainder of the prickly pears cut into slices. Dribble over pomegranate syrup and sprinkle over the rose petals, then serve.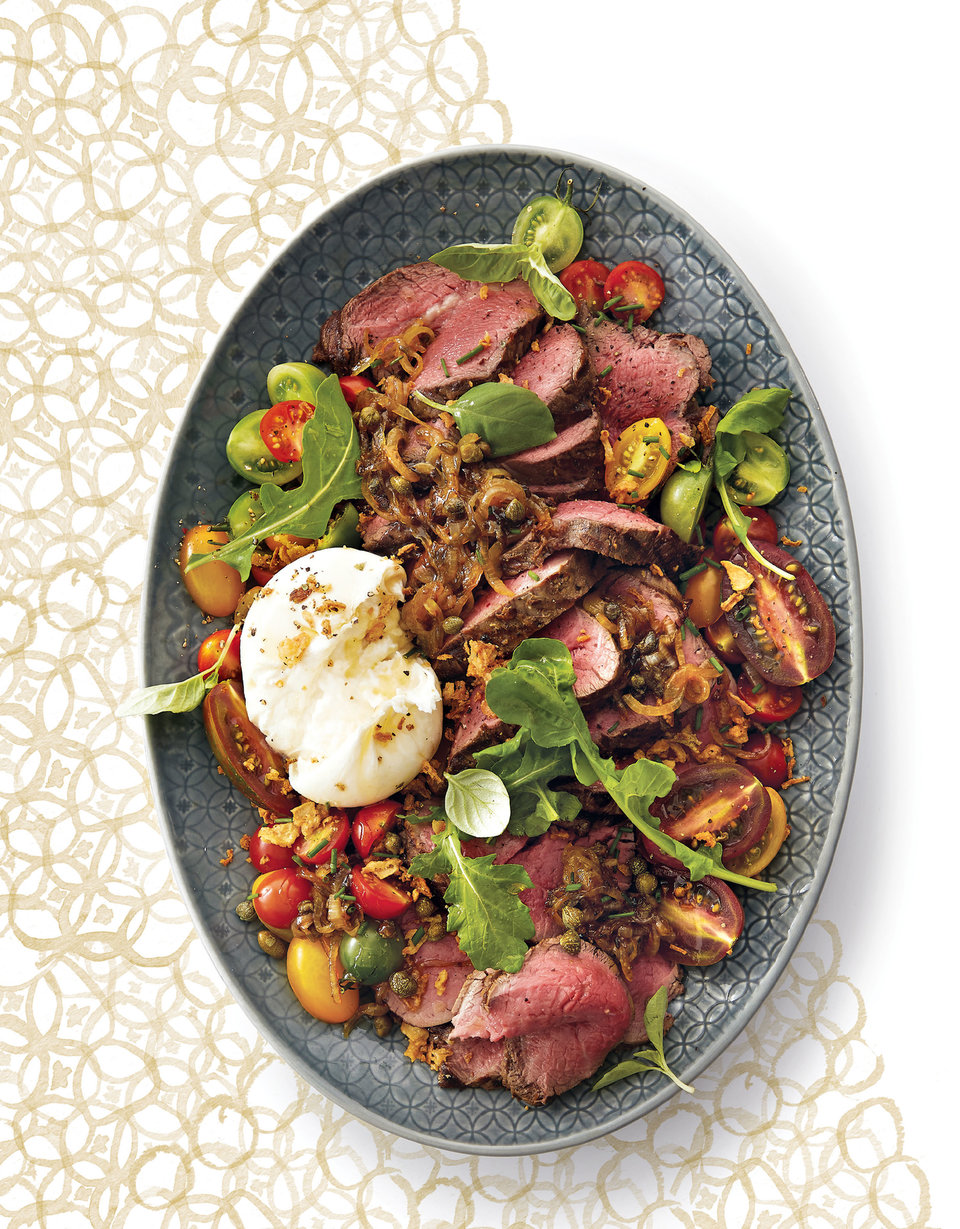 CHRISTINE CAPENDALE'S BEEF FILLET WITH BURRATA AND A CAPER SAUCE
Christine Capendale is a truly busy cook and food writer. Her latest book, Meals, was published in 2019. An internet friend, I often use her recipes as recommendations to partner my wine reviews.
Christine says, "This dish looks sumptuous served on a large platter for everybody to help themselves. Serve it accompanied with crispy potato wedges. If you cannot find burrata, use any other fresh, soft mozzarella cheese, such as fior di latte, bocconcini or nodini.'
Serves 4
Wine pairing: A brilliant Stellenbosch cabernet sauvignon
40 ml extra virgin olive oil
Sea salt and freshly milled black pepper
1 kg beef fillet
1 large onion, sliced
30 ml capers, drained and rinsed, lightly chopped
50 ml lemon juice
5 ml honey
300 g mixed exotic baby tomatoes (yellow, red and green varieties)
15 ml chopped chives
250 g burrata
80 ml crispy onions
Fresh basil and rocket for garnishing
Preheat the oven to 200 °C.
Mix 15 ml of the olive oil with sea salt and milled black pepper and rub into the beef fillet.
Heat a griddle pan over medium heat and grill the fillet, turning, for about 6 minutes until browned on all sides. Transfer the fillet to a roasting pan and roast for 10–15 minutes in the preheated oven until cooked to your liking. Rest the meat for 10 minutes before cutting it into thick slices. Drizzle with the pan juices.
While the fillet is roasting, heat another 20 ml olive oil in a frying pan over medium heat and add the onion and capers. Cook until the onion is soft and the capers become crispy. Add the lemon juice and honey and reduce the sauce. Season with sea salt and milled black pepper.
Halve and quarter the baby tomatoes and mix them with the remaining 5 ml olive oil and the chives. Season with sea salt and milled black pepper.
To serve, place the meat on a large serving platter and drizzle with the caper sauce. Add the tomatoes to the platter and top with the burrata and crispy onions. Garnish with fresh basil and rocket.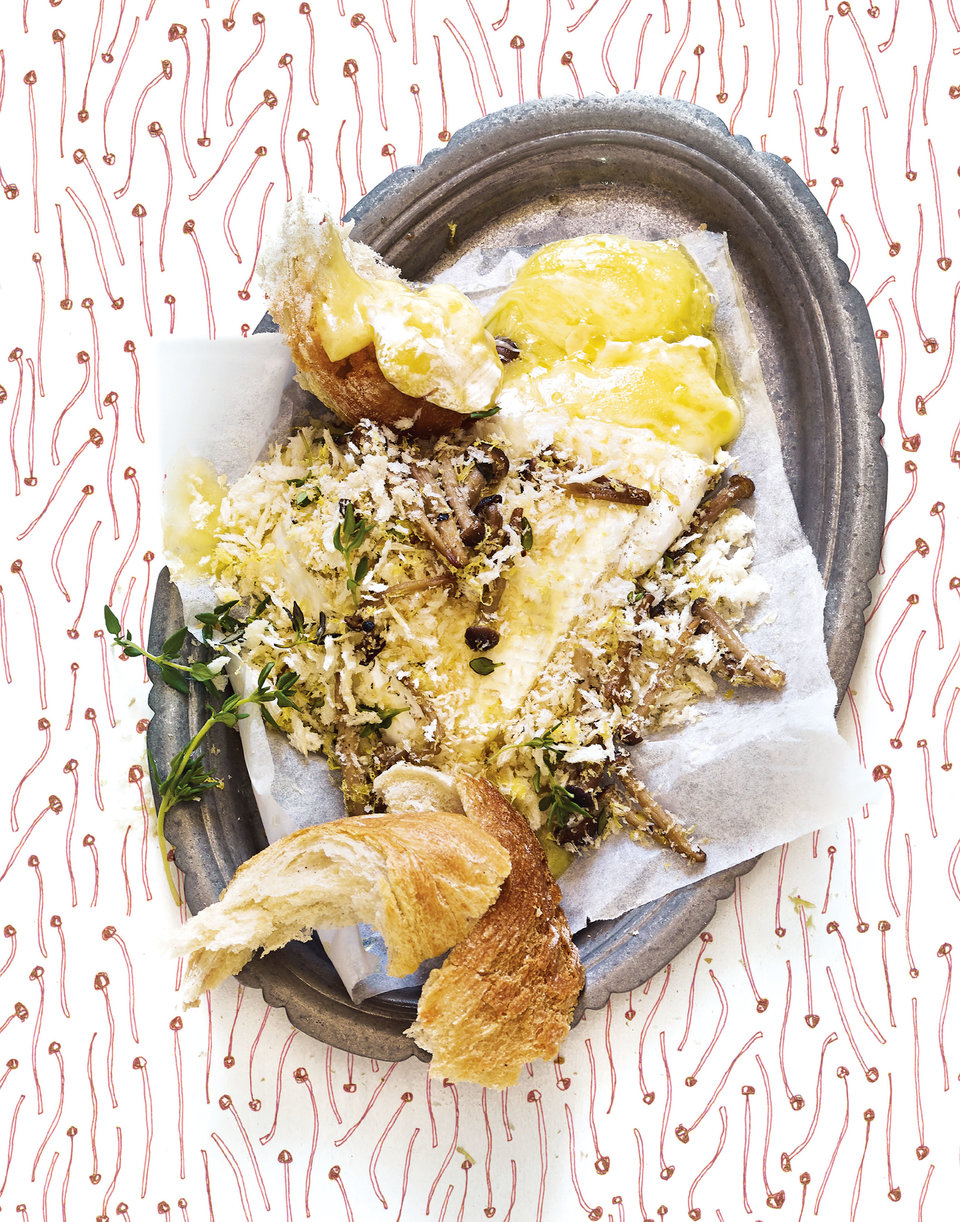 DALEWOOD WINELAND WILD MUSHROOM BRIE TOPPED WITH PANKO, ENOKI MUSHROOMS, THYME AND LEMON PANGRATTATO
Petrina and Rob Visser make some sublime cheeses at Dalewood Fromage, where their Jersey herd feeds on grass pastures. Their renowned cheeses regularly win awards in local and international competitions.
Serves two as a main course or four as a post-dinner cheese
Wine pairing: A delicate red, grenache noir or pinot noir
Extra virgin olive oil
60 ml panko (Japanese rusk crumbs) or plain breadcrumbs
Sea salt and freshly milled black pepper
1 small handful enoki or shimeji mushrooms
250 g triangle Dalewood Fromage Wineland Wild Mushroom Brie (a plain brie is also fine to use), at room temperature
Grated rind of 1 lemon
A few sprigs fresh thyme, picked
Preheat the oven to 180 °C. Make sure the shelf is in the middle of the oven. Pour a little slick of olive oil into a cheese baker or suitable small baking dish, and use a pastry brush to coat the inside.
Brown the crumbs in a small non-stick frying pan, season with salt and pepper and spread out to cool.
Fry the mushrooms in a little olive oil in a separate non-stick frying pan, then season with salt and pepper.
Place the cheese into the prepared dish and brush with a little olive oil. Place on a baking tray and bake in the oven for 12 minutes. The cheese should be bubbling when it comes out of the oven.
Mix together the crumbs, mushrooms, lemon rind and thyme leaves. Sprinkle generously over the baked cheese and serve with chunks of baguette.
COMPETITION TERMS AND CONDITIONS
Competition submissions should reach us no later than 25th February 2022. The Prize/s is as indicated, no alternatives or cash will be provided. The decision of Integrated Media will be final, and no correspondence will be entered into. Under no circumstances shall Integrated Media, TOPS at SPAR, SPAR or its appointed representatives and the prize donors be liable to anyone who enters these Prize Draws for an indirect or consequential loss howsoever arising which may be suffered in relation to the Prize Draws. By entering these competitions, you make yourself subject to receiving promotional information. Entrants are deemed to have accepted these terms and conditions. Prize Draw Rules: The prize draw is only open to consumers who must be over 18 years of age and resident in South Africa. Employees of Integrated Media and TOPS at SPAR, SPAR and their respective advertising, media and PR agencies, as well as the family members, consultants, directors, associates and trading partners of such organisations and persons are ineligible for the draw. Participants can only win one competition every three issues.