Capelli d'Angelo, rigatoni, orechiette, panzerotti, fettucine … an Italian mama's love language to her family, expressed through the preparation of sauces and pasta. It even has one of those international calendar dates devoted to it (October 25 for future reference) but pasta will never be out of fashion.

Pasta La Vista, Baby!
Although popular legend claims Marco Polo introduced pasta to Italy following his exploration of the Far East in the late 13th century, pasta can be traced back as far as the 4th century BCE, where an Etruscan tomb showed a group of locals making what appears to be a type of pasta. The Chinese too were known to be making a noodle-like food as early as 3000 BCE.
There are writings from the 1st century AD that talk of fine sheets of fried dough being an everyday foodstuff, and 100 years later the first recipe appeared for a dish which was "sheets of dough made of wheat flour and the juice of crushed lettuce, then flavoured with spices and deep-fried in oil". An early 5th century cookbook describes a dish called lagana that consists of layers of dough with meat stuffing, a precursor to the modern-day lasagne perhaps? The first concrete information concerning pasta products in Italy dates from the 13th century with references to pasta dishes such as macaroni, ravioli, gnocchi and vermicelli cropping up with increasing frequency across the Italian peninsula.
In the 14th and 15th centuries, dried pasta became popular for its easy storage and allowed people to store pasta on ships when exploring the New World. A century later, pasta was present around the globe during the voyages of discovery. Since then, the world has not looked back!
Today, there are over 600 known pasta shapes, and their names are usually Italian words that are descriptive of their shapes. Spaghetti means "cord", vermicelli are "little worms", rotini are "spirals", fusilli, "spindles", tortellini "little cakes", linguini "little tongues", farfalle "butterflies", conchiglie "shells", fettuccine "small ribbons", penne "quills" and capellini "fine hairs". These are just a small sample and the most popular.
Despite the history of pasta, it was only in 1995, when 40 pasta producers from around the world gathered to hold the first World Pasta Congress, that it was decided to pay tribute to one of the most delicious and versatile foods and celebrate it with a day all its own – World Pasta Day – which is marked every year on October 25!
Locally, chefs at Capsicum Culinary Studio shared their favourite pasta dishes and included recipes so readers can try it at home.

Fettuccine napolitano
(Charne Wylie, Pretoria campus)
Ingredients
500g fresh or dried fettuccine, cooked al dente
800g whole peeled tomatoes in tomato juice
3 leeks, roughly chopped
1 onion, roughly chopped
5 garlic cloves, crushed
2 red chillies, seeded and chopped
3t olive oil
3t butter
Salt to taste
Parmesan cheese, grated
Green peppercorns, to taste
Method
Preheat the oven to 170°C. Place the tomatoes, leeks, onion, garlic and chillies in a large roasting pan and top with the olive oil, butter and salt. Roast until the tomatoes start to brown around the edges. Stir and roast for a further 10 minutes. Toss with the pasta and sprinkle over the Parmesan and peppercorns. Serves four.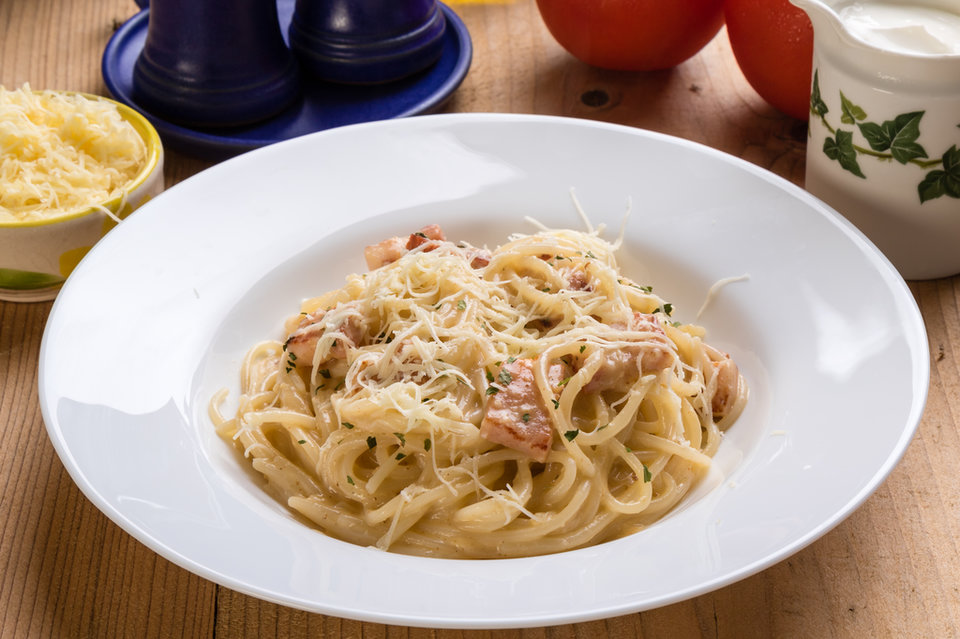 Spaghetti carbonara
(Hayley Sutherland, Cape Town Campus)
Ingredients
500g fresh or dried spaghetti
500g minced pancetta or bacon
4 eggs, beaten
Cracked black peppercorns
170g Parmesan cheese, grated
Chopped parsley (optional)
Method
Cook the pancetta or bacon in a large sauté pan over a low heat until golden brown, 7-10 minutes, stirring occasionally. Reserve the pancetta and fat in the pan and keep warm.
Bring a pot of salted water to a rolling boil. Add the spaghetti and stir a few times to separate the strands. Cook the spaghetti until al dente and then drain. Return the pan with the pancetta/bacon to a medium heat and when hot, toss in the pasta and mix together making sure pasta is hot and coated well with the pancetta/bacon and all the "bits" in the pan.
Remove the pan from the heat and add the beaten eggs, tossing them with the pasta and pancetta until just cooked. Add the peppercorns and cheese, and toss. Garnish with chopped parsley and additional parmesan, if desired. Serves four.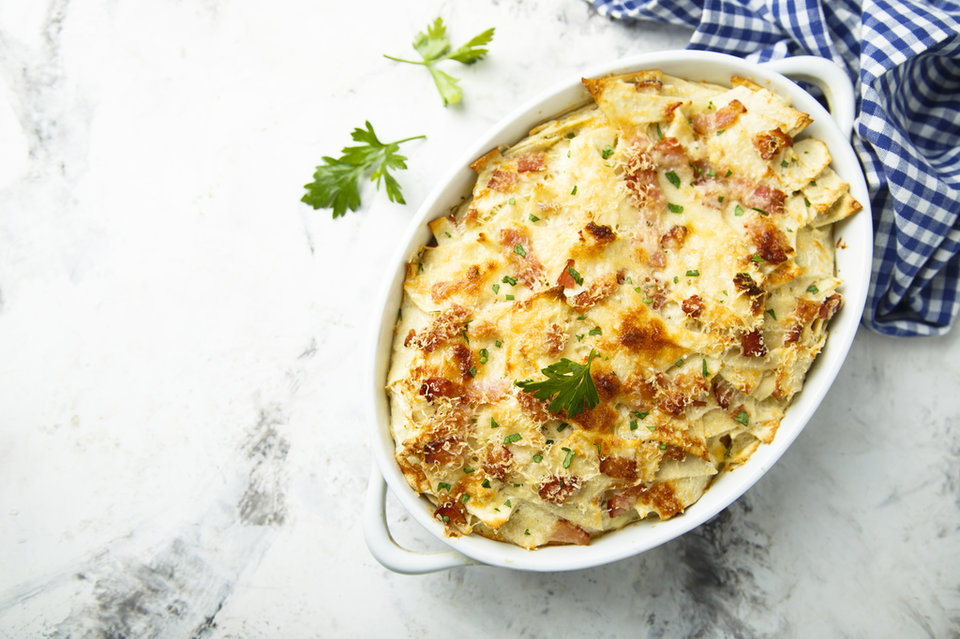 Chicken and bacon mac and cheese
(Donovan Miller, Nelson Mandela Bay campus)
Ingredients
1 onion
¼ each red, green and yellow pepper
15ml mixed dry herbs
1 clove garlic
15ml oil
200g chicken breast fillet, cut into thin slices
200g bacon, cut into bits
500g macaroni, cooked (as per packet instructions)
For the sauce
750ml milk
2 heaped tablespoons corn flour
200g grated cheddar cheese, for topping
Spring onion, chopped for garnish (optional)
Salt and pepper to taste
Method
In a large saucepan, sweat the onions and peppers on low heat until the onions are translucent. Add the herbs and garlic and continue cooking for 5 minutes. Turn up the heat and add the bacon and fry until it changes colour. Pour off the excess fat, add the chicken and cook for a further 10 minutes. When all the meat is cooked, add 500ml of the milk and bring to a simmer and cook for 5 minutes. When the mixture is hot, combine the remaining milk with the corn flour to create a slurry and add to the hot milk mixture. Stir continuously until the sauce thickens to a coating consistency. Taste and adjust the seasoning with salt and pepper. Mix the sauce and cooked macaroni until well combined and spoon into a greased casserole dish, top with cheese to completely cover the top, grind over some cracked black pepper and place in a pre-heated oven at 200°C until the cheese bubbles and forms a golden crust. Set aside to cool slightly before grating over fresh parmesan and a light sprinkle of chopped spring onion if using.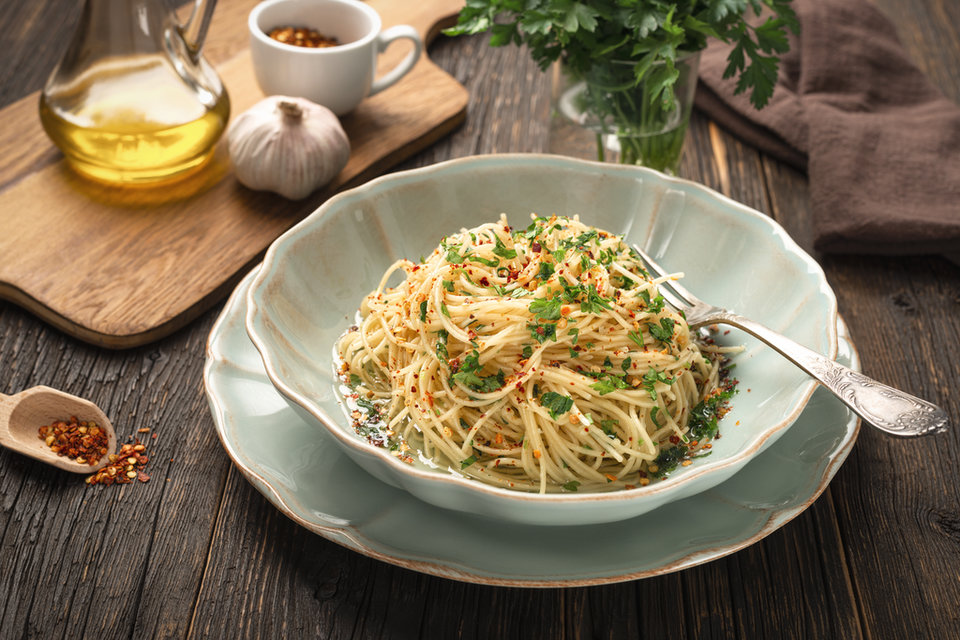 Spaghetti aglio e olio
(Bradley Wright, Durban campus)
Ingredients
400g-500g dried spaghetti
2 red chillies, deseeded and cut at a 45-degree angle
1 large clove of garlic, very thinly sliced
10g parsley, very finely chopped
30g grated Parmesan cheese
45ml olive oil

Method
Get a pot of water on the boil and add some salt. (Chef's tip: it should taste like the ocean!)
It all happens very quickly, so make sure you have all your ingredients ready.
In a frying pan add 40ml olive oil and the garlic, heat up the pan slowly to allow the garlic to toast in the olive oil until it's a light golden-brown colour. Add ¾ of your sliced red chillies and fry them off. Add the pasta to the water and boil until al dente. Once the pasta is cooked, drain and add to the frying pan, along with about 20ml of the pasta water, and toss. Add half the Parmesan and ¾ of the chopped parsley. Taste and check seasoning, adding salt and pepper if needed. Garnish with the remaining, chilli, parmesan and chopped parsley.
Chef's Tip: Don't you hate how difficult it is to accurately judge how much pasta to cook? Get it wrong and you either end up with not enough to go round or a mountain of cooked pasta leftover. You must also factor in all the different shapes and sizes of pasta. Here's the pasta per person rule. Dried pasta - 80g to 100g per person; fresh pasta – 115g to 150g per person and for filled pasta like ravioli or panzerotti, around 175g to 200g.