Domestic
bliss
It's every woman's dream to have a husband who shares some of the household chores! And the occasional braai doesn't rack up any merit points … Sinoyolo Sifo is such a dream and he has just published a book – Sifo: The Cooking Husband – to prove it.

The​​​​​​​ book, Sifo: The Cooking Husband, published by Penguin Random House, is no artificial construct just to sell copies. Sinoyolo Sifo is an enthusiastic home cook – and has been for years. He's not a trained chef – celebrity or otherwise – who has decided to max out his exposure by penning a book. No, he genuinely is self-taught and authentic as well as a man on a mission. And that mission is to get men in the kitchen, enjoying preparing food and feeding their loved ones.
(FYI, his authenticity has seen his social media profile rocket! He has 80 000 Instagram followers who appreciate his tips and recipes.Check out @Sifo_the_cooking_husband)
It started at an early age for Sinoyolo. He was born in Mthatha in the Eastern Cape and his love of food is entirely natural. Inspiration came from his father, Mthutuzeli Sifo, a farmer and businessman who owned a chain of butcheries. Sinoyolo would help out, picking produce and then spending school holidays assisting and serving customers in the butcheries. A keen experimenter, he always enjoyed cooking and wasn't afraid to try either a new recipe or flavour combinations.
Even as a university student in Gqeberha he would cook. Having moved to Durban in 2018 after qualifying as a pharmacist in 2013, Sinoyolo admits he probably would have just remained a happy home cook unless his wife Nondumiso hadn't pushed him. She believed in him and his ability – and hence the book.
The aim is to break gender stereotypes and preconceptions about roles and responsibilities. More men should cook, he maintains. Food is a universal language which everyone speaks, even though men traditionally do more of the consumption than preparation … Sifo: The Cooking Husband is his invitation to readers to share in the joy of making memories through food.
Inspired by the nostalgia of home and family, this book brings together a selection of almost 70 recipes, each one simple and accessible, wholesome and delicious. Expect to find tasty breakfasts, indulgent pasta dishes, hearty stews, quick lunches, impressive dinners, decadent desserts, as well as traditional South African dishes and some childhood favourites.
None of the recipes contained in the book are difficult or overly fancy. They are most certainly tasty though and only require an open mind and willingness to have a go. As the recipes below indicate, wherever any technical skill is required, Sinoyolo has added a handy tip or trick to take the newbie cook through it.
It's one of those recipe books which will no doubt be passed on from generation to generation. Possibly from father to son?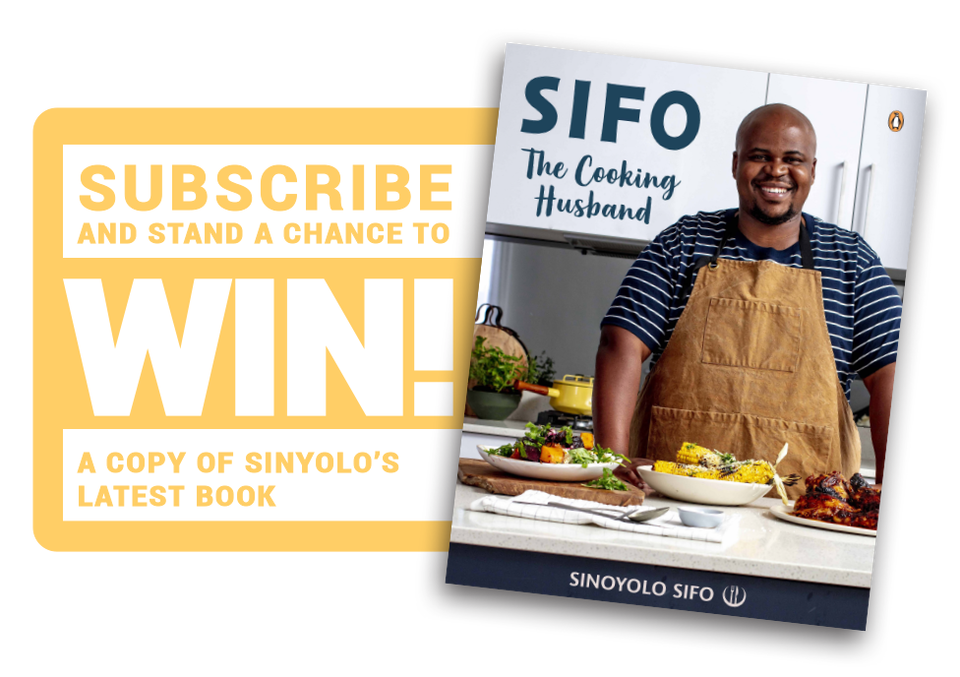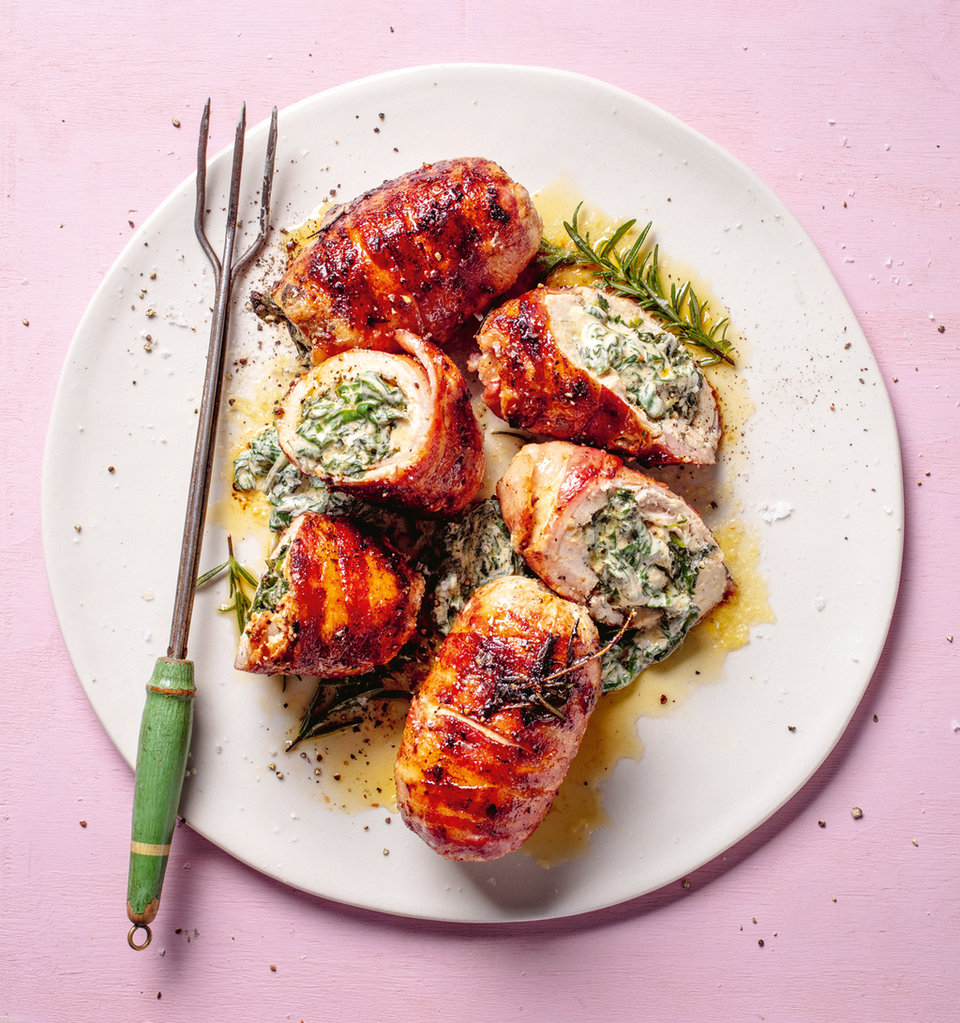 Bacon-wrapped chicken roulade
I like to make this for date night with Wifey. I assemble everything ahead of time and just pop it into the oven half an hour before we're ready to eat, which gives me more time to spend with her.
Serves 4
100g butter, room temperature
100g baby spinach
4 large skinless chicken breasts
1 tsp (5ml) Cajun spice
Salt and black pepper, to taste
230g cream cheese
600g streaky bacon
Fresh rosemary, to garnish
1. Preheat the oven to 200°C.
2. In a large saucepan over medium heat, melt 20g of butter. Add the spinach and cook for 1–2 minutes, until just wilted. Remove from the heat and transfer to a large bowl.
3. Place the chicken breasts on a chopping board. Butterfly each breast using a sharp knife (see Notes and tips).
4. Place the open, butterflied chicken breasts on your work surface and season with Cajun spice, and salt and black pepper.
5. Mix the remaining butter and cream cheese with the cooked spinach.
6. Place approximately two tablespoons of spinach and cream cheese mixture in the centre of each chicken breast. Roll up each chicken breast and wrap it with bacon.
7. Transfer the chicken breasts to a lined oven tray and bake for 25–30 minutes, or until brown all over. Towards the end of the cooking time, grill the chicken breasts for 1–2 minutes to crisp up the bacon.
8. Once cooked, let the chicken rest outside the oven for 5 minutes before serving.
Notes and tips:
How to butterfly chicken breasts: Place a chicken breast on a chopping board. Lay one hand flat on top of the breast to keep it in place. With your other hand, use a sharp knife to cut a long, smooth cut horizontally through the middle of the breast, starting at the thicker end and ending at the thinnest point. Be careful not to cut all the way through to the other side. Open the chicken breast and lie it flat so that it resembles a butterfly. Use a rolling pin to flatten it some more and create an even thickness.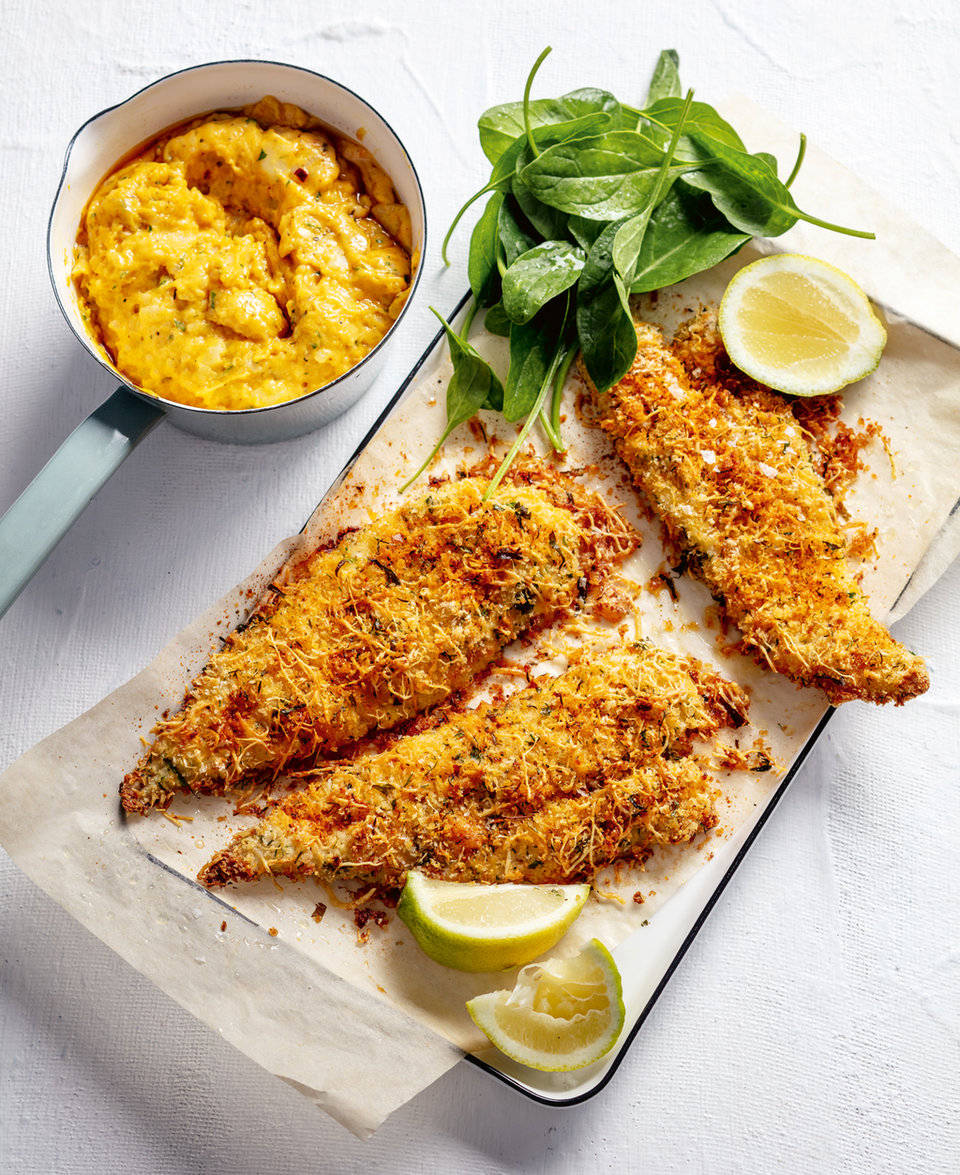 Crispy baked hake with spicy potato mash
FOR THE HAKE
75g breadcrumbs
15g gouda cheese, finely grated
2 Tbsp (30ml) chopped fresh Italian parsley
40g all-purpose flour
1 egg, lightly beaten
400g hake fillets, skinned and deboned
Salt and black pepper, to taste
2 Tbsp (30ml) olive oil
Lemon wedges, to serve
FOR THE SPICY POTATO MASH
4 medium potatoes
Water, enough to cover the potatoes
50g butter
50ml coconut milk
1 Tbsp (15ml) mild masala spice
1 Tbsp (15ml) turmeric
Salt and pepper, to taste
FOR THE HAKE
1. Preheat the oven to 210°C.
2. Line a baking tray with parchment paper or foil.
3. Place the breadcrumbs in a shallow dish, along with the grated cheese and parsley.
4. Place the flour and egg in their own, separate shallow bowls.
5. Season the hake fillets with salt and black pepper.
6. Dip one hake fillet at a time into the flour. Shake off the excess, then dip into the egg and, finally, into the breadcrumb mixture.
7. Lay each fillet on the lined baking tray and drizzle with olive oil.
8. Place on the tray in the oven and bake the fish fillets for 15–17 minutes, or until golden brown, making sure to turn the fish fillets halfway through. Serve on a bed of spicy potato mash
FOR THE SPICY POTATO MASH
1. In a large pot, place the potatoes and water, cover, and bring to a boil. Cook for 35–40 minutes, or until soft. To test if they're done, insert a fork or sharp knife through a potato – it should be able to go through the flesh with ease. Once cooked, drain the water, peel off the potato skins and discard.
2. In the same pot, melt the butter over medium heat.
3. Add the cooked potatoes, coconut milk, masala spice, turmeric, and salt and pepper. Mash until well combined and creamy.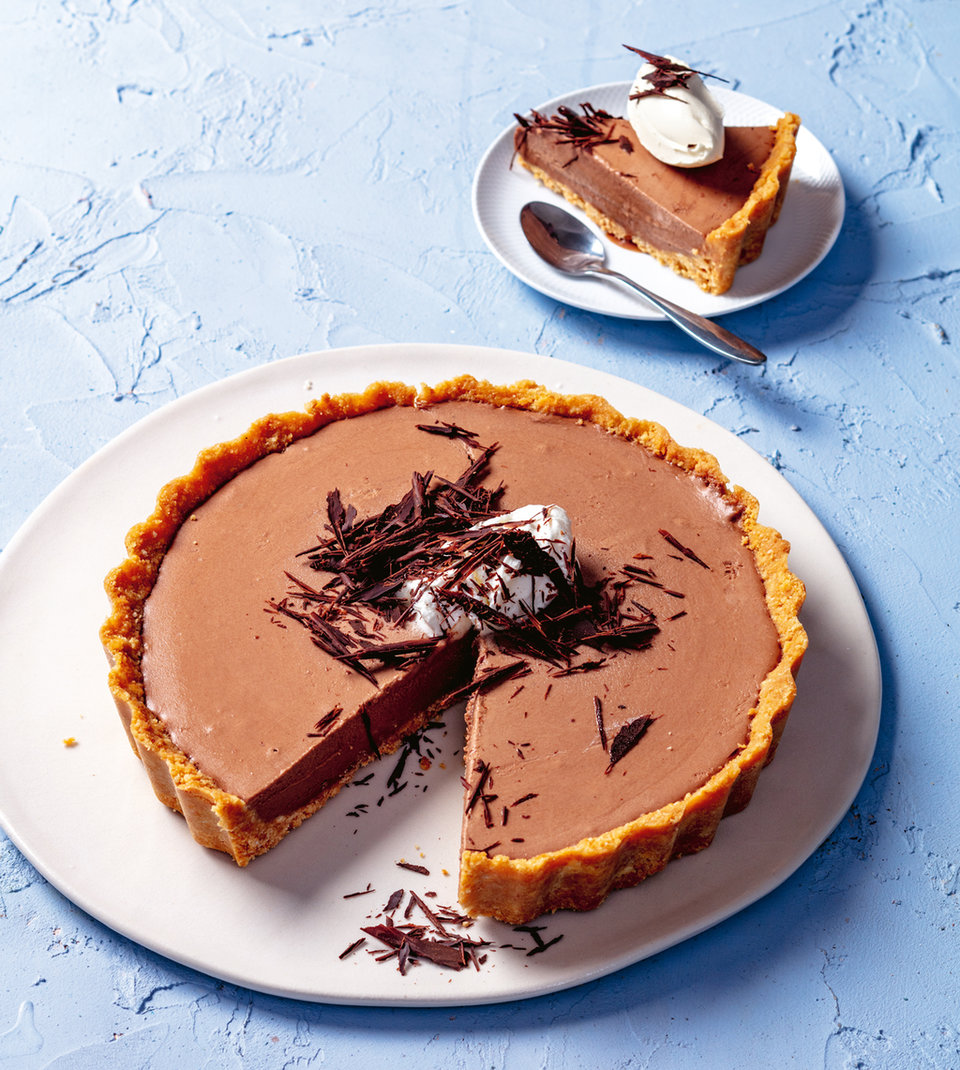 Chocolate mousse pie
When I am hosting dinner at my house, this is my favourite dessert to make. The mousse has a rich chocolate flavour and very smooth texture. I usually add cream on top to balance out the sweetness.
Makes one pie
FOR THE PIE CRUST
1 pack (200g) Tennis biscuits (or coconut tea biscuits)
1/4 cup (60ml) butter, melted
FOR THE MOUSSE
1/4 cup (60ml) butter
300g semi-sweet chocolate chips
4 egg yolks, room temperature
4 egg whites, room temperature
2½ Tbsp (37.5ml) brown sugar
1 cup (250ml) whipping cream, cold
1 tsp (5ml) vanilla essence
Chocolate shavings, to decorate
For the pie crust
1. Using a food processor, crush the biscuits until fine (see Notes and tips). Mix the butter with the crushed biscuits until a crumbly mixture forms.
2. Transfer the mixture to a round 23cm pie dish. Press the mixture down into the bottom and sides of the dish until compact. Set aside.
For the mousse
1. In a large glass or enamel bowl, create a water bath to melt the butter and chocolate chips (see Notes and tips). Stir continuously until the chocolate has cooled slightly. Stir the egg yolks into the melted chocolate.
2. In a separate large bowl, whisk the egg whites and brown sugar until foamy and soft peaks form. Gently fold the egg whites into the melted chocolate.
3. In another large bowl, whip the cream until soft peaks form. Stir in vanilla essence. Fold whipped cream into chocolate mixture, but keep some cream to use as topping for the mousse pie.
4. Pour the chocolate mixture into the pie crust and refrigerate for at least 8 hours, or overnight.
5. Remove from the fridge and decorate with the remaining cream and chocolate shavings.
Notes and tips:
If you don't have a food processor, place the biscuits in a plastic freezer bag and crush them using a rolling pin.
The water bath method is commonly used to gently and safely melt chocolate using steam. Simply chop the chocolate into small pieces and transfer to a heatproof glass or enamel bowl. Then, fill a small pot or saucepan halfway with water and bring to a boil over high heat. Once the water has begun to boil, switch off the heat.
Place the glass bowl of chocolate over the hot water, and allow it to rest there until the chocolate has melted, using a spatula to stir it along. To avoid burning yourself, use an oven mitt or kitchen towel to hold the hot bowl.
COMPETITION TERMS AND CONDITIONS
Competition submissions should reach us no later than 25th June 2022. The Prize/s is as indicated, no alternatives or cash will be provided. The decision of Integrated Media will be final, and no correspondence will be entered into. Under no circumstances shall Integrated Media, TOPS at SPAR, SPAR or its appointed representatives and the prize donors be liable to anyone who enters these Prize Draws for an indirect or consequential loss howsoever arising which may be suffered in relation to the Prize Draws. By entering these competitions, you make yourself subject to receiving promotional information. Entrants are deemed to have accepted these terms and conditions. Prize Draw Rules: The prize draw is only open to consumers who must be over 18 years of age and resident in South Africa. Employees of Integrated Media and TOPS at SPAR, SPAR and their respective advertising, media and PR agencies, as well as the family members, consultants, directors, associates and trading partners of such organisations and persons are ineligible for the draw. Participants can only win one competition every three issues.