As reported elsewhere in this issue, the espresso Martini is one of the most requested cocktails. It wouldn't be possible to make one without a coffee liqueur. Here's a look at a few of the options available.

Popular movies have immortalised grizzled characters adding a touch of ye olde "hair of the dog" to their morning coffee – and that usually takes the form of a generous glug of whisky. Surprisingly though, there are very few actual coffee liqueurs which are based on whisky. Rum, tequila, vodka and gin feature far more frequently than whisky.
Perhaps the most instantly recognisable is Kahlua. Part of the Pernod Ricard stable, the coffee flavoured liqueur is made in Veracruz, Mexico. The spirit used in this drink is rum which is blended with sugar and Arabica coffee.
According to the ever reliable Google and Wikipedia search, the drink was developed in the 1930s by Pedro Domecq – 1936 was the first time it was commercially available. The name Kahlua is Nahuatl in origin, the language of Veracruz and it means "house of the Acolhua people".
Pernod Ricard acquired the brand in 2005 when it bought out Allied Domecq, the makers of this popular drink. Its alcohol content is 20% by volume and bartenders all around the world are unanimous that it's a must as part of their toolkit when making an espresso martini.
An interesting aside about Kahlua is that the brand launched an eco-programme in 2019, stating at the time that all its coffee would be sustainably sourced by 2022. The stated goal is to "bring positive change to the lives of Mexican coffee farmers and their families".
Literally translated from its original Spanish, Tia Maria means Aunty Mary. The story goes that it has its roots in an old family recipe belonging to a Spanish aristocratic family who moved to Jamaica before fleeing during colonial strife, leaving a housemaid – Maria – with the recipe.
But Dr Kenneth Leigh Evans is the man credited with its commercial success, having first tasted it at the home of friends and then producing and marketing it. Although those roots stretch back to Jamaica in the 1940s, it was apparently an evocative commercial featuring David Bowie's wife Iman in the 1980s which really boosted sales.
The sweet liqueur has a strong coffee flavour courtesy of the cold brew extraction from 100% Arabica beans which is blended with Madagascan vanilla and Jamaican rum. Italian liquor giant Ilva Saronno acquired the Tia Maria brand in 2009 and while it's now manufactured in Italy, it remains the same popular drink, distributed in 60 countries globally.
One of the best ways to enjoy Tia Maria is in a revolver cocktail:
60ml bourbon
30ml Tia Maria
2 dashes orange bitters
Twist of orange zest for garnish
Combine the Bourbon, Tia Maria and bitters in a cocktail shaker with a handful of ice. Stir until cold and then strain into a cocktail glass. Squeeze the orange zest over the cocktail to release the essential oils over the drink before adding it to the drink.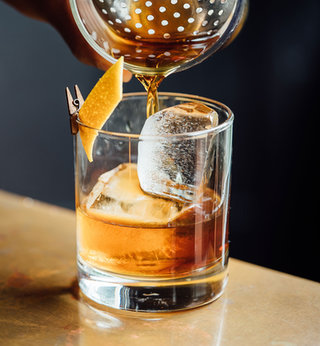 To a true Italian, drinking a cappuccino after 11 am is a sin. Cappuccino is a morning or breakfast drink only. Italians know and love their coffee … and take it seriously. Which is why the distinctive Galliano Ristretto works so well as a liqueur. A ristretto or "corto" is a very short espresso and apparently it was originally made in a hand press. It resulted in a full flavoured, less bitter coffee – and is what Galliano aspired for in creating this liqueur. Both Arabica and Robusta beans are used for the coffee element of this bittersweet drink with its subtle hint of blackberry. One tasting note states: "Overall, the spirit is flavourful and rich, with heavy notes of dark chocolate and bitter espresso."
A newcomer to the scene is a proud – creamy – local: Amarula Ethiopian Coffee. Amarula has firmly established itself as one of the world's leading cream liqueurs and in the past few years has extended its appeal, adding a Raspberry Chocolate as well as a Vanilla flavour.
The sustainably wild harvested marula fruit is blended with single-origin Ethiopian Arabica beans and real dairy cream. The alcohol level on this deliciously creamy drink is just 15.5% and is expected to win over a host of new fans.
It's been reported that there are 56 botanicals in Jägermeister – and when served ice cold, the drink shows its intense herbal flavours to full effect. In 2019 the brand added a new variant to its line-up: Jägermeister Cold Brew – the first new addition in 80 years!
As the name indicates, cold brew coffee from Arabica beans has been added to the mix but so has a touch of cocoa. New Orleans bar manager Jason Sorbert said this was his top choice of coffee-flavoured drinks. "While it still has the rich coffee flavours you would expect," he said on Spruceeats.com, "it also still carries the top notes of anise and menthol from the Jägermeister base, making it a well-rounded and complex product." This product is not available in South Africa.
A popular shot in bars in South Africa was Patron's XO Café, a coffee infused Tequila which weighed in with a 35% alcohol by volume. Sadly, this drink is no more. It was culled from the Patron Tequila range in 2021 because of a decline in popularity.
It was reported in the British trade magazine, The Grocer, that sales in the important UK market were worth just £550 000 – or R11 million. Apparently the pandemic lockdown saw folks turn to Patron XO Café in a big way, recording sales of £1.9 million (R38 million), but the almost fourfold increase was not enough to provide a stay of execution. Coincidentally, the market for straight Tequila is booming so it made commercial sense for Patron to focus on the neat spirit rather than the flavour variant.
Amarula Coffee Surprise
50ml Amarula Ethiopian Coffee
175ml milk
3 Tbsp (45ml) instant coffee
2 Tbsp (30ml) sugar
3 Tbsp (45ml) boiling water
To make: Whisk the coffee, sugar and boiling water in a bowl for approximately 5 minutes until the mixture is thick and fluffy with stiff peaks. Add ice to a glass. Pour milk and Amarula Ethiopian Coffee over the ice. Spoon over dalgona cream coffee mix to layer.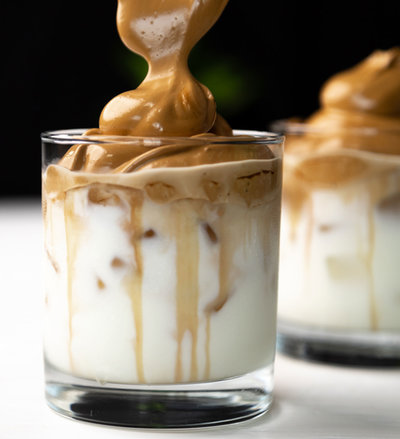 (Footnote: It was reported in early 2020 that Jameson, the triple distilled Irish whiskey, had taken the plunge and launched a new product – Jameson Cold Brew. As the popular whiskey brand's website states: "Coffee and Irish whiskey are no strangers in the glass, but we had a feeling there was more to this story. And so began the search for a fresh new take on this classic combination. The result? Jameson Cold Brew.
"Jameson smoothness meets cold brew coffee richness, made with 100% Arabica beans sourced from Brazil and Colombia, for notes of toasted oak and dark chocolate. Perfect over ice, or mixed with tonic or cola and a wedge of orange, and always shared amongst friends."