Weird or
wonderful?
In the wizarding world of Harry Potter, Hogwarts and Dumbledore, candy flavours weren't always sweet. Sometimes they exploded, snapped their pincers into the flesh of a finger or just tasted nasty – like earwax! To a grownup market, just how strange and offbeat can the flavour of beer become?

The Belgians and Dutch are renowned as some of the world's finest brewers. Their craft of making beer has been refined over centuries – which is why they do fruit beers so well. Strawberry, cherry, coconut, peach … all get a look in but the brew remains flavourful and refreshing.
In 2018 and 2019 Durban's Poison City Brewing created something of a rumpus when it marketed its first cannabis beer, Durban Poison. At one point the South African Police Services tried to remove it from liquor store shelves in Hermanus, not realising that the beer was made using hemp seeds. As Food24 reported in 2019: "While hemp seeds are part of the cannabis family, they only contain trace amounts (0.3%) of THC which is the stuff that gets you high. THC rich cannabis, weed or ganja is a completely different plant." So the buzz is more in the name and the standard alcohol level than in what it was made from. The product is legally compliant – just as many over-the-counter remedies containing CBD oil are.
But there are some truly crazy craft brewers in the world and no flavour is off limits! Doom scrolling through social media recently I saw a video clip that made my stomach do an involuntary lurch – and not in a good way. The footage showed some edgy foodie type adding avocado on toast to white chocolate!
Drinks Business is a publication which covers the beverage scene globally. Way back in 2013 it did a piece on some of the stranger brews they'd come across. Brewer Dieter Foerstner of Los Angeles' Angel City Brewery, for example, decided to make a batch of avocado-flavoured beer to present at an annual avocado festival.
"I added about 100 pounds (50kg) of avocado directly to our mash, and then added some more to our whirlpool. I also added crushed red pepper, garlic, lime and cilantro to give it a guacamole flavour. It's a Kölsch style beer," Foerstner was quoted as saying.
"The reason I chose that style is because it has light delicate flavours, just like that of the avocado. I really wanted to showcase the avocados, trying to make sure everything was light and delicate and well-balanced. There's not a whole lot of red pepper in there. I didn't want to overwhelm the flavour of the beer."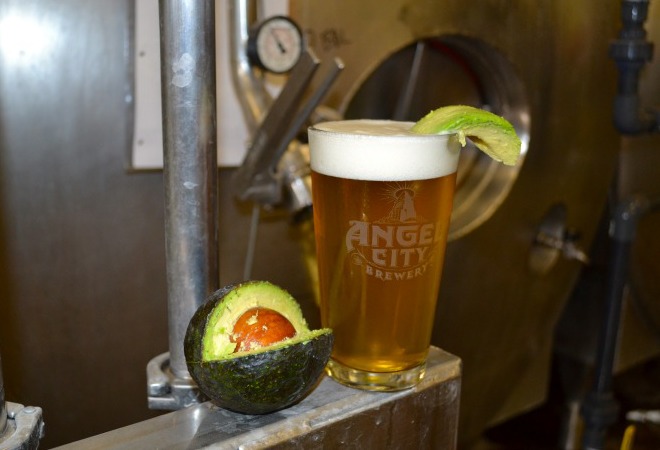 Crazy Americans right?! Wait – it gets better! Up in Oregon, that wet and woodsy West Coast state, in Newport, Rogue Ales once brewed a bacon and maple beer! Its website is a thing of beauty for beer lovers and lists a host of standard India pale ales, and lagers and stouts.
The Bacon Maple Ale, a brown ale-style beer, contained 13 ingredients Drinks Business reported, including several smoked malts, applewood-smoked bacon and maple syrup. Works well with doughnuts and pork was the assessment of the brewers.
Currently on offer on their website are a chocolate stout nitro, double chocolate stout, pumpkin patch ale, raspberry tartlandia and the intriguingly named Dead n dead brew aged with whiskey barrel oak chips!
In Michigan, the Right Brain Brewery in Traverse City went so far as to use real meat and bones in its Mangalitsa Pig Porter. According to the 2013 report, the beer uses four pigs heads (no brains) and three bags of bones in the fermenter. The porter was described as having a "smoky flavour with a bacon finish and big, pig mouth feel."
Across the pond in Britain, where the traditional market has generally preferred warmer beers, brewer Wells & Young's took inspiration from what became a lockdown baking staple: banana bread. Drinks Business stated it was available as a draught seasonal cask beer which had an alcohol by volume of 5.2%. "Banana bread brew has 'tempting banoffee aromas tempered by a grassy, lemony nose all leading to a finely balanced, fresh, delicate flavour,'" the report said. Wells & Young's has subsequently been taken over and SpruceEats.com wrote that the amber ale is now under the Eagle Brewery name and is bottled with an appropriately banana yellow label and is available year round.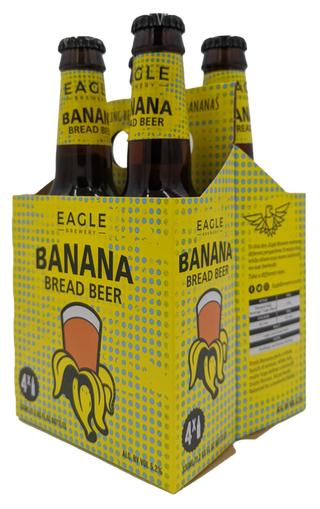 Reece's peanut butter cups are an American staple, created in 1928 and part of the Hershey's famous chocolate empire. The Willoughby Brewing Company of Ohio thought it would be a great idea to make a coffee porter style brew with that special peanut butter and chocolate flavour. It was only ever available at the brewpub and their website read: "A consistent award-winner and truly unique taste experience. We start by brewing a robust porter and infusing it with locally roasted coffee and then adding special peanut butter and chocolate flavor. The result is a beer like no other you've had before. Some people say they taste more coffee than peanut butter, others say the opposite." That was in 2020 and sadly the Willoughby Brewing Company is now permanently closed. RIP Peanut Butter Cup!
San Francisco's counter-culture credentials were established in the hippie 60s. The techie influx from Silicon Valley might have hiked property prices but they're still doing things their own way. Like making watermelon wheat beer. Specifically the Hell or High Watermelon wheat beer by the 21st Amendment Brewery, one of the USA's top 30 craft breweries which boasts medals galore from the World Beer Cup and other competitions. (If you didn't know, the 21st Amendment was the law which repealed Prohibition …)
"Like Lady Liberty, we stand for independence and perseverance. In the pursuit of innovative beer, there is no obstacle too great. No journey too long. No fruit too gigantic. This American wheat beer is brewed with real watermelon, for a flavor that's surprisingly crisp, dry and refreshing — it's summer in a can!" the website states.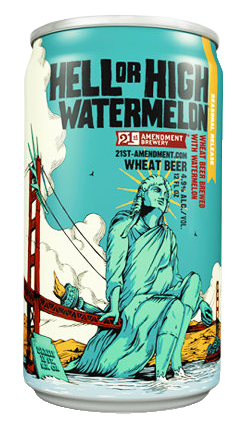 Everything is bigger in Texas – or so the saying goes. So why wouldn't some whacky crafter decide to brew a prickly pear lager or jalapeno pilz? That's what the guys from Twisted X Brewery decided to do, granted after a long evening of Tequila. Jim Sampson and Shane Bordeau first brewed a spicy jalapeno pilz, that got them thinking. "That night over a bottle of tequila, we came up with the concept of Tex Mex beer," Bordeau said.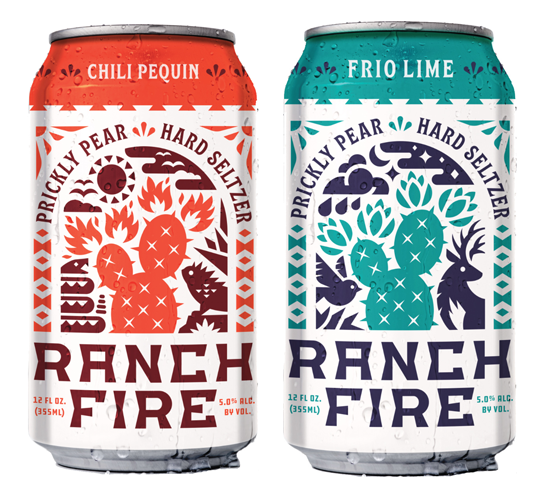 And the prickly pear? That's a thorny subject because the Spoetzl brewery makes it under the Shiner label – but only sells it as part of a variety pack, something that peeves prickly pear fans. Like Tommie Ethington who wrote in June 2021 that "Shiner Prickly Pear is as synonymous with summer as a scoop of Blue Bell ice cream or a float down the San Marcos River". In praise of the brew he wrote: "The golden lager, which debuted in 2012 as part of a limited-edition series, is made with Citra hops, two-row barley malt, wheat, and the fruit of the prickly pear cactus. This signature ingredient – the state plant of Texas – is what gives the beer its distinct tartness."
A social media storm saw the brewery cave in to public demand, making six and 12 packs of Prickly Pear amber lager available to fans – but then the pandemic hit and it went back to sharing space in a six pack with Strawberry Blonde and Sea Salt & Lime.
There appears to be no end to the flavours brewers will chase: Key Lime Pie, Crème Brûlée, Oyster Stout which uses real oysters or a Colorado favourite, Rocky Mountain Oysters which are bull testicles! Taking its inspiration from super expensive Kopi Luwak coffee, Sankt Gallen brewer utilises coffee beans which have gone through elephant digestive systems for its Un Kono Kuro Japanese beer. But the weirdest probably has to be the Icelandic brew made with whale testicles smoked over sheep dung. There is such a thing as pushing flavour too far.