Is it really
a martini?
The Espresso Martini is a drink which is on the official cocktail list of the International Bartenders Association (IBA) so it's legit … if not strictly speaking, a true martini.

Where the origins of so many popular cocktails are either disputed or lost in the mists of time, there appears to be broad consensus over the Espresso Martini. And it's a relatively youthful cocktail too, having only been around since the late 1980's.
Dick Bradsell is widely credited as having been the originator of this drink which has – according to certain reports – become Australia's most popular cocktail. Bradsell was the main mixologist at Fred's Club in London when rumour has it that a supermodel approached him for a drink which would wake her up. Some sources claim it was Naomi Campbell while others state it was Kate Moss. Both have been comprehensively debunked as fake facts by British GQ magazine which pointed out that the leggy lovelies would have been 13 and 9 respectively were it true!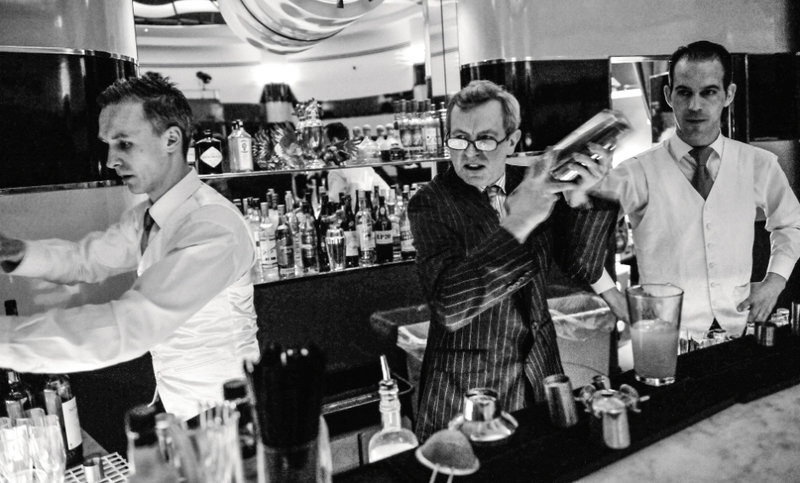 The man behind the mocha delight that is the Espresso Martini, Dick Bradsell.
It was reported that Bradsell said the coffee machine was right next to the station where he served drinks. "It was a nightmare, as there were coffee grounds everywhere, so coffee was very much on my mind. And it was all about vodka back then – it was all people were drinking."
So he took a double shot of vodka, one of coffee, a half portion of coffee liqueur along with some ice, shook it up vigorously in a cocktail shaker, served it in a martini glass and garnished it with some coffee grounds atop the frothy crema which had developed. And a cocktail sensation was born!
One handy tip from Liquor.com if you are working on perfecting your Espresso Martini at home is to make a shot of espresso and then pop it into the freezer to chill it rapidly. That way, the coffee shot won't melt the ice and dilute the final cocktail. If you don't have a Nespresso or similar coffee machine, another hack the website recommends is to make a cold brew coffee which works equally well as a fresh espresso.
Fans of this drink love how balanced, rich, smooth and also invigorating the end result is. There is a warning though: if you want a good night's sleep, don't drink one or two of these before going to bed! They're best enjoyed earlier in the evening, before you hit the town and clubs.
Espresso Martini
Ingredients
60ml vodka
15ml coffee liqueur (usually Kahlúa)
30ml espresso, freshly brewed (or cold brew concentrate)
15ml simple syrup (optional)
Garnish: coffee beans
Method
Add vodka, coffee liqueur, espresso and simple syrup to a shaker filled with ice and shake until well-chilled.
Strain into a chilled cocktail glass – a traditional martini glass or a rounded coupe glass are ideal.
Garnish with a few coffee beans or coffee grounds.