Air fryers have been around for 10 years but have experienced a surge in popularity recently. What's not to love about their speed and convenience? British author and nutritionist Jenny Tschiesche has written a handy book aimed at new converts.

"Many of us are time poor and want simple meals that taste great and that's what the air fryer can help you to produce. Whether you want crispy, home-made breaded fish, or baked stone fruits this is an appliance that does make life easier."

Those words are from former national team hockey player and nutritionist Jenny Tschiesche on her website blog, www.lunchboxdoctor.com. For those who haven't yet been converted by the latest "must have" kitchen gadget, she summed it up beautifully: "Just briefly, before we go further it's probably a good idea to introduce the air fryer to those who haven't yet heard. It's basically a super-hot, super-powerful mini oven and a great alternative to a deep-fat fryer. That's because like a deep fat fryer it contains a basket and/or shelf that allows the food to be suspended, and therefore accessible to heat from all sides. That means food can get nice and crispy in there. Instead of being placed into hot oil as the food would with a deep fat fryer, the food is cooked by very hot circulating air which is similar to a convection oven."
So what's the book all about? It's major selling feature is that it's the first dedicated air fryer recipe book in South Africa. Anyone looking to expand their cooking repertoire while using the nifty gadget should turn the pages because they'll find not only basic recipes but wonderful suggestions of meat, poultry, seafood and fish, vegetarian and vegan recipes along with a host of suggested fries and snacks. Then there are also side dishes and for that final flourish, a host of treats in the Sweet Things chapter!
Anyone who has already seen Tschiesche's other books – Sheetpan cooking, The modern multi-cooker cookbook, Real lunchtime food or Gut health and probiotics: the science behind the hype – will know that the books are easy to read, super convenient in terms of quick and easy fare and also nutritionally sound and healthy.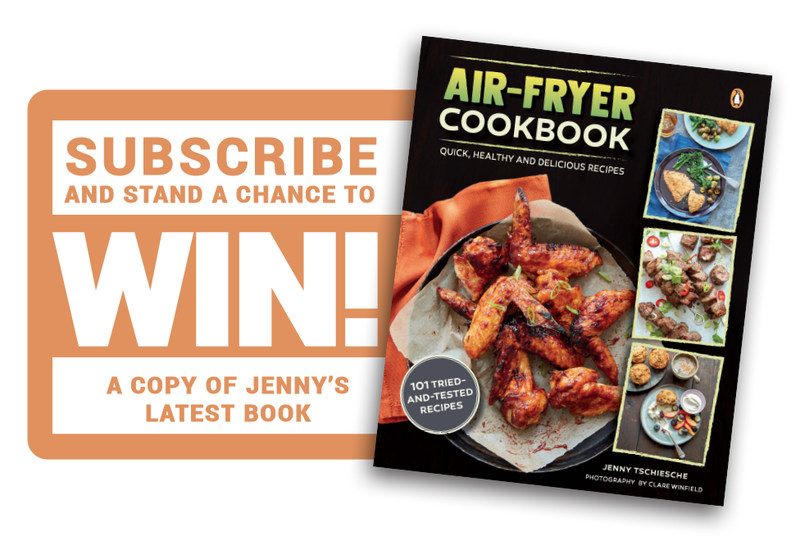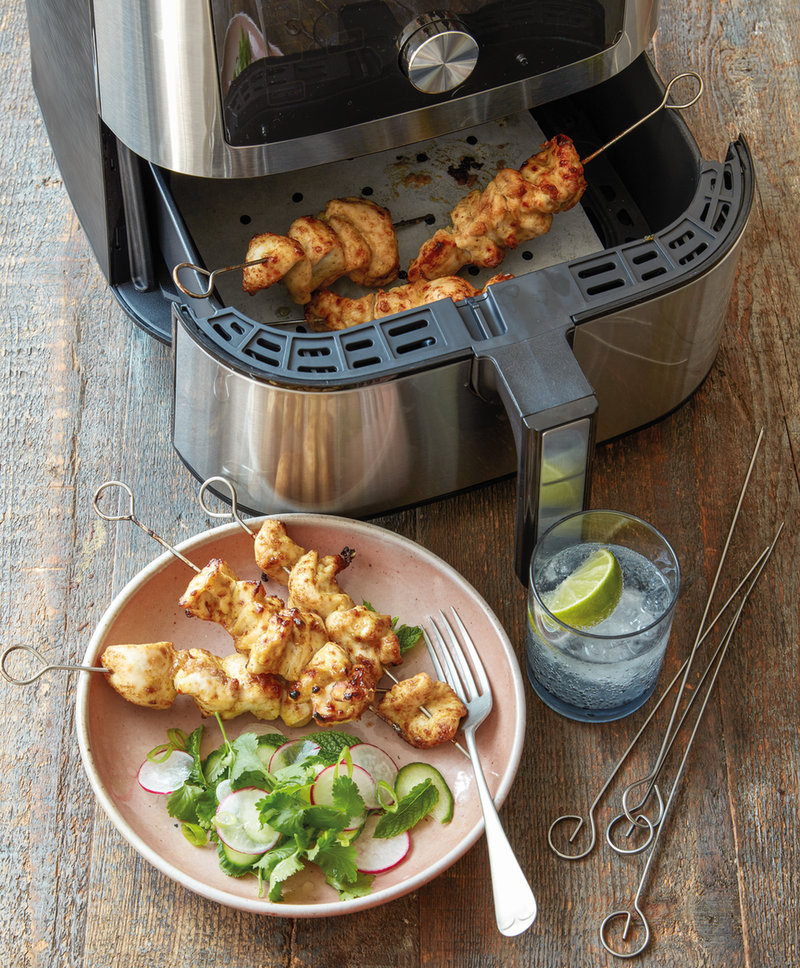 SATAY CHICKEN SKEWERS
Rich and peanutty in flavour, this satay marinade is a perfect match for succulent chicken breast pieces.
Serves 4
Ingredients
3 chicken breasts, chopped into 3 x 3-cm/11/4 x 11/4-in. cubes
Marinade ingredients
200 ml (3/4 cup) canned coconut milk (including the thick part from the can)
1 plump garlic clove, finely chopped
2 tsp freshly grated ginger
2 Tbsp soy sauce
1 heaped Tbsp peanut butter
1 Tbsp maple syrup
1 Tbsp mild curry powder
1 Tbsp fish sauce
1 Mix the marinade ingredients thoroughly in a bowl, then toss in the chopped chicken and stir to coat thoroughly. Leave in the fridge to marinate for at least 4 hours.
2 Preheat the air-fryer to 190˚C/375˚F.
3 Thread the chicken onto 8 metal skewers. Add to the preheated air fryer (you may need to cook these in two batches, depending on the size of your air fryer). Air fry for 10 minutes.
4 Check the internal temperature of the chicken has reached at least 74˚C/165˚F, using a meat thermometer – if not, cook for another few minutes and then serve.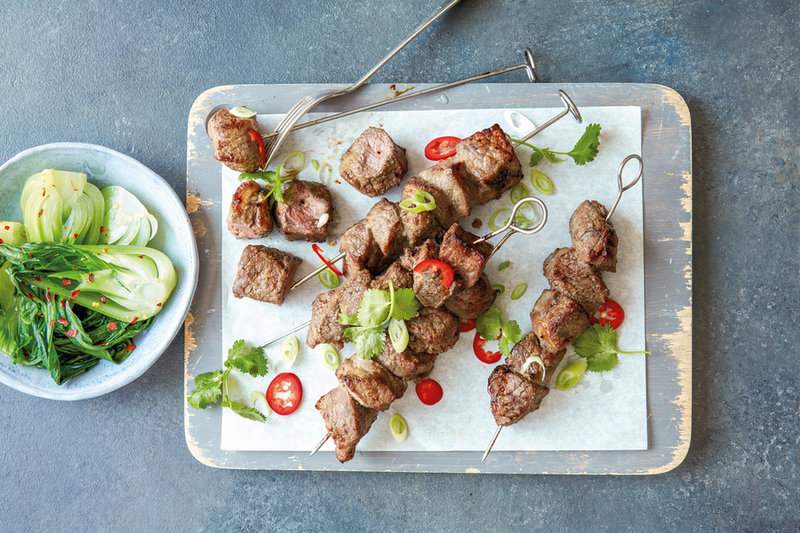 TERIYAKI STEAK SKEWERS
This Japanese-style marinade brings out the natural sweetness of the cubed steak. The steak not only has great flavour, but a melt-in-the-mouth texture too.
Serves 4
Ingredients
4 sirloin steaks, diced into 2.5-cm/1-in. cubes
Sliced red chilli/ spring onion/scallion and coriander/cilantro, to garnish
Marinade ingredients
60 ml/4 Tbsp soy sauce (or tamari)
2 Tbsp runny honey
1 tsp unrefined sugar
½ tsp brown rice vinegar
½ tsp onion granules
1 ½ tsp freshly grated ginger
1 ½ tsp freshly grated garlic
1 Make up the marinade by combining all ingredients in a jar and shaking vigorously.
2 Bring the steaks out of the fridge 30 minutes before cooking.
3 Place in a bowl, cover with the marinade and leave to marinate at room temperature for the full 30 minutes.
4 Preheat the air fryer to 180˚C/350˚F.
5 Thread the marinated steak pieces onto metal skewers and place these into the preheated air fryer. Air fry for 3–5 minutes, depending on how rare you like your steak.
6 Serve immediately, scattered with sliced chilli/ spring onion/scallion and coriander/cilantro.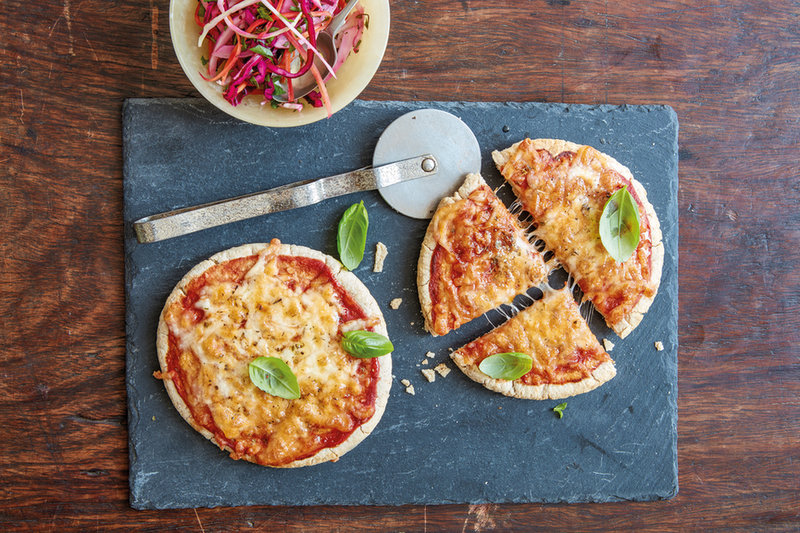 PITTA PIZZA
A great use of round pitta breads as a pizza base, this light meal can be made in minutes.
Serves 2
Ingredients
2 round wholemeal pitta breads
3 Tbsp passata/strained tomatoes
4 Tbsp grated mozzarella
1 tsp dried oregano
1 tsp olive oil
Basil leaves, to serve
1 Preheat the air fryer to 200˚C/400˚F.
2 Pop the pittas into the preheated air fryer and air fry for 1 minute.
3 Remove the pittas from the air-fryer and spread a layer of the passata/strained tomatoes on the pittas, then scatter over the mozzarella, oregano and oil. Return to the air fryer and air fry for a further 4 minutes.
4 Scatter over the basil leaves and serve immediately.
COMPETITION TERMS AND CONDITIONS
Competition submissions should reach us no later than 25th August 2022. The Prize/s is as indicated, no alternatives or cash will be provided. The decision of Integrated Media will be final, and no correspondence will be entered into. Under no circumstances shall Integrated Media, TOPS at SPAR, SPAR or its appointed representatives and the prize donors be liable to anyone who enters these Prize Draws for an indirect or consequential loss howsoever arising which may be suffered in relation to the Prize Draws. By entering these competitions, you make yourself subject to receiving promotional information. Entrants are deemed to have accepted these terms and conditions. Prize Draw Rules: The prize draw is only open to consumers who must be over 18 years of age and resident in South Africa. Employees of Integrated Media and TOPS at SPAR, SPAR and their respective advertising, media and PR agencies, as well as the family members, consultants, directors, associates and trading partners of such organisations and persons are ineligible for the draw. Participants can only win one competition every three issues.