Made exceptional,
made here
South Africa's whisky profile has never been higher – much of it thanks to one man, Andy Watts who has featured in the pages of CHEERS magazine many times before.

"Just heard the most amazing news from @Whisky_Magazine , that I am to be the 70th inductee into their Whisky Hall of Fame. The highlight of my 37 year whisky career and humbled to be recognised by my peers in our amazing industry!"
That was the tweet in February 2021 which Watts sent out under his @TheWhiskyMaker handle, a social media shout-out which garnered hundreds of responses and likes. The Whisky Hall of Fame already boasts such luminaries as Dr Bill Lumsden, the head of distilling and whisky creation at Glenmorangie; Jimmy Bedford, former Jack Daniel's master distiller; Richard Paterson OBE, Dalmore's master distiller of 55 years (also the man behind the recreation of Shackleton's whisky), Dennis Malcolm of The Glen Grant, James McEwan of Bowmore and Bruichladdich and Dr Rachel Barrie of BenRiach and GlenDronach by way of Glenmorangie and Morrison Bowmore. That's seriously august company to keep – but the honour was well deserved because of the role Watts has played over nearly four decades in putting South African whisky on the map.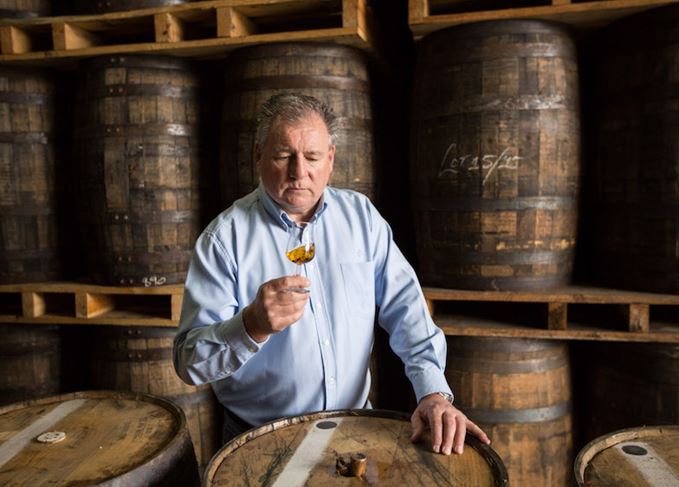 Accompanying the induction was this potted biography of his whisky journey so far: "Watts's career didn't start off in the world of whisky. He grew up in Penistone in Yorkshire, England and arrived in South Africa in 1982 as a professional cricketer with Derbyshire CCC planning to spend six months a year coaching at schools throughout the Boland.
"Within three years, he landed a position at the then Stellenbosch Farmers Winery (SFW) where he became involved in blending spirits. He was invited to Scotland by Morrison Bowmore Distillers to work hands-on at its three distilleries – Auchentoshan in the Lowlands, Glen Garioch in the Highlands and the legendary Bowmore Distillery on the Isle of Islay.
"He returned to South Africa determined to prove that the country could produce internationally award-winning whiskies. Back at SFW, he was tasked, along with the company's technical services department, to transfer its fledgling whisky operations from the R&B Distillery in Stellenbosch to The James Sedgwick Distillery in Wellington, taking up his position as distillery manager in August 1991.
"News just in that our @ThreeShipsSA 12 year old has been selected by Ian Buxton to feature in his new book 101 Craft & World Whiskies to try before you die."
"After spending 25 years as manager of The James Sedgwick Distillery, Watts took up the position as Distell's head of whisky in 2016. He is responsible for the company's South African whisky portfolio focusing on the process, quality and style of their whiskies, providing strategic guidance to the production of the range of Three Ships whisky and Bain's Cape Mountain whisky.
"Watts was also instrumental in providing the vision for the Three Ships Whisky Master's Collection – the limited release whiskies made available from time to time to showcase the innovation of South African whiskies through an online live sale – and a range of exclusives produced for local and international retail."
But that's not the full picture. Under his watch and at his instigation Three Ships launched their first ever single malt in 2003, previously unprecedented in South Africa. That was so well received that in 2005 a plan was hatched for a 10 year old single malt for release a decade later. And this year saw the first ever bottles of 21 year old released.
Or as @TheWhiskyMaker tweeted: "Amazing Autumn afternoon! Turning back time with Three Ships first ever single malt. I wanted to release this in 2000 but it was in 2003. However, it turned out to be part of the inspiration for the latest @ThreeShipsSA 21 year Millennium." Just 1 200 bottles of this singular whisky exist and just 400 bottles were released this year – at R2 850 each!
Similarly his belief in grain whisky – the spirit not made of more traditional barley but maize instead – saw Bain's Cape Mountain whisky become not just a market leader but a world beater when it was recognised as the best single grain whisky in the world – in both 2013 and 2018 at the World Whisky Awards. Whisky Magazine had also recognised his technical skills, conferring the title of "Rest of the World Master Distiller/Master Blender" on him in both 2016 and 2018.
On the corporate front, Distell benefited from his efforts in March 2019 when the company was recognised as Overall Distiller of the Year at the Icons of Whisky Awards in London. It was no coincidence that this was the same year it was recognised as Green Company of the Year by the BIG Awards for Business. The following year, in 2020, the James Sedgwick Distillery where both Three Ships and Bain's are produced was recognised as the Sustainable Distillery of the Year at the Icons of Whisky Awards. It was fitting that Watts was also rewarded as the World Whisky Brand Ambassador of the year at the same event.
That's a long list of accolades but Watts really comes alight when he's in front of a group of people at a tasting, talking about whisky and his love for the spirit. It's what made him experiment with finishing Three Ships in a range of different casks – anything from Oloroso, Amontillado and Fino sherry casks to Pinotage barrels! Three Ships' 5 year old proved a hit with consumers who love the richer, caramel sweetness so intrinsic to Bourbon, as did the smoky, peat influenced bottling which was his homage to his time at Morrison Bowmore on Islay in Scotland, the heartland of this style of spirit.
Andy Watts might have switched gears in swapping his cricket bat for a life in whisky, but he's never looked back in the past four decades and South Africa's spirits fraternity and the wider world of whisky is the better for the role he's played.